You may know blockchain as the technology that powers Bitcoin and a number of other cryptocurrencies. Blockchain stocks have recently gained a lot of interest in the stock market. For better or worse, it's a technology that hundreds of publicly traded corporations are adopting. Some people use blockchain to augment their existing enterprises, while others profit from the trend by supporting it.
In this guide, we'll teach you how to invest in blockchain stocks without commissions and highlight 10 of the top blockchain stocks available in the UK.
What is blockchain?
Blockchain is a record-keeping mechanism that is decentralised also referred as distributed ledger technology. A bank, for example, can store data (such as payment transactions) on its internal computers, but blockchain technology allows for the construction of an immutable public ledger that is open to all users. Because blockchain ledgers cannot be edited retrospectively and may be used anonymously to safeguard users' privacy, they are an extremely secure way of storing data.
Although blockchain and cryptos are not the similar things, blockchain is the technology that underpins cryptocurrencies, it has a wide range of possible uses that are unrelated to Bitcoin or other digital currencies.
Consider bitcoins to be a car, and blockchain to be the engine. A motor is required to power a car, but it can also be used for a variety of other purposes. Blockchain has ramifications for a variety of things some of them are:
Digital IDs
Rewards and loyalty programs
Copyright protection
Digital voting
Real estate transfers
Medical records
Wills
Best Blockchain Stocks to buy in 2022
Hundreds of publicly traded companies currently use blockchain in their operations, provide clients with blockchain-related services, or participate in the cryptocurrency market. Some companies are solely focused on blockchain technology and/or cryptocurrencies, while others are incorporating blockchain-related products and services into an already established firm.
With that in mind, here's a list of the top 10 blockchain companies to consider for your investment portfolio if you want to have a piece of this amazing technology:
Top Blockchain Stocks UK Reviewed
NVIDIA is the world's largest manufacturer of graphics processing units (GPUs), which are critical components in fields as diverse as artificial intelligence, autonomous vehicles, and video games.
GPUs are also important hardware components in bitcoin mining. In a word, "miners" execute blockchain transactions using specialized GPUs and are paid with newly produced digital currency. Despite the fact that sales of Nvidia's crypto-targeted CMP chips have slowed, the company still earns more than $100 million per quarter.
This business has done all of the necessary actions to ensure its long-term success. Furthermore, any blockchain-based advances will rely on NVIDIA chips, therefore the stock has plenty of space to rise.
NVIDIA stock has been rising for the past six months, resulting in a significant profit for shareholders. NVIDIA stocks had a trading volume of £48.74 million at the time of composing this article. Its 52-week stock price high is $346.47(£313.59), implying a 29 percent upside objective at the current price of $267.12 (£241.77).
NVIDIA has a price-to-earnings (PE) ratio of 69.44, and the company also pays a 0.06 percent dividend.
2. Block Inc (NYSE:SQ)
Block, originally known as Square, is a financial technology startup with two primary components: a payment-processing ecosystem for small businesses and a personal financial platform called Cash App. Square also offers a business finance division, a stock trading platform, and a number of other related businesses, as well as the recently launched Square Online Store, which assists merchants in developing e-commerce and omnichannel capabilities.
In two different ways, Block is a blockchain company. Cash App allows users to quickly and conveniently buy and sell bitcoin. This is a big portion of the company's operations, with $1.8 billion in bitcoin purchased in the third quarter of 2021 alone. Block also has its own bitcoin development team, Square Crypto, which is working on a number of fascinating initiatives. The change in name reflects the company's shift in focus to blockchain technology solutions.
Now is an ideal moment to buy block stock because it is in the fall. Block stocks had a trading volume of £22.12 million at the time of composing this article. Its 52-week stock price high is $289.23 (£261.78), implying a 116 percent upside objective at the current price of $133.62 (£120.94).
Riot Blockchain is a cryptocurrency mining firm established in the United States that is one of the industry's top players. The company used enough computer power to mine Bitcoin at a pace of 1 exahash per second, which is something that only a few cryptocurrency mining firms can boast about. Even more exciting, Riot Blockchain is in the midst of deploying additional computers. By the end of the year, the corporation hopes to have more than tripled its computing power.
Riot Blockchain's revenue is directly related to the price of Bitcoin, therefore its stock has risen in value over the last six months, making it a smart way to invest in bitcoin stocks. Whenever Bitcoin's price rises, this mining firm makes more revenue, attracting more investors.
Riot Blockchain's stock is now trading at approximately $20.73 (£18.76) per share, with a market capitalization of £2.43 billion. Riot Blockchain is expected to break even this year, despite having a relatively high valuation for a firm that was not profitable in 2020. Better yet, the expansion of proof-of-work digital assets like Litecoin and Ethereum Classic could benefit Riot Blockchain in the coming years.
Riot Blockchain stocks had a trading volume of £7.62 million at the time of composing this article. Its 52-week stock price high is $61.55 (£55.71), implying a 196 percent upside objective at the current price of $20.73 (£18.76). These fundamentals indicate that Riot Blockchain is on the decline, making it one of the best blockchain stocks to invest in for future gains.
From the moment Bitcoin was released, the usefulness of blockchain technology to fintech was evident. Despite this, financial institutions like banks, credit cards, and other financial service providers have been slow to implement blockchain or provide access to digital currencies.
Visa is not an option. In 2016, this credit card firm teamed with Chain, a blockchain infrastructure company, and introduced Visa B2B Connect, which allows businesses to make blockchain payments to one another.
Visa has been actively connecting its numerous credit and debit cards to popular Bitcoin wallets since then. Anyone with a Visa credit card and the Coinbase wallet, for example, may easily switch between cash and cryptocurrencies.
All of this activity has given Visa a significant advantage over competitors in terms of addressing consumer demand for cryptocurrency access. We expect this to increase Visa's existing credit card revenue as well as position the company to capitalize on new decentralized finance developments.
Visa stocks had a trading volume of £7.66 million at the time of composing this article. Its 52-week stock price high is $252.67 (£228.69), implying only an 11 percent upside objective at the current price of $226.36 (£204.88).
Visa has a price-to-earnings (PE) ratio of 44.97, and the company also pays a 0.66 percent dividend.
Coinbase is one of the largest crypto exchanges in the world, with over 100 different digital assets available for trading. More than $1 trillion in annualized bitcoin trade volume flows via the network, which has around 73 million verified users in more than 100 countries across the world.
One of the best things about Coinbase, at least from the perspective of a blockchain investor, is that the firm should benefit greatly as the technology develops, regardless of whether cryptocurrencies wind up leading the way.
Coinbase stock is in the fall, providing now an excellent time to buy. Coinbase stocks had a trading volume of £4.20 million at the time of composing this article. Its 52-week stock price high is $429.54 (£388.78), implying a 129 percent upside objective at the current price of $186.96 (£169.22).
Despite IBM's lackluster performance in recent years, the corporation has recently made some significant measures to kick-start growth. For example, its $34 billion purchase of open-source software firm Red Hat provides it with a plethora of cross-selling potential with its enterprise customers.
IBM Blockchain has already offered disruptive solutions for clients such as Kroger, True Tickets, and others on the blockchain front. If blockchain-based solutions acquire acceptance in the future, they might have a significant growth runway. In the wake of the COVID-19 outbreak, IBM Blockchain, for example, is focusing on assisting clients in building more dependable supply chains.
However, if you look deeper, you'll notice that IBM is one of the best long-term blockchain investments you can make. This corporation established a blockchain team in 2017, and it now has over 500 projects in the works. They include logistics, healthcare, digital payments, and other services.
Another positive aspect about IBM is that it is a relatively inexpensive stock. It has a P/E ratio of just 25.46, making it a steal for any company working with blockchain technology. In addition, IBM has a 5.04 percent dividend yield.
IBM stocks had a trading volume of £4.08 million at the time of composing this article. At the present price of $130.15 (£117.80), its 52-week stock price peak is $146.37 (£132.48), indicating a 12 percent upside target.
7. Argo Blockchain (LON: ARB)
Argo Blockchain is the first and exclusive crypto mining business to receive a regular listing on the London Stock Exchange. The firm has cutting-edge mining operations with energy-efficient machines and cutting-edge technology. Their main goal is to make crypto mining services as accessible and feasible for as many people as possible.
This company is one of the few blockchain technology development firms in the UK to have achieved 'climate positive' status for Scope 1, 2, and 3 greenhouse gas emissions. It has raised a total of $24.4 million in equity capital.
Argo Blockchain stock is in the fall, providing now an excellent time to buy. Argo Blockchain stocks had a trading volume of £3.06 million at the time of composing this article. Its 52-week stock price high is 250 GBX, implying a 253 percent upside objective at the current price of 70.73 GBX.
CME Group is the world's largest futures and options market, with derivatives for stocks, indices, foreign exchange, and other financial instruments.
The CME Group stands to benefit from rising cryptocurrency interest and the possibility for prices to reach new all-time highs, as the company receives a tiny fee for each transaction conducted on its exchanges. CME Group currently offers Bitcoin and Ethereum futures, and if cryptocurrency demand continues to grow, new futures products may be added to the exchange in the future.
The stocks of CME Group has been growing, resulting in a big return for owners. CME Groupstocks had a trading volume of £1.60 million at the time of composing this article. Its 52-week stock price high is $256.94 (£232.56), implying only a 7 percent upside objective at the current price of $239.82 (£217.06).
CME Group has a price-to-earnings (PE) ratio of 32.89, and the company also pays a 32.89 percent dividend.
9. Mastercard (NYSE:MA)
Mastercard, a payment processing behemoth, has seen enormous growth in recent years as the drive toward a paperless economy has resulted in increased amounts of debit and credit card transactions. Blockchain technology has the potential to revolutionize the cashless payment market, particularly in the area of cross-border money transfers, which have traditionally been slow and expensive.
Mastercard has announced a collaboration with R3, a blockchain technology company, to develop a new cross-border payment system that could provide the corporation a significant competitive advantage in the sector by removing major barriers to transmitting money worldwide.
The firm recently advanced its Crypto Card partner program, partnering with a number of top Asia-Pacific cryptocurrency startups to launch cryptocurrency-backed Mastercard payment cards.
Mastercard stocks had a trading volume of £3.91 million at the time of composing this article. At the present price of $363.97 (£329.43), the stock's 52-week high is $401.50 (£363.40), implying barely a 10% upside target.
The price-to-earnings (PE) ratio of Mastercard is 41.56, and the firm provides a 0.54 percent dividend.
10. GlobalX Blockchain ETF (NASDAQ:BKCH)
A single stock may not be the ideal method for you to invest in blockchain technology. The GlobalX Blockchain ETF was launched in mid-2021 with the goal of giving investors access to a whole basket of blockchain stocks with a single investment.
The cost ratio of the GlobalX Blockchain ETF is 0.50 percent of assets, which is appropriate for a focused product. It invests in 25 different firms, including some of the ones we examined before as well as some that aren't listed on U.S. stock exchanges. In other words, if you believe in the long-term potential of blockchain technology but don't want to try to choose winners in the area, this ETF may be suitable for you.
GlobalX Blockchain stock is in the fall, providing now an excellent time to buy. GlobalX Blockchain stocks had a trading volume of £122.91K at the time of composing this article. At the present price of $17.51 (£15.85), it has a 52-week high of $41.25 (£37.34), meaning a 135 percent upside target. Also, GlobalX Blockchain is one of the cheapest blockchain stocks to buy right now.
Where to buy the Best Blockchain Stock Brokers in the UK?
You'll need a stockbroker to acquire blockchain stocks in the UK. Your broker should, ideally, offer a diverse selection of US and international equities most blockchain stocks trade on the NYSE or NASDAQ stock exchanges, and they range from penny companies to blue-chip stocks.
Let's take a look at two of the best UK brokers for buying blockchain shares now to make your search easier:
1. eToro
One of the best brokers in the UK for buying blockchain stocks is eToro. This stockbroker allows you to trade over 800 US stocks and almost 2,000 stocks from across the world. eToro also allows trading on 15 of the most popular cryptocurrencies, as well as hundreds of ETFs, many of which are focused on technology.
Even better, eToro gives you the option of purchasing stocks outright or trading stock CFDs. Both methods are completely commission-free, so you can choose whether you want to invest in blockchain for the short or long term.
eToro includes a technical charting interface with over 100 built-in indicators, as well as superb research and analytical capabilities. On the trading site, specialized analyst research, comprising price estimations and profit predictions, is also available. This makes determining if a stock is truly as good as the hype claims much easier.
This trading platform also includes a social trading network that allows you to communicate with other investors. At any time, you may share your thoughts on blockchain stocks and learn about which firms are popular with traders. On eToro, you can copy preset portfolios in a matter of seconds, making it simple to invest in a portfolio based on the blockchain technology.
eToro is regulated by the Financial Conduct Authority in the United Kingdom and provides phone and email support 24 hours a day, seven days a week. To get started with eToro, you'll need to deposit £160, but the platform accepts a range of payment options, including e-wallets.
Pros
A wide range of US stocks are available
Trading is completely free of commissions
Technical charting using more than a hundred indicators
Social trading network built-in
Customer service 24/7
Cons
After one year of inactivity, there is a charge
Fee for withdrawing money (£4 per transaction)
2. Fineco Bank
Fineco Bank is an Italian broker that sells thousands of stocks from the United States, the United Kingdom, and Europe. Hundreds of ETFs are available through this broker, allowing you to swiftly build a portfolio around blockchain and other emerging technologies.
Fineco Bank provides two trading options. You can purchase shares entirely, however, there is a $3.95 dealing commission for US shares. You can also trade stock CFDs without paying a commission. As a result, this broker is suitable for both short- and long-term investing.
Fineco Bank provides both a web-based and a mobile stock trading platform. Powerdesk is a web-based technical charting and analysis station with a wide range of capabilities. There are dozens of technical studies, drawing tools, a built-in news feed, and other features available. Although it is a sophisticated platform, it is extremely user-friendly, allowing even novices to get up and running quickly.
The mobile app is more concentrated on monitoring your watchlists and placing trades than on technical analysis. It has a simple design that includes news and price alerts, but no charting or research capabilities.
The built-in stock screener is one of our favorite features of Fineco Bank. You can sort stocks by country, market capitalization, recent performance, market sector, and other factors. This is a terrific method to learn about new blockchain stocks that you might not have heard about otherwise.
The Bank of Italy regulates Fineco Bank, and the broker provides phone help seven days a week.
Pros
Thousands of shares and ETFs are available
Investing in stocks and trading CFDs
Web trading platform with advanced features
A mobile stock app that is easy to use
A global stock screener is integrated
Cons
Commissions on stock trades
Technical charts are not available in the mobile app
How to Buy Blockchain Stocks UK?
We'll show you how to invest in blockchain stocks with eToro, which has a vast range of global shares and zero commission trading.
Step 1: Create an Account
To begin trading with eToro, you must first establish a new account. You can sign up on the eToro website or through the eToro mobile app. To begin the application process, simply click 'Join Now.'
Personal information such as your name, email, and address will be required. eToro also asks you to authenticate your identification in order to comply with financial legislation. Upload a copy of your driver's license or passport, as well as a copy of a recent utility bill, to accomplish this.
Step 2: Deposit Funds
After that, fund your new eToro account. You can use a credit card, a debit card, a bank transfer, PayPal, Neteller, or Skrill to make a payment. For card payments and e-transfers, eToro demands a minimum deposit of £160, while bank transfers require a minimum deposit of £500.
Step 3: Start Trading
You're now ready to invest in blockchain stocks in the United Kingdom. To find a specific blockchain firm, use the search toolbar of the eToro dashboard. Select it when it displays, then choose 'Trade.'
Fill out the order form with the amount of money you want to put into that stock. You can buy fractional shares on eToro, which means you can invest any sum over £50.
If you're trading stock CFDs, you can choose a leverage of up to 5:1. Keep in mind that trading with leverage increases your risk.
Finally, if it makes sense for your trade, choose a stop loss or take profit level. These specifications instruct eToro to automatically stop your trade if the stock rises or falls to the specified price.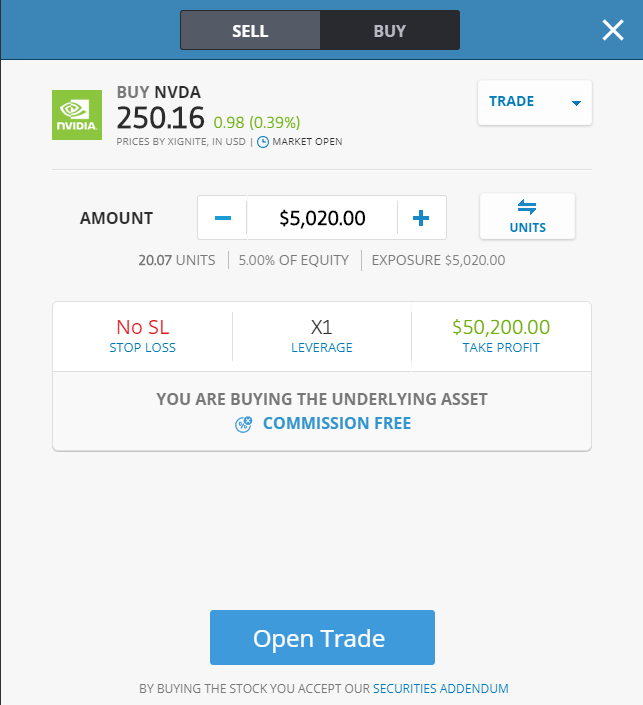 Click 'Open Trade' when your trade is ready to buy your first blockchain shares.
Conclusion
In the fast-paced world of blockchain and cryptocurrencies, it's easy to get confused. Every day, new businesses develop, and it is critical to understand the fundamentals in order to navigate this market. We hope that our in-depth look at the top blockchain-based firms in the UK was informative and offered you a clear picture of what the blockchain industry will look like in 2022.
If you're looking for UK blockchain companies to invest in, we recommend going with a company that has been around for a while and has completed a number of successful projects. Please contact us if you require assistance in this area; we would be delighted to assist you.
With so many blockchain stocks to choose from, it can be difficult to tell which companies are maximizing the technology's potential and which are only scratching the surface. To make it easier for you to build your own blockchain portfolio, we've compiled a list of 10 of the greatest blockchain technology stocks available right now.
If you decide to invest, all of the best 10 blockchain stocks are now available on eToro. You may make a simple deposit with your UK debit/credit card and then buy blockchain stocks without paying any commissions.
Frequently Asked Questions
What is blockchain?
A collection of transaction records is organized into a 'block,' which is then uploaded to an existing blockchain to become part of the public digital record.
Is every tech firm a blockchain firm?
While some of the most well-known names in the tech world own blockchain stocks, not every tech firm is developing blockchain applications. Examine firms to evaluate how closely their business models are linked to blockchain advancements.
Is it possible for me to purchase Bitcoin in order to invest in blockchain?
One approach to investing in blockchain is to purchase cryptocurrencies such as Bitcoin. eToro, a full-service cryptocurrency exchange, allows you to invest in Bitcoin. Cryptocurrencies, on the other hand, are only one use of blockchain's future potential.
What impact does Bitcoin's price have on blockchain stocks?
Bitcoin has a disproportionately large impact on the value of particular blockchain stocks, such as Bitcoin mining firms. The price of Bitcoin, on the other hand, will have little impact on semiconductor manufacturers or traditional financial firms that are implementing blockchain into their operations.
Do companies in the blockchain sector pay dividends?
Some blockchain companies do pay dividends. Some of the top dividend-paying blockchain firms are IBM, NVIDIA, and Visa.