MT5 brokers are the most recent version of the industry-standard MetaTrader Forex trading platforms, and they were the first to have multi-asset capabilities for stocks, futures, and Forex trading. Though it is still not as popular as the previous MT4 version, MT5 is being adopted by a rising number of brokers, providing traders with more options.
In this guide, we will review the best MT5 Brokers UK, including their distinctive features and benefits, as well as how to get started with the MetaTrader 5 trading platform in just a few simple steps.
What is MT5?
MetaTrader 5 (MT5) is the most recent version of the market-leading MetaTrader trading platform, which was released in 2010.
MT5 gives traders access to the Forex market through a broker, but it also gives them access to CFDs, equities, and futures. This makes it a more important asset for brokers because it allows them to reach a larger client base; as a result, the number of brokers supporting MT5 has increased noticeably, with some even abandoning support for MT4.
MQL5, a new script-writing language included with MT5, is substantially more efficient than MQL4 but more difficult to master for beginners.
MT5 has a similar interface to MT4, but it contains more complex charting tools, such as 12 additional periods and more built-in technical indicators.
MT5 also contains an Economic Calendar, as well as an endless amount of charts and Market Depth. It also includes an incorporated chat system and has a bigger number of pending order kinds than MT4.
MetaTrader 5 vs MetaTrader 4
Although MetaTrader 4 is the most popular trading platform, MetaTrader 5 has several changes and upgrades. MT5 5 now supports stocks, futures, bonds, options, and FX trading, as well as two new order types. Hedging, professional advisors, and automated methods, among other things, are still available.
Partial orders are now available on MT5, in addition to the six basic order types. Eight technical indicators and thirteen graphical components are now available. MT5 adds 12 more time-frames, allowing for much more detailed analysis than previously. The MQL5 community is available 24 hours a day, 7 days a week via the new embedded chat feature, and emails can now include attachments.
There's an economic calendar that indicates crucial dates and data releases, but the ability to transfer funds across accounts is one of the most exciting new features. Without signing out, you can transfer funds between your forex and stock trading accounts. MetaTrader 5 has many improvements and new features, however, because of the lack of backward compatibility, MetaTrader 4 remains the dominant platform. Trading stocks, options, and futures is a huge step forward, and it could pave the way for more in the future.
Benefits of Using MT5 Broker
If you've never used MT5, you may be surprised to discover why so many experienced traders use it to invest in stocks and other financial instruments. We go over these features and benefits in further depth below:
Technical Analysis
If you use technical analysis to trade, MT5 provides everything you need. There are 38 widely used technical indicators and 44 drawing tools in total.
In terms of the former, this encompasses all indicator types, including volume, trends, oscillators, and volatility. Because it has 21 distinct timeframes, MT5 is a must-have for skilled technical traders. You may only have access to 3 or 4 when utilizing a regular brokerage web trader.
The ability to create an infinite number of charts is a unique feature of MT5. This implies you can rearrange your panel's structure to show price activity from as many assets as you desire.
Fundamental Analysis
Although both MT5 and MT4 are associated with technical trading, it is worth noting that the platform is also excellent for fundamental research.
This is because the platform includes a news feed from a variety of top financial reporting services. This will provide you with real-time broadcasts centered on pricing feeds, corporate earnings reports, newsletters, and other topics. As a result, MT5 ensures that you are always up to date on not only the technical but also the basics.
Order Types
When using the web trading interface provided by your selected broker, you may discover that you have limited order options. Sure, you'll probably be able to place buy/sell orders, limit orders, stop-loss orders, and take-profit orders, but that could be it.
When trading with one of the best MT5 brokers you will have access to a plethora of more advanced and versatile order types. Six pending orders, two stop orders, two trailing stop-losses, and two market orders make up this list.
MT5 covers Exchange, Request, Market, and Instant execution, which can be broken down further depending on your trading goals. You can trade in a risk-averse manner on MT5 because you have access to such a wide range of orders.
Automated Trading
MT5 is one of the most advanced automated trading platforms available. This is due to the fact that it supports both forex EAs and automated robots. All you have to do is download your preferred software system and install it on your device's MT5 desktop platform.
Then, before it goes live, you can fully modify your automated system. You can establish limiting stake amounts in relation to your account balance, target stop-loss and take-profit prices, and products that should or should not be traded.
Copy Trading
Support for Copy Trading is another popular feature offered by MT5 brokers. This is actually a feature built into the MT5 platform that allows you to trade completely passively. You won't be relying on a pre-programmed software file as you would with forex EAs or robots.
Instead, you will analyze the historical performance of a seasoned trader who has registered for the MT5 Copy Trading program. You can then mimic all ongoing positions like-for-like if you are convinced that the trader fulfills your financial goals and risk tolerance.
MT5 charges a fixed subscription, unlike eToro, which is an FCA broker that offers Copy Trading for free. The price you pay will vary based on which trader you choose to mimic.
Best MT5 Brokers UK List
If you're thinking about starting trading with the best MT5 brokers right now, look no further than the list below.
Best MT5 Brokers UK Reviewed
Choosing MT5 brokers who are reliable and provide clients with security and money security is essential for trading peace of mind. Below you'll find an in-depth evaluation of our 5 best MT5 brokers UK for 2022:
1. AvaTrade – Overall best MT5 Broker

AvaTrade is at the number one spot on our list of the best MT5 brokers for a multitude of reasons. To begin, you can trade on more than 1,250 worldwide markets, which include equities, bonds, commodities, indices, currencies, ETFs, and cryptocurrencies, among other asset classes.
The broker is also authorized and regulated by the Australian Securities and Investments Commission, the Financial Services Agency of Japan, the Central Bank of Ireland, and others, ensuring customer safety and investor protection.
Traders can choose from a range of various trading accounts to meet their specific demands when trading global markets. CFD Trading Accounts, Options Trading Accounts, Spread Betting Trading Accounts, and Islamic Swap-Free Accounts are some of the options available to consumers. Professional trading accounts with premium services and goods are also available from the broker.
AvaTrade provides traders with all of the advantages and benefits of trading with MT5 brokers, including MetaTrader Market, programming services, and copy trading services. This is in addition to a comprehensive set of instructional tools, including articles and videos on a wide range of trading themes that can help you improve your technical analysis.
AvaTrade also provides fully functional demo accounts that can be linked to MT5. All you have to do now is create an AvaTrade account and log in to MT5 using your demo credentials.
If you want to start trading with real money right now using MT5, AvaTrade only demands a £100 minimum deposit. You can fund your account immediately with a UK debit or credit card, or you can wait a few days with a bank wire. The MT5 app is also available for iOS and Android. AvaTrade is a commission-free broker and also one of the best low spreads broker that offers industry-leading spreads on a variety of financial instruments.
Pros
Platform without commissions
Various tradable instruments are available
Materials for education
Account for Islamic trading
ASIC-controlled
Cons
Only offers CFDs, not traditional stock ownership
2. Libertex – MT5 Broker with Tight Spreads

Libertex is a day trading platform that is appropriate for all types of speculators. The broker not only has its own original web trading platform, but it is also one of the finest MT4 and MT5 brokers. There are numerous qualities that distinguish Libertex from the competition. For starters, the platform has no spreads, which means that the bid and ask prices on all markets are the same, which is why it is one of the best MT5 brokers in the UK.
Many markets at Libertex can also be traded without paying a commission. Trading commissions are usually less than 0.1 percent per slide in markets that have them. You can trade CFDs on a variety of financial instruments with this top-rated MT5 broker. This comprises a diverse range of stocks, ETFs, indexes, and commodities.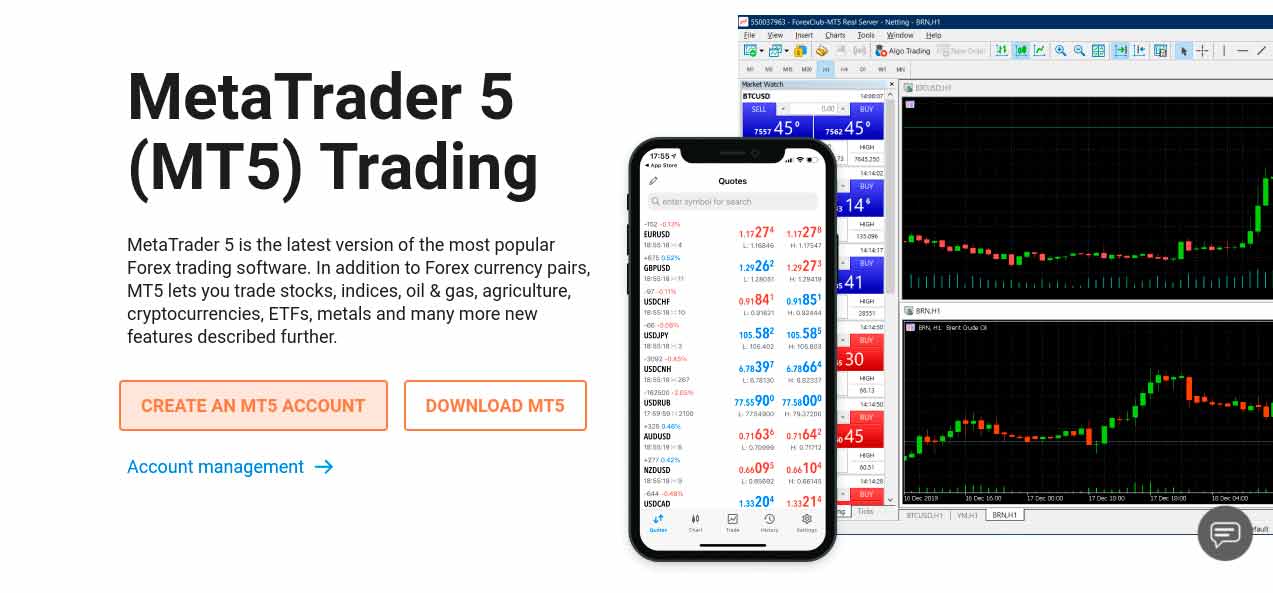 Libertex is particularly strong when it comes to FX trading. The platform will give you access to a wide range of currency markets, including majors, minors, and exotics. All of these marketplaces allow for leveraged trading. You can get up to 1:30 on major pairs and 1:20 on minors and exotics as a UK citizen.
Libertex can be accessed using MT5 online or by downloading the program to your desktop device, which also includes MT4 for Mac. Support is also provided through the MT5 mobile app, which is available for iOS and Android. Libertex offers a free demo account regardless of which MT5 platform you choose.
This comes pre-loaded with a 50,000 EUR balance, allowing you to learn the ins and outs of MT5 without danger. Libertex accepts debit/credit cards, e-wallets, and bank transfers if you want to start trading with real money. Your initial deposit must be at least £100, with subsequent deposits of £10.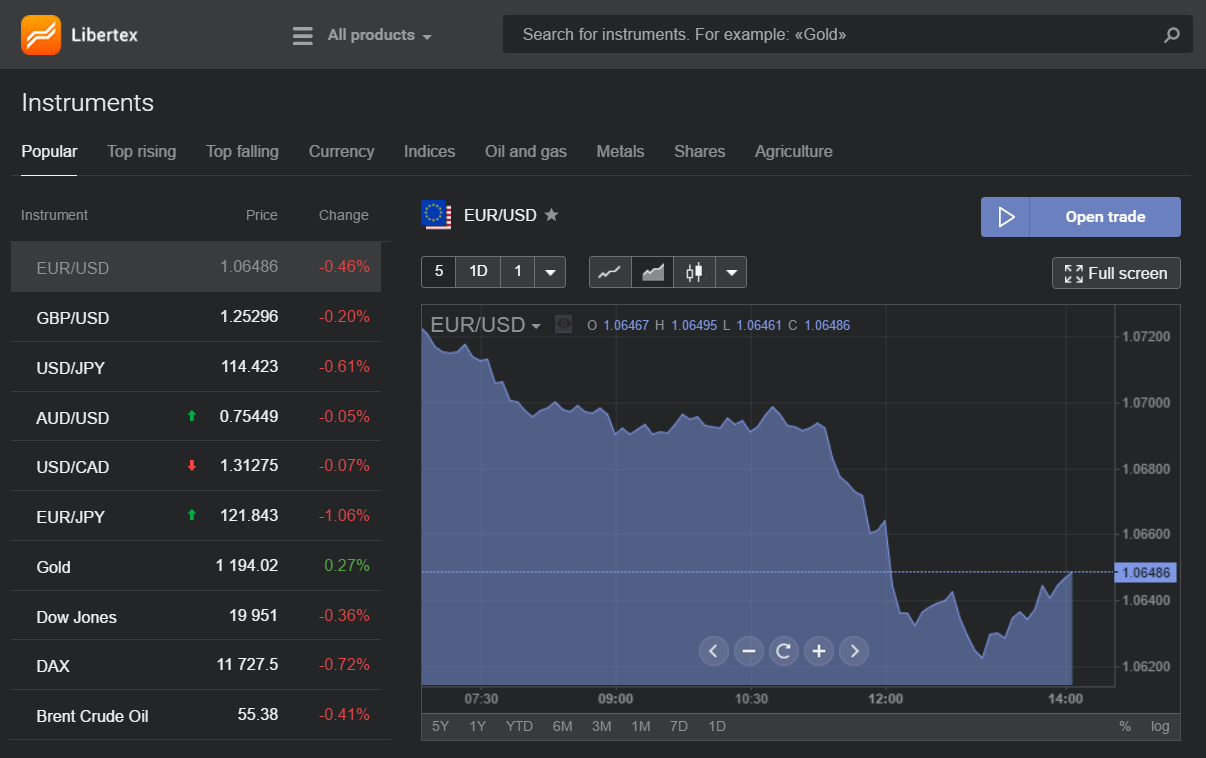 Pros
CFD trading with a tight spread
Commissions start at zero percent
Excellent educational materials
Long-standing broker
Compatible with MetaTrader 4 and 5
Plentiful markets
Cons
3. Pepperstone – MT5 Broker with Raw Spread Accounts
Pepperstone offers zero commission and swap-free trading accounts as well as all of the best features of MT5 brokers. They even have Razor accounts for serious traders, which have low commissions and ultra-low spreads starting at 0 pips.
Pepperstone is one of the most regulated MetaTrader 5 brokers, having been approved and regulated by the UK Financial Conduct Authority, the Cyprus Securities and Exchange Commission, and others! They protect your funds by keeping them separate from corporate cash and storing them with tier one banks.

Traders can choose from more than 180 different financial CFD instruments at Pepperstone, including Forex, indices, equities, commodities, and cryptocurrencies. Furthermore, the broker takes pleasure in providing ultra-fast execution times of less than 30 milliseconds.
The broker offers institutional-grade spreads to professional traders, as well as the option to join the Active Trader Program, which offers rebates on individual trades.
Traders can make use of all the benefits and features of trading with brokers who use MetaTrader 5 for charting as one of the best MT5 brokers. This covers duplicate trading with Market Depth and MetaTrader Signals. Through its Smart Trader Tools and Autochartist services, the firm even offers customized MetaTrader 5 trading platform enhancements.
Pros
Multiple platforms are supported
Accounts with no commission
FCA certified
PayPal is accepted
Cons
No proprietary platform is available
ETFs are not available
4. Forex.com – MT5 Broker with DMA Trading
Forex.com offers traders a high level of security, transparency, and safety. The Commodity Futures Trading Commission (CFTC), the UK Financial Conduct Authority (FCA), and the Financial Services Authority (FSA) of Japan have all approved and regulated the broker. They belong to the National Futures Association as well (NFA).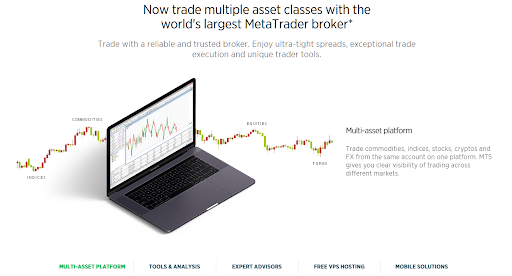 Traders may rest assured that they are dealing with a top-tier broker when they trade with Forex.com. One reason is that they are a subsidiary of the StoneX Group, which is traded on the Nasdaq Stock Exchange.
Forex.com is a prominent MT5 broker that provides traders with the Active Trader Rebate Program and Direct Market Access (DMA) Trading accounts. Traders can trade at no markups on pricing directly from top-tier liquidity providers for worldwide banks.
Traders can earn 1% APY interest on available margin up to a balance of $50,000 when they open a DMA Trading account, which is a first in the industry. In addition, the broker waives bank fees for these accounts and provides priority customer assistance.
Traders can use the MetaTrader 5 trading platform to trade on more than 4,500 financial markets, including commodities, indices, equities, cryptocurrencies, and foreign exchange. Additional trading options, including free VPS hosting, copy trading, and online and mobile solutions, are available to users of this forex trading platform.
Pros
Exceptional safety and security
Trade on over 4,500 different financial marketplaces
Premium trading options
Excellent client service
Cons
$100 minimum deposit/withdrawal
5. XM –MT5 Broker with Asset diversification
While many traders in the UK prefer to concentrate on a single asset class or market, others want to diversify their portfolios. If the latter describes you, XM may be worth exploring. This top-rated MT5 broker offers over 1,000 financial markets across six asset types.
This includes 55 currency pairs in forex, including majors, minors, and exotics. If the stock trading is more your style, XM is the place to be. Because the platform enables hundreds of stock CFDs from 18 distinct marketplaces, this is the case. Stocks listed in the United Kingdom, the United States, France, Spain, Belgium, Italy, and Greece are included. Stocks from growing economies like Brazil and Russia are also available.

Agricultural products, stock indices, precious metals, and energy are some of the other asset groups that XM provides. The price depends entirely on which of the three types of accounts you select. The Micro Account allows you to trade without paying a fee and is ideal for beginning traders who want to stake modest amounts. The contract size for each forex pair is 1,000 units, and the spreads start at 1 pip.
The Standard Account has the same market circumstances, but the contract size is 100,000 units. The XM Zero Account, on the other hand, is more suitable for experienced traders. On most markets, you will pay 0 pips despite a small variable commission on every slide. The minimal minimum deposit level is something we truly like about this MT5 broker. On the Micro and Standard Accounts, this costs $5, while on the XM Zero Account, it costs $100.
Pros
Over 1,000 markets are available to trade across six asset types
A $5 minimum deposit is required
Zero commissions for micro and Standard Accounts
The XM Zero Account has no spreads
All CFD markets offer leverage
MT5 is supported
Cons
CySec, not the FCA, is in charge of regulation
There are no conventional investing assets
Best MT5 Brokers Fees Comparison
The main fees that we came across when researching our MT5 broker reviews are listed below:
| | | | |
| --- | --- | --- | --- |
| MT5 Broker UK | Commission | Spreads From | Platform Fee |
| AvaTrade | 0% | 0.9 pips on EUR/USD | None |
| Libertex | 0%-0.5% | ZERO | None |
| Pepperstone | 0% | 0 pips on Raw Account | None |
| Forex.com | 0% | 0.2 pips on EUR/USD | None |
| XM | 0% on Micro/Standard account | 0 pips on XM Zero Account | None |
How to Start Trading with an MT5 Broker?
So now that you have a better understanding of why the MetaTrader 5 trading platform is so popular, let's go over how to establish an account with one of the best brokers that provide the MetaTrader 5 platform. We'll be utilizing AvaTrade, one of the finest overall MT5 brokers.
Step 1: Open an Account
To begin, go to the broker's website and click the Register option.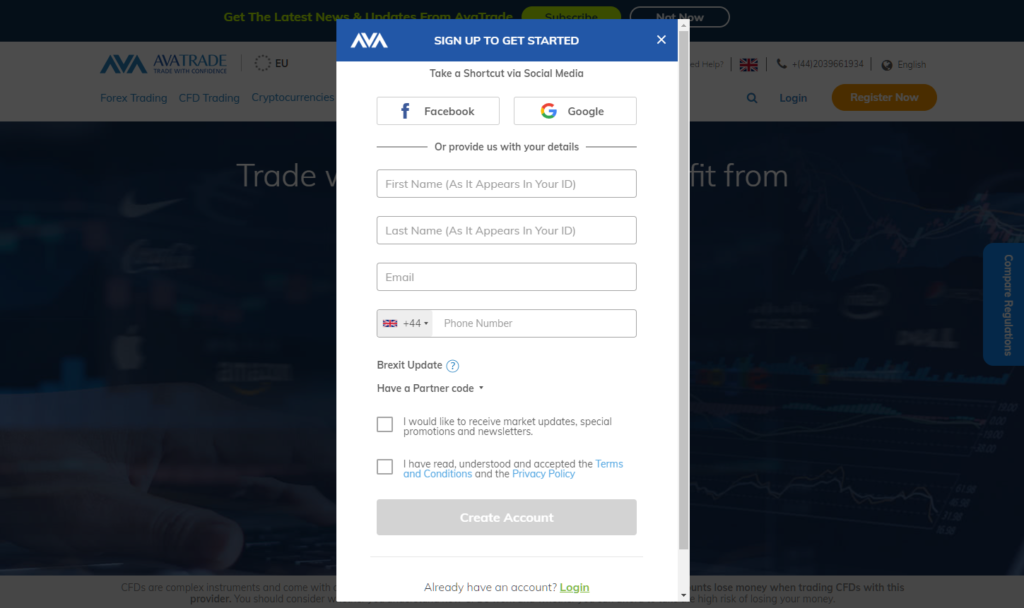 Following the entry of your name, email, and phone number, you will be asked to complete a questionnaire so that the broker can learn more about your financial information, history, and experience, as required by regulation.
Step 2: Upload ID
All regulated brokers are now required by law to go through a verification process to verify your identity and address. You will typically be required to present the following two documents:
A valid passport or driver's license
A bill from the utility company or a bank statement (not older than 3 months)
Step 3: Deposit Funds
AvaTrade provides a number of options for funding your trading account. Bank wire transfer, Visa/Mastercard, PayPal, and e-wallets like Neteller, Skrill, and Rapid Transfer are all examples. AvaTrade's minimum deposit is only 100 USD.
To begin the process, go to the AvaTrade client interface and click Deposit, as illustrated below: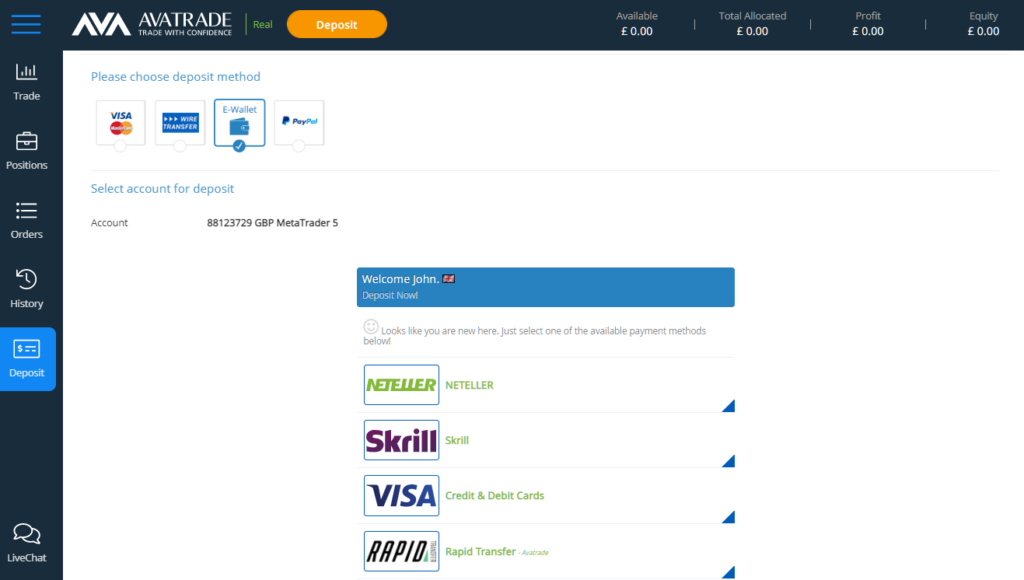 Step 4: Download MetaTrader 5
You can open and manage live trading accounts through the AvaTrade client interface. In the example below, you can create a MetaTrader 5 trading account and follow the download instructions to get your MetaTrader platform up and running in minutes.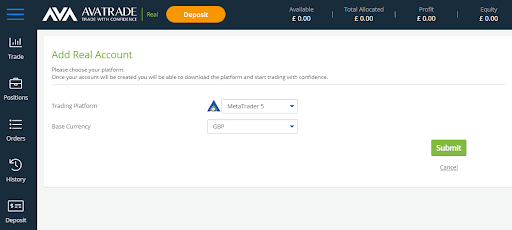 Step 5: Trade
Trading with the MetaTrader 5 platform is a simple task. After you've decided on a market to trade, click the New Order icon at the top of the screen to open a trading ticket. This gives you the option of selecting your entry, stop loss, take profit, and volume. If you have any trading robots, you can even use them.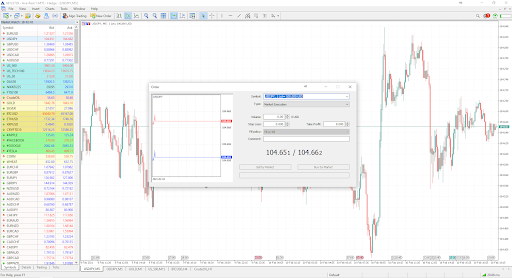 Conclusion
You should only trade with MT5 brokers who meet all of the requirements which involves investigating the MT5 broker's regulations and licenses, as well as the many asset classes available to you, as well as the broker's trading costs, and other services. Most MetaTrader 5 brokers will provide you with additional features, so take advantage of them!
One of the easiest methods to get started is to use the top five MT5 brokers listed above. The comprehensive review will help you select the best broker for your needs.
AvaTrade is, in our opinion, the best MT5 broker, and you can start trading with them in just a few minutes and with the click of a button on hundreds of different financial instruments.

Frequently Asked Questions
Where can I find the best MT4 brokers?
Libertex is a good choice if you're seeking the finest MT4 brokers. You can trade without paying spreads on the platform, which supports both MT4 and MT5.
MT4 or MT5: which is the better option?
MT4 and MT5 serve different purposes, according to experienced traders. After all, Metaquotes designed both platforms. Forex traders, for example, use MT4, but stock and commodity dealers prefer MT5. Finally, both platforms have advantages and disadvantages, so which one you choose is a matter of personal preference.
What is the minimum MetaTrader 5 deposit?
MetaTrader 5 has no say over minimum deposit requirements. Instead, your preferred MT5 broker determines this.
Is MT5 compatible with cryptocurrencies?
Yes, if you want to trade cryptocurrencies, MT5 supports this digital asset class. If you are a UK retail trader, however, you will not be able to trade cryptocurrencies via CFDs. Because of the FCA's restriction on bitcoin derivatives in January 2021, this is the case. Only if you are considered a professional-client can you avoid this.
On the MT5 trading platform, how do you use a forex EA?
If you want to use the MT5 trading platform to install a forex EA, the procedure is simple. You simply need to install the EA software file into MT5 on your desktop device after downloading it. After you've adjusted the EA's parameters and activated the file, it will begin trading on your behalf 24 hours a day, 7 days a week.
Which forex trading platform for MT5 is the best?
AvaTrade has proven to be the best FX trading platform for MT5. At this top-rated MT5 broker, you'll have access to dozens of forex markets, all of which offer zero spreads.