One of two basic primary investment techniques is growth investing, the other being value investing. A growth investment strategy often allocates the majority of a portfolio's assets to growth stocks, which are stocks whose profits or sales are predicted to increase at a much higher rate than the market.
Growth stocks can be a fantastic method to build a life-changing fortune in the stock market. Obviously, knowing what stocks to invest in and when, is crucial.
Growth stocks that are well-chosen can aid you to make wealth in the stock market. The trick is to spot long-term patterns and the businesses that are best positioned to benefit from them.
To assist you in doing so, we've listed the ten best companies in this Best growth stocks UK for 2022 guide that are particularly well-positioned to generate significant gains to their investors in the upcoming year.
What are Growth Stocks?
Growth stocks are businesses that increase their revenue and profits at a faster rate than the average business in their industry or the market overall. Growth stocks involve more than simply purchasing rising-value stocks.
A growing business is likely to have developed a unique technology or service that is expanding, market share in existing markets, entering new markets, or even initiating new industries.
Choose Best companies that can grow at a faster rate than the average industry over long periods of time and they are compensated by the industry, resulting in substantial profits for stockholders. And the higher the rewards, the faster they expand.
In considerations of performance factors such as price-to-earnings, price-to-sales, and price-to-free-cash-flow ratios, growth stocks appear to be more costly than the average company. Growth stocks are also less likely to pay dividends because the majority of their earnings are used to fund additional expansion and innovation.
Regardless of their high prices, best growth stocks can provide share holders with huge profits if they realize their enormous growth potential.
Characteristics of Growth stocks
Investing in a growth stock is appropriate for those who are willing to take on some risk in exchange for a large return on their total investment. If you are confused knowing what are the best stocks to invest in then we have the following characteristics that may help you quickly identify the best growth stocks and their originating companies to answer this question:
Price-to-earnings ratio
Companies with strong potential growth are discovered in the industry, and their stocks have a significant purchase worth. These firms' growth stocks have a significant price to earnings (P/E) ratio, signifying excellent overall investment returns.
A greater price-to-earnings ratio shows that investors recognize a firm's full potential and anticipate it to develop at exponential rates over time. This P/E ratio is calculated using the following equation:
P/E ratio = Market price per share / Profits per share
A high P/E ratio, on the other hand, might be deceiving in some situations, as it may signal that a company is overpriced relative to its productive ability. The performance of such companies is a consequence of an economy's surge or sustained inflation or the emergence of a financial bubble.
Price-earnings to growth ratio (PEG)
The major benefit of the PEG ratio over the P/E ratio is that it accounts for the annual increase in a company's total earnings per share. This PEG ratio is calculated using the following equation::
PEG Ratio = Market price of unit shares / Profits per share growth rate
A high PEG ratio suggests that a company has performed very well. When opposed to the price-to-earnings ratio, it is a better research technique because it does not provide deceptive findings.
Strength of the issuing company
Only companies with significant future development and expansion potential can offer growth stocks. This can only be accomplished if a company has a stable basis, a well-thought-out business development strategy, and competent management to meet set goals. This could be expressed as an annual return on equity (RoE) amount.
Top 10 Growth Stocks
Before we get into the best growth stocks to invest in 2022 in detail, Here's a quick rundown of the best companies to invest in that can pay off handsomely:
Top 10 Growth Stocks Reviewed
Roku is a technology company located in the United States that lets anyone use smart TV facilities without having to possess high-end equipment. Alternatively, all you have to do is buy a Roku device and link it to your television. You'll have accessibility to a variety of streaming platforms, including Netflix and Amazon Prime.
This growing stock is traded on the NASDAQ in regards to its stock market trading. After going public in 2017, Roku has had a successful run. You might have spent only $23 per stock back then. If you see now in March 2022, the same stock will value you $112.11.
This is a 772 percent gain in just five years. This is important because the company has definitely survived the coronavirus disaster. Some would claim that this growth stock is undervalued, with a market value of little over $31 billion. As a result, for less than $120 per share, you have a good possibility of getting a good deal on the stocks.
Zoom is a video conferencing software firm with a cloud-based platform. Despite the fact that the company was founded in 2011, it wasn't until the coronavirus lockdown that it became well-known. Matter of fact, during a period when restrictions on travel kept people off from each other, Zoom was frequently the link among relatives and friends.
It was also the main form of contact between employees who were unable to report to work. Zoom came out publicly with its shares in September 2019. You would have spent around $62 per share back then. The stocks are worth slightly over $110.10 at the time of this writing in March 2022.
As a result, the videoconferencing firm's early investors are now looking at massive profits not bad for a little over two years of business. With a market valuation of $32.83 billion on NASDAQ, this growth stock has a lot of room to develop and could be one of the best stocks to invest in which could outcome in a future profit for you.
Etsy is an online marketplace for antiques and handmade crafts. Clothing, jewelry, furnishings, and fine art are all examples of this. Although this may appear to be a modest market, consider this: Etsy is now valued at over $17.52 billion on the NASDAQ.
Investor confidence was relatively poor in the months following the company's initial public offering in 2015. This is due to the fact that the stocks dropped from a high of $27 to just $8 in 2016. However, following the pandemic lockdown, the stock continued to soar, reaching a high of $135 in August 2021.
At the time of composing this post Etsy is trading at $137.91. Etsy shareholders are opting at profits of almost 400 percent in just fewer than five years of trading.
Paypal is one of good stocks to invest in 2022. Despite the fact that Paypal was created in 1998, it was not until 2015 that the company decided to go, official. You would have spent $34 per share back then. Although it is difficult to label a 20-year firm as a growth stock, many believe Paypal is still in this stage.
After all, the stocks are now worth $93.81, representing a 382 percent gain in just five years of trade. The year 2020 was particularly fruitful for the e-wallet service. However, shares are down significantly in 2022, making it an attractive time to buy share at a lesser cost.
Shopify is another great growing stock to explore if you're interested in stock investing in the United Kingdom. It is an e-commerce platform that allows businesses to construct online storefronts. The Shopify platform is straightforward and user-friendly, with all of the functionality required to promote products and accept payments. At the time of writing, Shopify has approximately 1.7 million businesses in roughly 175 countries, according to various reports.
Shopify stock is presently trading at $527.37 with a market valuation of $65 billion. This makes it the best long term stocks for long-term investors.
Since November 2021, the value of Shopify stock has been decreasing, with a nearly 28 percent drop. Despite the low price, analysts remain confident in Shopify's ability to operate successfully as a firm. The company's revenue surged by 86 percent in 2020, because of increased demand for online deliveries due to the epidemic. Shopify's revenue is expected to climb by 33% in 2022, according to analysts.
Shopify only served 162,261 businesses worldwide at the time of its initial public offering. However, it now services over 1.7 million enterprises worldwide.
Netflix, which is currently trading at $346.59 and has a market cap of $155 billion and an estimated year-end price of $700, is one of the best stocks to buy.
It is the world's most popular streaming service, with over 200 million paying subscribers. Despite the fact that the company went public in 2002, it wasn't until the following decade that its stock price began to rise.
Nonetheless, if you had bought this burgeoning firm when it initially went public, you would have paid only $1.21, which includes the company's two stock splits. The share price of Netflix has already reached an all-time high of $700 per stock, which it reached in late 2021.
The value of Netflix stocks has recently fallen due to a less-than-favorable earnings report. As of this writing, the price per share of Netflix is $346.59.
According to Nasdaq analysts, the streaming service will attract 25 million customers in 2022, meeting the company's objective of adding 25 to 30 million subscribers every year. As per some analysts, if the stock keeps going on its existing route, it could reach $700 by the end of 2022. As a result, Netflix is one of the best stocks to buy today for a good price. 
Salesforce is another high-growth stock in the cloud-based software industry. More specifically, the company is behind high-end CRM platforms that connect businesses with their customers. Salesforce shares were first valued at just under $4 in 2004 on the NASDAQ, according to its historical performance.
In September 2020, the identical equities were trading at $246 per share. However, the majority of this expansion occurred in just one year, in 2020. In March 2020, for example, the stock hit a low of $115. However, a 52-week high of $284 was reached in August, representing a 146 percent increase in just 5 months.
It's also worth noting that the company's most recent earnings report outperformed market forecasts. For the quarter, for example, revenues increased by 29% year over year, while earnings per share increased to $1.44. Even more surprising, Salesforce was just recognized as a Dow Jones 30 constituent, replacing Exxon Mobil. With a stock price of $189.69 at the time of writing in March 2022, this stock still has a lot of room to grow in the coming year.
NVIDIA is the dominant player in graphics processing units (GPUs). With Computers, laptops, and smartphone devices, the company offers consumers a high-end gameplay experience. Despite the fact that NVIDIA was founded in 1993, it is still a growth stock. In addition, in the perspective of end-to-end returns for investors, this specific option is a clear winner.
In 1999 NVIDIA was trading for $1.64 per stock. This definitely placed the company in the penny stock category. While the stock market had a mixed performance in the 2018/19 fiscal year, it's been upwards, upwards, and away since then.
Today a single share of NVIDIA today costs $211.47. As a result, investors who bought the stock in 1999 may expect quadruple-digit profits! While you may be anxious that you've missed out on this opportunity, don't be.
Even so, the stock continues to provide investors with massive profits. NVIDIA's stock, for example, has surged by a whopping 124 percent in the last year. With positive outlooks for the future, now could be an excellent moment to buy NVIDIA stock.
Trex hit the large-cap – or at the very least securely mid-cap – category with a 61 percent increase in 2021. While it is unlikely to duplicate its great performance from the previous year, it has an impressive 15-year annualized total return of 25.4 percent.
In 2022, the transition from wood to composite decking is likely to continue. Over the last three fiscal years, Trex has increased its yearly revenue and profits per share (EPS) by 17 percent and 20 percent, respectively.
Trex was founded in 1996 as a company. According to CEO Bryan Fairbanks on the company's third-quarter earnings call, composite decking accounts for 25% of all decks in the United States and is expected to grow at a rate of 2% per year for the foreseeable future.
With a market valuation of $7.88 billion and a year-end projected price of $140, Trex stock is presently trading at $68.76.
TREX is not only one of the top growth companies to invest in 2022, but it's also a good choice for investors interested in environmental, social, and corporate governance (ESG).
Merkel anticipates Trex's EPS to increase by 15% to 20% every year over the long term. As a consequence, investors can anticipate a rise in the company's stock price in 2022 and even beyond.
10. Unity Software Inc (NYSE: U)
Meta products will need to be part of a rich and intuitive ecosystem to be successful. Unity Software is a forerunner in this field. Unity is a game engine that allows developers to create games for virtual reality, PCs, mobile devices, and consoles. The firm has a lot of room to grow in the next years because the field is becoming increasingly profitable and undoubtedly enormous.
With a market valuation of $24.06 billion and a year-end projected price of $210, Unity Software stock is presently trading at $79.18.
With more firms entering the gaming sector, it's no surprise that Unity might gain a substantial piece of the market. Unity Software's graphics are also used in the design, e-commerce, architecture, and animation, indicating that even without Meta cooperation, the company has room to grow.
Advantages of Investing in Growth Stocks
Higher returns
The goal of investing in the best growth stocks is to build wealth through large-scale capital gains. Such businesses expand at a faster rate than the underlying industry in which they operate, resulting in higher revenue.
Growth firms can only improve profitability over a significant period of time. Any capital gains made during this time period are subject to long-term capital gains tax (LTCG), which is a lower rate than short-term taxation. There is also an indexation provision, which reduces the tax burden of individuals even further.
Hedge against inflation
Best growth stocks offer returns that are significantly higher than the current inflation rate in a market, enabling investors to make real income on their overall assets. Individuals' purchasing power increases over time, thus raising their standard of living through rising per capita income.
Difference between Value stocks and Growth Stocks
Growth stocks might be perceived as overvalued and pricey, owing to their high P/E ratios. Value stocks, as compared to growth stocks, are offered by businesses that are presently cheap in the industry. Individual investors can profit from these stocks because they have a cheaper price to profits and value to book ratio.
Value stocks offer dividend payouts as well as capital growth to investors. Additionally, since value stocks are generally released by firms with large market cap, the likelihood of reaching a bad investment are narrow. Growth stocks, on the other side, rarely give dividends and have high P/E ratios. The main attraction, though, is that the stocks could be worth a lot more in the future.
This aids you in increasing your fund's growth rate. With this in mind, experienced investors will frequently hold a stake in both value and growth equities. This method of diversification ensures that you have a hand in a wide range of firms. That is to suggest, while you own companies with long-term growth potential, you also own value stocks that can pay off in the slow to immediate term.
Risks of Investing in Growth Stocks
Growth stocks are regarded as high-risk investments. This is due to the fact that these businesses want to make money by establishing a big market edge through aggressive business practices. Such corporations frequently forego dividend payments in order to reinvest in growth, which is a significant drawback to investors.
If a company loses money, investors will lose money in the long run since no dividend payments are made during the lock-in period.
Growth stocks are typically issued by companies in the early stages of development and are hence particularly vulnerable. Because of their volatility, they are significantly influenced by market swings. Even though this characteristic allows enterprises to generate big profits during market upswings, even minor price volatility can result in massive losses. Investing in the top growth stocks should be done in accordance with market conditions.
The underlying performance of growth stocks can also be influenced by a country's ongoing economic situation. In the event of a financial bubble, any company operating in that industry is likely to outperform its potential. Because it is based on an economic anomaly, such growth can be deceiving.
How to Buy Growth Stocks?
Now that you've learned about the benefits and drawbacks of growth stocks, let's look at how you can invest in them. A step-by-step guide to buying growth stocks is provided below:
Step 1: Choose a broker
The first step in acquiring a growth stock is to discover a reputable stockbroker. The broker must not only offer your preferred shares but also do so at a reasonable commission. Payment methods supported by legislation, as well as the required minimum investment, should all be considered.
To assist you, we've put together a list of the top two trading platforms that offer some of the best stocks to buy:
1. eToro
For quite a while now, eToro has ruled the UK stock broker market. Users of all ability levels can use the system, which is one of its main benefits. eToro has you covered, whether you're an experienced investor or a novice looking to make your first investment. The online broker has a large stock library with over 2400 stocks to choose from, including many of the best stocks to buy.
This includes a large number of UK-listed companies as well as international shares. eToro allows you to buy shares without paying a commission, irrespective of which market you want to invest in.
This is unusual in the online share trading space, so the platform is ideal if you want to keep your costs to a bare minimum. We also like eToro because it allows you to start with very low stakes. eToro requires a minimum deposit of only $50, and shares in a company can be purchased for as little as $10. This is true regardless of the price of the shares, as eToro allows for fractional ownership. Furthermore, eToro is well-known for its Copy Trading feature.
This permits you to copy the investments of an experienced eToro investor. Coming to payments part, you can easily fund your account using a UK debit card, credit card, bank account, or e-wallet. Because eToro is denominated in US dollars, there will be a small 0.5 percent currency conversion fee. Your funds are also safe at the broker, as eToro is regulated by the FCA, one of the UK's top regulators. The FSCS scheme will also safeguard your funds.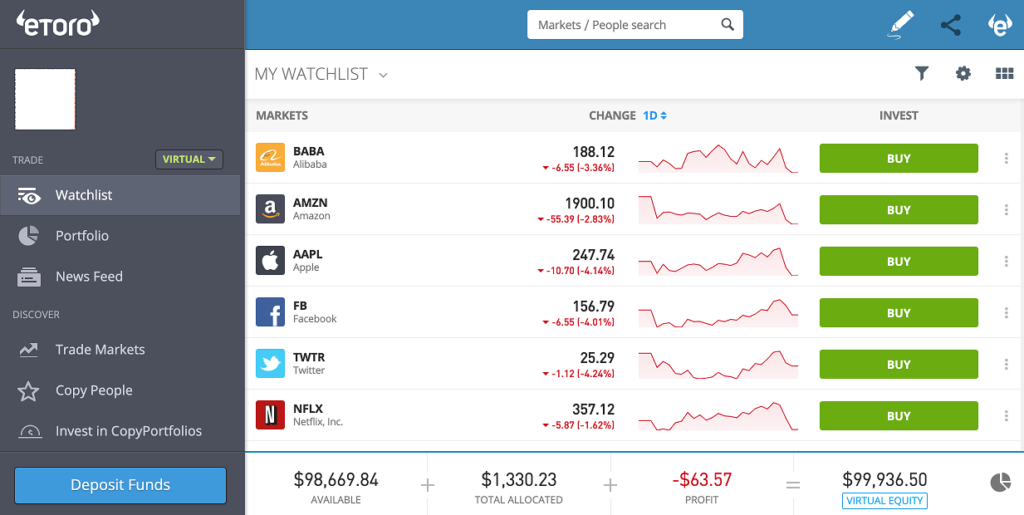 Pros
Online stock broker with a user-friendly interface
Purchase shares without having to pay a commission or share dealing fees.
There are over 2400 shares listed on the UK and international stock exchanges.
Invest in stocks or trade CFDs.
Tools for social and copy trading
Accepts PayPal Trading App for Mobile
Regulated by Financial Conduct Authority
Cons
Not for advanced traders who enjoy performing technical analysis.
2. IG
IG is also popular among UK investors seeking to purchase growth stocks. After all, the broker provides you with instant access to over 10,000 stocks. The London Stock Exchange and AIM both have a huge number of companies listed, giving you more than enough choices for expanding your portfolio. IG, like eToro, allows you to trade on international stock exchanges.
IG provides CFD stock trading as well as spread wagering in addition to traditional stock trading. If you want to trade high-growth shares with leverage or interact in short-selling, this is a good tool to have. When it comes to fees, IG charges £8 per trade to invest in shares. This means you'll pay £8 for the shares when you buy them and £8 when you sell them. The amount you invest has no bearing on the fee because it is fixed.
If you place more than three orders in the previous 30 days, your trading fees will be reduced to £3. Trading fees for CFDs and spread betting are slightly different, with a 0.10 percent commission. This will set you back a minimum of £10. You will be likely to invest via the system's main website, MT4, or on your mobile phone if you join the 178,000 IG clients. This ensures that you can buy and sell growth stocks from anywhere in the world.
In terms of specific information, IG was created in 1974, making it one of the oldest brokerage firms in the industry. With an existing market capitalization of £2.7 billion, its holding company is listed on the London Stock Exchange. It does, after all, hold a number of brokerage licences, including the FCA's. This guarantees that you can trade in a secure and safe ecosystem at all times.
Pros
Regulated by the Financial Conduct Authority (FCA) with a long-standing reputation for providing good value share dealing services.
Short-selling and leverage are also available.
CFDs and spread betting are two types of financial products.
Market access in the United Kingdom and internationally
Exceptional research department
Cons
A £250 deposit is required.
The minimum commission for stocks in the United States is $15.
Step 2: Open an Account
Now that we've gone over the two best stock trading sites for buying growth stocks, it's time to walk you through the investment process. Luckily, online stock trading accounts such as eToro make it simple to invest. In fact, the process consists of opening an account, depositing funds, and purchasing stocks, and takes only minutes.
You must open an account with every online stockbroker. As a result, go to the eToro website and select the 'Sign Up' option.
You'll have to include some personal details to open an investment account. The following will be included:
Full Legal Name
Home Address
Date of Birth
Nationality
National Insurance Number
Telephone Number
Email Address
Also, make a username and a strong password.
Step 3: Verify Your Identity
Because eToro is regulated by the Financial Conduct Authority, it must adhere to all anti-money laundering laws in the United Kingdom. This means you'll have to go through a simple KYC (Know Your Customer) process to prove your identity.
Share a government-issued ID, including a passport or driver's license, as well as proof of address, including a utility bill or bank statement, to confirm your identity.
Step 4: Deposit Funds
You will now need to make a deposit. The minimum deposit is $50, with a 0.5 percent conversion fee if you deposit in GBP. At eToro you can deposit using any of the methods listed below:
Debit card
Credit card
Paypal
Skrill
Neteller
Klarna
Trustly
Bank Transfer
Step 5: Select the growth stock you want to invest in.
After you've deposited funds in your account, you can purchase the stocks you want. eToro is available in over 800 companies in the UK and abroad. Once you've decided on a company to invest in, type it into the search box at the top of the screen. In our guide, we'll be choosing Netflix (NFLX) stock as it is one of the best stock to invest in right now.
Step 6: Buy Growth Stocks
Now that you've decided on a company to invest in, you must decide how much you want to invest. On eToro, you don't have to buy entire stocks; you can purchase as little or as much as you want.
Then you must select the 'Trade' option. An order box will appear on your screen as a result of this action. To finish the buying process, you have to place the sum that you chose to invest and tap on the 'Open Trade' button.
Conclusion
You can invest in a business if its share price is lower than its perception, underlying value. The most challenging part is, of course, identifying the good companies to invest in for your financial objectives.
Growth stocks have both advantages and disadvantages. On the one hand, you have the opportunity to invest in a company that is just getting started. Although you may have to pay a price in aspects of the P/E ratio, it is expected that the stocks will be worth much more in the coming years.
However, there is no guarantee that your chosen growth stocks will reach their full potential. This is why conducting thorough research prior to making an investment is critical.
In any case, you'll need to find a reputable and low-cost UK broker to help you invest in low-cost stocks.
We discovered that eToro is the best platform for this, as the broker charges no commission on any of the growth stocks discussed on this page, and there is no stamp duty tax in the United Kingdom.
Frequently Asked Questions
How do growth stocks work?
Growth stocks work in the same way as any other stock. That is, you buy the stock in the hopes that it will increase in value in the future. If they are, you will be able to sell them for a profit.
What is the best way to value growth stocks?
It's difficult to value growth stocks because so much of it is based on the company's perceived future value. Because many growth stocks have yet to reach their full potential, this is the case.
Why is the P/E ratio of growth stocks so high?
The P/E ratio compares a company's earnings to its current stock price. The P/E ratio of high-growth stocks is high because they typically have low earnings and a high stock price.
Where can I find growth stocks?
The AIM, which hosts small and emerging companies, is where the majority of growth stocks in the UK are listed.
What is the smallest amount of money I can invest in growth stocks?
The amount of money you need to invest is determined by the broker you choose. In the case of eToro, this is only $10.