Value investors seek to acquire stocks at a discount to their market value Here is a list of the best value stocks to buy in the UK in 2022, along with a detailed analysis of each value stock and information on how to buy them.
Best Value Stocks 2022
The following are the top value stocks available in the United Kingdom right now
Best Value Stocks Analysis
One of the most actively traded FTSE 100 equities is Lloyds. The housing sector is the financial behemoth's biggest focus. In actuality, mortgages account for 71% of their loans.
Analysts are unsure of what will happen to mortgage volumes in the near future as interest rates rise in reaction to inflation. However, given that successive governments have failed to address the severe housing shortage in the UK, we believe that demand for housing will stay high in the long run.
Actually, Lloyds is starting a fascinating experiment where it plans to buy houses and rent them out. According to rumors, it will buy up to 50,000 properties over the following ten years. But even though the bank's stake to the real estate market will expand, this could raise profits.
Additionally, keep in mind that bigger margins translate into higher interest rates. Even the money that Lloyds leaves with the Bank of England will earn more interest.
Its P/E ratio is at 5.6, and its dividend yield is 4.8%. The preceding year's dividend payout ratio was a very solid 3.75 percent.
This year, the company will face a few short-term difficulties due to a predicted economic slowdown, such as loan defaults. Despite this, we think Lloyds is among the best-value stocks you can purchase right now.

Currently, a smart location to seek bargains is in UK housebuilding equities. The enormous dividend yield of Persimmon, which is currently 13 percent, is well recognized. However, that isn't the main argument for getting it (that kind of greater yield is likely unsustainable.).
We appreciate Persimmon in part because it seems less vulnerable to the cladding situation than other developers. The company estimates that recladding homes in the UK will cost £75 million. In the most latest reporting year, this amounted to less than 10% of the company's pre-tax profits.
The Q1 results of Persimmon were somewhat disappointing. Due to labor difficulties and planning delays, house deliveries were slightly fewer than anticipated. However, profits are still above forecasts because of a very robust housing market.
Additionally, as was already indicated, we have faith in the long-term stability of the real estate market and are not overly concerned by any temporary decline in demand. However, increased rates will definitely keep this stock under pressure for a long.
The dividend is significant but, in our judgment, unsustainable. Persimmon's dividend coverage ratio for the previous year was 1.06. A dividend ratio of about two would be considered healthy.
IG Group Holdings (LON: IGG)
IG Group is an online brokerage company that offers spread betting and contracts for difference on equities, bonds, and currency markets. The P/E ratio for this FTSE 250 firm is 7.22, and the dividend yield is 6.15 percent.
In 2022, the price of IG shares decreases by 15%.
IG Group continues to grow even with the recent slump. The company's pre-tax earnings for FY2021 were were £450.3 million, a significant rise from £295.9 million the previous year. Basic earnings per share increased from 65.3p to 100.7p.
Additionally, the business continued to pay dividends despite the pandemic. It has paid out a net per-share dividend of 43.2p from 2018. The third quarter of 2022 saw a 13 percent increase in net trading revenue from ongoing activities, which bodes well for the upcoming fiscal year.
Rival brokerage firms like Plus500, however, represent a serious danger to the company's ability to remain in business. If retail traders lose interest as the US bear market deepens, IG Group may have trouble holding onto its market share.
Nevertheless, the company's strong financial position gives us hope. In general, we believe that this value stock is an excellent investment for our portfolio in August.
Over the past year, Royal Mail shares have decreased by more than 30%. Due to the downturn, the shares are now trading at six times expected profits and have a 6.8 percent potential dividend yield.
Of course, this year's profits are predicted to decline as the pandemic's bump wears off. Increasing gasoline and labor expenses could also be a problem.
However, according to brokers' average projections, Royal Mail would produce £349 million in excess cash in the 2022–2023 fiscal year, which will increase to £412 million in 2023–2024.
Our calculations indicate that Royal Mail's cash generation should adequately cover the near-7 percent dividend payout, lowering the danger of a decrease. The extensive real estate holdings of Royal Mail are an additional draw. In addition to its trading gains, this company has a strong asset base.
At these prices, Royal Mail appears to be a traditional value investment in our opinion. In the upcoming weeks, you should add the shares to your portfolio.
The energy services company Wood Group is our next choice. This company was once a provider of North Sea oil services, but it now handles a far wider variety of energy operations.
Unfortunately, the group's diversification took place at a time when the energy markets were struggling. Profits have been underwhelming, and debt has consistently stayed high.
The share price of Wood Group has decreased 15% over the past year and is now 70% lower than it was five years ago. But we believe we have reached the lowest point.
Wood is currently selling its infrastructure company, which to us has always seemed like an odd acquisition. Additionally, we anticipate that the group's core energy business will continue to grow and benefit from stronger demand brought on by higher oil prices.
The turnaround at Wood Group has taken a lot longer than anticipated. It hasn't ended yet. However, this company is anticipated to earn a profit in 2022 and may start paying dividends again in 2023.
We now believe that Wood Group might represent one of the energy industry's best value possibilities.
The Malaysian rubber sector is where chemical company Synthomer's roots are. It now creates a huge variety of polymer-based goods. These include consumer foam, adhesives, latex gloves, and chemicals utilized by businesses.
For shareholders, the last three years have been a roller coaster. The shares fell from a high of 560p in August 2021 to 184p in 2022 as the pandemic drove up demand for latex gloves.
Synthomer shares have slipped back to about 300p as the market has returned to normal.
One danger that we can see is that demand may be negatively impacted by slower economic growth. Profits may fall short of expectations now that the pandemic's stimulus is gone.
We do believe that the share price already offers a reasonable margin of safety, though. According to broker predictions, Synthomer shares have a dividend yield of 5.4 percent and trade for less than eight times expected earnings.
The next value stock you ought to purchase for your portfolio can be Synthomer.
Read: Best Undervalued Stocks You Should Buy in UK 2022
Over the past few months, asset managers have faced many difficulties. The Abrdn share price has dropped precipitously, plunging 44 percent in a year, like many of its competitors.
The current stockholders will feel the agony of that collapse. However, it has increased the dividend yield to 9.1%.
How risky is the dividend and has the Abrdn investment case gotten worse?
In our opinion, the firm's position has gotten worse since last year. Consumer spending restrictions and underwhelming stock market returns have harmed a number of competitors. Abrdn hasn't provided the market with an update on its financial performance in five months. It might have also had trouble retaining its current clientele.
But we believe that the risk is already reflected in the company's share price. Strong brand recognition is advantageous for Abrdn. It is using what it refers to as a client-led growth approach to combat the possibility of consumers defecting. Long-established asset managers today face a significant problem in reaching a new generation of younger investors. Its expanding concentration on digital content may help them with this challenge.
Last year, adjusted diluted earnings per share did not cover the dividend, but adjusted capital generation did. If business performance declines, I'm concerned about the dividend coverage since there's a chance the company might once again reduce its distribution, as it did in 2020.
But with its high yield, Abrdn might be a profitable share to acquire right away for your portfolio if it can manage the business properly, and we believe it has a solid strategy to do so. We think the price-to-earnings (P/E) ratio of 12 represents fair pricing.
Imperial Brands (LON: IMB)

We would classify Imperial Brands as an FTSE 100 value stock with an even lower P/E ratio of < 9.
Clearly, investors are worried about the company's long-term demand prospects. In addition to being primarily dependent on the sale of cigarettes, it has recently sold its premium cigar business, which has lessened the diversification of its portfolio.
But the decision was beneficial for Imperial's balance sheet. While the cigarette industry continues to shrink over time, the company's approach of boosting prices and attempting to increase market share could allow it to continue to make significant profits. The cigarette business continues to be quite lucrative. Even while it decreased from the same time last year, Imperial's operating profit in the first half was still well over £1 billion.
However, income, not growth, is the main reason you should possess Imperial in your investment portfolio. Generous dividends may be supported by those earnings, and the yield is currently 8.8 percent.
Tesco is another stock we're examining for value. The business normally generates an operating income of about £2.5 billion. Its market value is at little about £22 billion. It has £2.4 billion in cash and total debt of £15.67 billion. This leads me to predict that the core business will return about 7.5 percent yearly because Tesco is a rather solid company.
The present assets of Tesco do not equal the current liabilities. This is viewed as hazardous by many. It implies that the business is less financially adaptable than it may be. However, we see it as a strength. It denotes that the business can make money off the products it buys before having to reimburse its suppliers. In our perspective, Tesco is a reliable firm that deals at a fair price. It is on our list of value stocks to purchase in August because of this.
Schroders is another value stock that we like the look of at the moment. It is a well-known asset management firm with branches in the United Kingdom, Europe, the United States, Asia, the Middle East, and Africa. For its clients, it manages about £700 billion. The market price of its non-voting shares is currently close to eight times anticipated earnings for this year. In our opinion, the valuation is a great deal.
We appreciate Schroders for a number of factors. One is the group's strong support for ESG (environmental, social, and governance). It declared last year that all investments the business controls now incorporate ESG considerations into decision-making. Currently, the Schroders group is well-positioned for the future.
The group has also entered the market for private assets, which is another. We think that this was a wise choice because the low-interest rates in the future would lead to significant demand for alternative investments.
In addition, this has a lovely dividend yield. The yield is currently at about 6.5 percent.
At this stage, it's crucial to emphasise how fiercely competitive the asset management industry is. Schroders is currently up against fierce competition from companies like iShares, Vanguard, and Fidelity. It increases risk. Another risk to think about is a stock market crash. The group's revenue may be impacted by this.
However, given the stock's present low valuation, we believe the overall risk/reward scenario is favorable.
How to invest in Value Stocks?
An instruction guide for buying value stocks is provided here:
Step 1: Choose a broker
The top two trading websites that provide some of the best UK stocks for purchase are listed below:
1. eToro
In the UK, eToro is the broker we heartily suggest. All of the top UK value stocks discussed in this article are available on this platform, which offers more than 2,400 shares on 17 domestic and international marketplaces. The best part is that you won't have to pay a commission to buy your favorite value stock.
Even the 0.5 percent stamp duty fee is waived by eToro when you purchase shares and equities listed on the London Stock Exchange. Additionally, you'll be pleased to know that eToro permits fractional shares. This implies that you can purchase anything you want as far as you pay at least $50.
With eToro, you can open an account in a matter of minutes and begin making deposits with your debit or credit card. Additionally accepted are bank wires and e-wallets. Finally, because eToro is governed by the FCA, ASIC, and CySEC, your money is secure there.
2. Capital.com

In the long run, the vast majority of you will be looking to purchase shares of the value stock you have chosen, and eToro is by far the greatest option. On the other hand, Capital.com can be worthwhile to take into account if you wish to adopt a more daring approach to value stock investing.
This is because a CFD broker like Capital.com enables you to leverage and trade a huge number of stock CFDs. Value stock investing can be started with leverage up to 1:5. This suggests that you can use a £200 account balance to access a $1,000 position.
This is a result of the platform's abundance of teaching resources and the low minimum deposit requirement of just £20. Even a demo account option is available, which lets you trade value stocks without taking any risks. Similar to eToro, Capital.com lets you set up a brokerage account in only a few minutes. E-wallets and debit/credit cards are accepted as deposit options.
Step 2: Open an Account
Opening a trading account and buying the value stock of your choice are the only remaining steps!
If you've never invested online, we'll walk you through the process using eToro, the top broker in the UK.
To create a new account, go to the eToro homepage and click for the "Join Now" button. When you click it, a box requesting some basic information will show up.
Step 3: Verify Your Identity
Due to its FCA regulation, eToro is required to confirm the identification of all new clients. The most remarkable aspect may be that eToro can typically check your documents in just two minutes.
Step 4: Deposit Funds
You must make a deposit right now if you wish to purchase your value stocks right away. You can accomplish this with a debit or credit card issued in the UK. UK bank transfers and e-wallets like PayPal and Skrill are both accepted.
Step 5: Select the value stock
If you already know the stock to invest in, look for the value stock you want to acquire. When you see the stock name, click the 'Trade' button.
Step 6: Buy Value Stocks
You only need to complete your value stock investment. Put your desired investment amount in the "amount" box, being careful to keep it under the $50 minimum.
All stocks on eToro are valued in dollars, regardless of whether you're buying UK value stocks.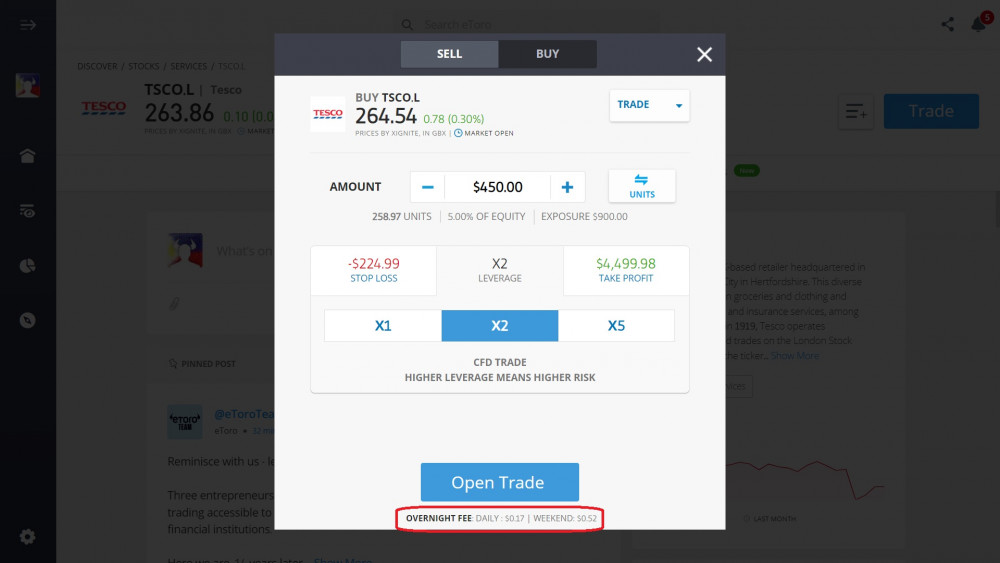 To complete your value stock purchase, tap the 'Open Trade' button!
Conclusion
The best value stocks give you the option to buy stocks below their intrinsic worth. This means that for much less investment, you will be able to participate in the market.
The best bargain stocks in the UK must be located through independent research. This contains, among other things, free cash flow levels, trailing dividend yields, and P/E ratios.
The market is currently providing some of the best discounts possible. The aforementioned have already paid off handsomely, but finding the top value stocks will assist new investors in creating successful positions in the future.
Naturally, you'll need to locate a reputable broker to buy your value stocks. The FCA-regulated broker eToro offers all of the top value stocks in the UK featured in this article commission-free.
Frequently Asked Questions
What are value stocks?
Value stocks are traded at a discount to their estimated intrinsic value.
What separates growth stocks from value stocks?
Growth stocks are businesses that are still developing and whose stock price is increasing more quickly than the market. Value stocks, on the other side, are investments that trade for less than their book value.
Is investing in value stocks a wise move?
Value stocks are a great investment since they enable you to buy a stock for less than its actual value.
Which broker in the UK offers the best prices on value stocks?
The best stock buys are offered by a multitude of UK brokers. But eToro stands out in our opinion. With this FCA broker, investing in value stocks is free of trading commissions and platform costs.