A newcomer in the forex industry, Skilling offers both CFD and FX trading. After recently introducing a cloud-based trading platform with effective risk management tools, Skilling started to draw an increasing number of customers.
In order to educate and train people from all around the world on how to become successful traders, Skilling was formed. Their goal is to provide a safe, transparent environment where trading is easy and available to everyone.
Everything you need to know about Skilling, including its assets offered, fees, security, and more, will be covered in our study.
Skilling Overview
Skilling began operating as an online-only broker in 2016. The platform provides trading to users in the EU/EEA and has international operations in Spain, Malta, and Cyprus.
Skilling started out as a startup company that specialized in bond market investments. But now, the business is working to develop a brand-new stock exchange model based on blockchain technology. They also seek to compete directly with the major trade players. They now provide CFDs and forex products all around the world.
Although Skilling is a relatively new company, they are quickly emerging as a major force in the financial markets.
Assets offered by Skilling
Since Skilling makes a point of providing a wide variety of trading assets, it is a particularly useful platform for investors wishing to experiment with other markets or explore more advanced choices. Currently, Skilling offers a wide variety of tradeable goods, such as:
Currency pairs: The Skilling platform offers more than 70 different currency pairs, among them U.S. Dollar / Canadian Dollar , British Pound / Polish Zloty, Euro / Japanese Yen, and British Pound / Australian Dollar.
Crypto Assets: The Skilling platform offers direct access to a number of lesser-known cryptocurrencies, such as Bitcoin, Ripple, and Litecoin.
Indexes: Skilling offers access to more than 15 distinct indices, such as DE30, AUS200, and SPA35.
Commodities: The trading of a wide range of commodities, notably Gold, Silver, Crude, and Gas, is possible on Skilling's marketplace.
Skilling's actual selection of trades may change over time, but their platform has a history of continuously offering variety in the trades they supply, making them the online CFD broker of choice for investors wishing to diversify their portfolios.
Skilling Fees
As a new player in the market, Skilling has made a good first impression by pledging openness in the way it priced its trades. This is not only appealing to inexperienced traders, but it may also be refreshing for seasoned traders seeking something different to try. All commissions and transfer fees are explained in detail.
With a recently modified model, Skilling now provides spreads on ordinary accounts starting at a very reasonable 0.7 pips, while Premium accounts, with a minimum deposit of $5,000 or more, benefit from a spread starting at 0.1 pips and a small value charge of 0.006%.
The consistency and transparency of Skilling make them a desirable choice.
There are no longer any withdrawal fees due to the recent elimination of withdrawal fees.
The website is upfront about the 10 EUR fee that would be charged to accounts that have gone dormant for more than a year.
Spreads on cryptocurrencies are excellent, with some of the best being offered by Bitcoin (0.2%) and Ethereum (1.6%). DASH, NEO, Monero, IOTA, and EOS have recently been added to the list of cryptos that can be traded.
Skilling Features
The Skilling online trading platform has the following capabilities, to name just a few:
Demo Account
The online broker trading platform also provides a demo account, similar to many other contemporary trading platforms, for anyone who wants to test Skilling as an online broker without risking their own money. Potential Skilling clients can use this demo account, which has a $10,000 virtual balance, to get a sense of what the platform has to offer.
Skilling Copy
The Skilling cTrader platform is connected with the award-winning copy trading system known as cCopy.
You can automatically copy the trades and techniques of more experienced traders with a track record using Skilling Copy.
You can explore Approach Providers and their histories, as well as examine their performance and trading styles, to determine which strategy is most appropriate for you. This is made possible by the detailed performance information that is provided.
It's undoubtedly an advantage to have strategy providers where you can choose to automatically mimic their trades as they obviously try their best to make money as they trade their own accounts.
PAMM/MAM Solutions
Skilling provides accounts for PAMM (Percentage Allocation Money Management). With a PAMM trading system, investors can assign funds to the trader or money manager of their choice, who will then manage the pooled funds across various trading accounts.
SkillingTrading Platforms
Three trading systems are available from Skilling: cTrader, MetaTrader 4, and their own unique trading platform, Skilling Trader. Mobile users have access to all platforms.
We also know that Skilling and TradingView are joining forces, and users will probably be able to use this as early as the Q1 of 2022, according to our information.
Skilling Trader
Their in-house trading platform, Skilling Trader, is appropriate for both amateurs and seasoned traders.
The platform is extremely user-friendly and accessible on mobile devices and through web browsers (IOS and Android).
Only a trailing stop-loss and an integrated economic calendar are missing from Skilling Trader.
Skilling cTrader
More advanced features offered by learning cTrader include trailing stop-loss, algorithmic trades, complex orders, and many more. It is fully lined with Skilling Trader.
You must select "My Account" -> "Accounts" -> "Enable cTrader" in order to enable cTrader.
Skilling MetaTrader 4
There is no getting around the necessity of MT4 for any genuine forex broker. You must select MT4 as the platform by clicking "Add Account" in order to download MetaTrader 4 through Skilling.
TradingView
According to the information provided to us, Skilling and TradingView will be fully integrated by Q2 2022. This entails that you can link your TradingView account to your Skilling trading account and execute trades right from TradingView.
Skilling App
Nearly all of the functions of the web interface are preserved in the Skilling Trader mobile app, which can be downloaded from the Apple App Store or Google Play Store. The features are modified for a smaller, vertically-oriented mobile screen. Nearly all charting options, including technical indicators, are available to you. The capability to compare numerous stocks on the same chart is one significant feature that is absent, though.
The mobile app has a pop-out menu that saves screen space and is generally simple to use. Stocks and other assets can be saved to a favorites menu, which acts as a watchlist. These companies are seen on the app's main screen when you first launch it.
Account Types
Standard
For almost everyone, a basic Skilling account is the best option. The account has spread starting at 0.7 pip and is accessible on Skilling Trader and Skilling cTrader.
The minimum investment is $100, and retail customers can leverage up to 30x under the CySEC licence and up to 500x under the FSA licence.
Premium
The spreads (starting at 0.1) and low volume-based commission of the Skilling premium account set it apart from the normal account.
Because of the low margins, the starting deposit is higher (5,000 €, or the equal in your domestic currency).
The trading platforms Skilling Trader, Skilling cTrader, and MT4 all support the Skilling premium account.
Corporate Account
The legal entity's name will be used to open a Skilling corporate account, which will subsequently be classified in accordance with the requirement(s) of the aforementioned account kinds).
In other words, it can be an MT4, Premium, or Standard account.
The CySEC legislation permits corporate accounts to seek professional status as well.
Islamic Account
The Islamic Account won't be assessed any fees or commissions for the first five days on major and minor currencies, metals, commodities, or indexes.
The account will only be subject to commissions starting on the sixth day and will not incur any swap fees.
Unleveraged Account
You can trade stocks and cryptocurrencies using this account type without using any leverage; instead, the default leverage is set to X1.
Although you are still trading CFDs and the stop-out level is still set by default at 50%, positions in cryptocurrencies come without any swap fees, making them ideal for long-term investors.
You can easily create an unleveraged account by clicking "Add Account" on the Skilling Trading platform, and you can manually request customer support to change the new account to an unleveraged account .
Your new unleveraged account is prepared right away, and the process is incredibly simple.
Deposit methods
As a well-known international broker, Skilling offers a variety of payment alternatives to customers in the nations where the business conducts business. Transnational transactions can be finished quickly.
On the trader's dashboard, select Deposit to fund an order at any moment. Before traders can deposit money, they must first finish their KYC verification. Skilling provides a number of ways for you to add money to your wallet, including:
Credit card
Accepts payments by credit card in the following currencies: USD, EUR, GDP, SEK, and NOK. Payments are finished in ten minutes, and there is no deposit cost. For card payments, the minimal down payment is £100.
Electronic payments
Traders can deposit their funds using Neteller and Skrill payment options. There are six different currencies: USD, EUR, GDP, SEK, and NOK. The deposit technique is cost-free and typically takes 10 minutes to complete. The minimal deposit for this procedure is £100.
Swish and Klarna have also been introduced into Skilling.
Wire transfer
Trusty provides access to wire transfers. The bank name used for the payment must be the same as the trader's account name. is prohibited from accepting payments from third parties under anti-money laundering laws. Wire transfer deposits start at £100.
one free withdrawal each month for traders. The smallest withdrawal is £50. All of the aforementioned payment options work for money withdrawals. Every withdrawal is processed within one business day. Skrill withdrawals will incur an additional 2% fee and Neteller withdrawals an additional 2.6% fee.
Education Resources
The trading platforms that you choose from Skilling feature some useful research tools as well as News Feed. We rate it as a very good one, but since each of them has unique characteristics, you should test your plan first to see which tools are best for you.
Though very new traders won't receive the necessary education support, learning courses, webinars, or fundamental analysis at Skilling, we nevertheless advise enrolling in a thorough education course with another provider or looking for brokers for beginners if you still choose to trade with the broker.
Skilling Licences and Security
Skilling has licenses from the Seychelles FSA, license number SD042, and the CySEC, license number 357/18.
It has a passport and is permitted to offer its services to nations in the European Economic Area because it is a broker that is CySEC-regulated.
Additionally, the British FCA has given Skilling Ltd. permission to conduct business in the UK under reference number 810951.
According to the information provided to us, a complete UK license can most likely be anticipated in 2022.
Your deposits with the broker are kept in separate bank accounts with reputable financial institutions, ensuring that they can only be used as collateral for your trading activities.
Investor Compensation Fund for Customers of CIFs, which safeguards client assets, is another benefit for consumers who choose the CySEC license.
Passwords used with Skilling are completely encrypted, and your personal information is kept on secure servers where it is protected from illegal access.
How to begin with Skilling?
Step 1: Sign Up & Verify
Whether you are a novice trader or an experienced one, you can quickly sign up. Basic personal data like your name, phone number, email address, and nation of residence must be provided.
Step 2: Make an Initial Deposit
Now that you have finished the aforementioned procedure and established your account, it is ready to consider your initial payment, which will operate as your working capital. The minimum deposit for a regular account type is $100, while the minimum deposit for a premium account type is $5,000.
Step 3: Time to Trade
Trading on Skilling can begin after you have funds in your account. You can choose between using the web platform or the smartphone app. Before using a sample account to practise trading, we suggest reading all the tutorials on the website.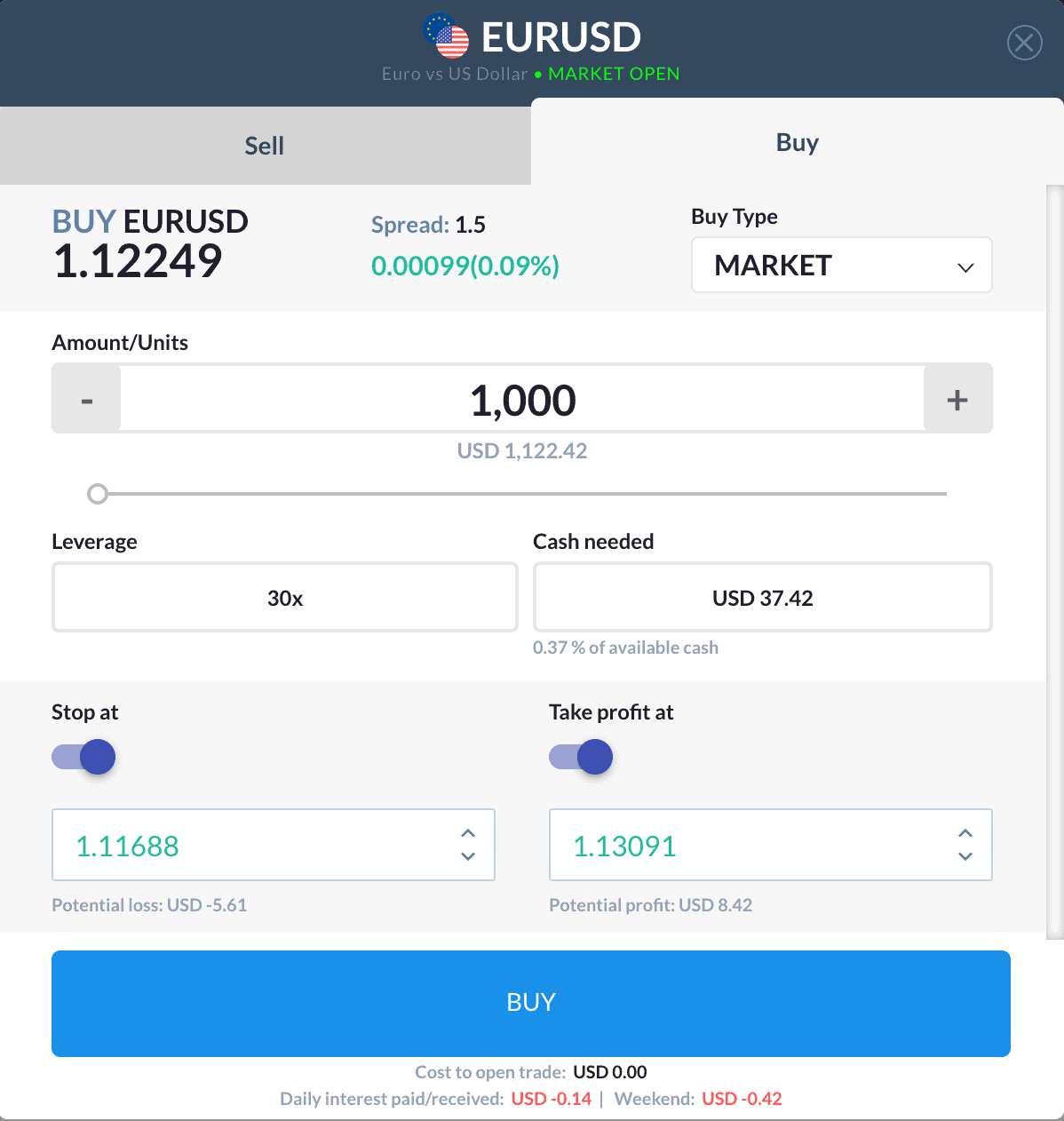 Conclusion
Since we have been trading with Skilling for more than two years and have invested a sizable sum of money, we really have nothing to complain about. The company is highly inventive, and client demands are swiftly addressed.
Some clients fervently desired the possibility of trading unleveraged cryptos (or other instruments), and it was quickly added shortly after.
The FCA regulation for UK-based traders who occasionally prefer a local regulator is the one item we don't have, but we've been told that Skilling is not far from completing the necessary training to obtain a full UK license.
Frequently Asked Questions
What is the minimum down payment?
The minimum deposit amount at Skilling is €100 or the equivalent in the currency of your account.
Does the broker support the MetaTrader 4 and MetaTrader 5 platforms?
Unfortunately, MT5 is not supported at this time. For expert traders, it does enable connectivity with the cTrader and MetaTrader 4 trading platforms.
How can I sign up for a professional account?
You need to submit a special request with a $5,000 minimum deposit in order to receive a professional account.