Trading with high leverage is an excellent option to make extra profits. However, you must first choose a suitable broker in order to give yourself the best possibility of earning bigger earnings. This is why we've compiled a list of the top ten high leverage broker for UK traders.
Best High Leverage Broker in UK 2022
We give a quick rundown of the most popular high leverage brokers in the UK in the section below:
Best High Leverage Broker Reviewed
After conducting significant research on all of the high leverage brokers available to traders and investors in the UK we have provided a detailed review of each broker in the sections below.
1. eToro
eToro is a high leverage broker that is also a social trading platform. It is the world's largest trading platform, with operations in over 140 countries. It's also licensed and insured, so any money you put into eToro is safe. It has over 20 million users and provides trading access to over 2400 financial products.
It offers approximately 50 forex pairs, covering from major currency combinations like EUR/USD, GBP/USD, and USD/JPY to minor currency pairs like GBP/USD and USD/JPY. There are two sorts of accounts available on eToro: regular and expert. If you open a normal account with eToro, you'll get 30 times leverage on major currency pairings and 20 times leverage on smaller currency pairs. If you open an expert account, on the other hand, you can get up to 400 times leverage. However, before you can register an expert account with eToro, you must pass a test to ensure that you know what you're doing and that you understand the hazards of trading with such high leverage.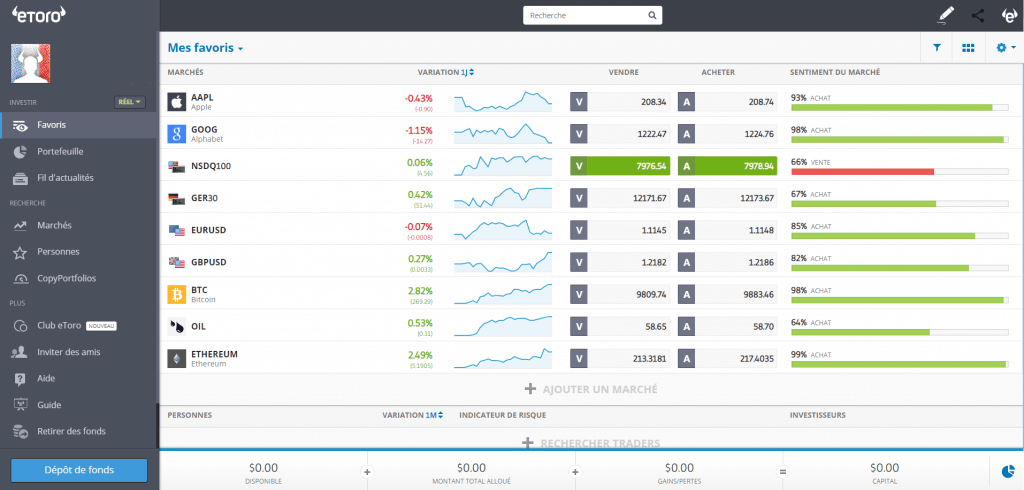 Aside from currencies, eToro offers a wide range of assets to trade. Stocks (which you can trade with a 10x leverage), ETFs (with a 5x leverage), commodities, and cryptocurrencies like Bitcoin are all examples. On each of these assets, it provides a distinct level of leverage.
If you're new to trading, you can always use eToro's social trading tool to get started and benefit from other traders' knowledge and experience. To do so, simply pick a trader who trades forex with a lot of leverage and copy their trades.
Pros
30:1 leverage
Fully regulated
Access to 2,400 markets
No costs for trading or management
Copy-trading
User-friendly.
$50 minimum deposit
Cons
Withdrawal fees
Inactivity fees
2. Capital.com

Capital.com is a CFD brokerage platform that offers all retail accounts up to 30x leverage. Although the corporation is headquartered in the United Kingdom, it also maintains offices in Belarus and Cyprus. They offer their own custom trading platform, although traders can also connect to the MT4 platform if they choose.
Unlike most other trading platforms, Capital.com does not distinguish between major and minor currency pairs, and all currency pairs on the platform have 30x leverage. They feature a very low minimum deposit requirement of only 20 GBP, making them a good choice for individuals who don't want to risk a lot of money.
Pros
Includes educational stuff
Zero fees when buying and selling
Tight spreads
Low minimum deposits
x30 leverage
User-friendly
Includes MT4 platform
Good analysis tools
Cons
Only CFDs are available
Options trading is not available
3. Libertex

Libertex is among the oldest high leverage brokers, providing professional traders with up to 600x leverage. If you are not a professional trader, Libertex offers a retail trading account with up to 30x leverage. This is owing to CySEC consumer protection guidelines forbidding companies from providing overly high leverage to retail traders in order to limit risk.
You can trade with Libertex using their own platform or combine it with MT4 or MT5 depending on your interests. As a result, it is compatible with a wide range of automated trading techniques. You'll have access to Libertex 51 forex pairings, all of which have a 30x leverage. The minimum deposit is also rather cheap, with as little as 10 GBP required to get started.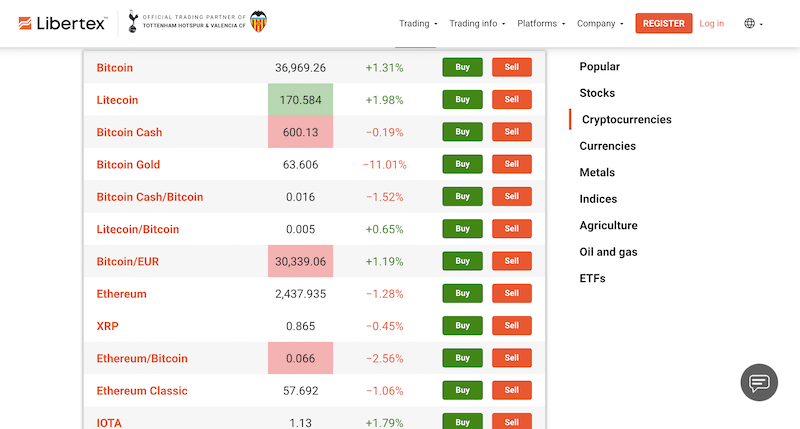 Pros
$10 minimum deposit
Licensed and regulated by CySEC
Three trading platforms are available
Cons
Offers a limited selection of products
4. VantageFX
VantageFX is a trading platform that offers high leverage to all types of traders as well as a diverse product selection. Because they are not as regulated as most other brokers, they can afford to offer all of their customers' leverage of up to 500x. They also offer access to over 40 currency pairs, as well as indices, commodities, stocks, and other assets.
When trading with VanatgeFX, you have the option of using one of several trading platforms, each with its own set of benefits and drawbacks. As a result, it is appropriate for traders of all levels of experience from all over the world. They have no spreads, which means you may buy and sell any pair at the same price at any time. Furthermore, their customer service is available 24 hours a day, seven days a week, and they offer negative balance protection, making them a very appealing option for traders. They also provide a 50% welcome bonus, which means that any amount you deposit will be matched 50 percent.
Pros
Provides a wide range of trading accounts
Zero spreads
x500 leverage
50% welcome bonus
Cons
Not regulated by the top-tier regulators
5. FinmaxFX
FinmaxFX is a solid choice for high leverage trading if you're seeking a broker with a lot of other benefits. For starters, it provides currency and commodity traders with up to 200x leverage. It also offers up to 100x leverage on energy assets, 20x leverage on equities, and 10x leverage on some cryptocurrencies.
FinmaxFX is regulated as well, but its regulators aren't as strict as the FCA or the CySEC. It allows complex charting and technical analysis to be performed using MT5. There are up to 50 currency pairings and 400 financial products to pick from on the platform. The platform's main major flaw is that it charges exorbitant withdrawal and inactivity fees.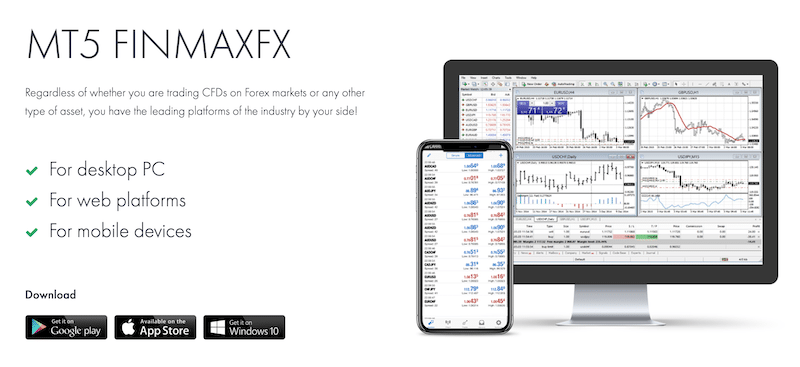 Pros
MT5 is supported
Lots of tools, features, and an extensive educational facility
Provides automated trading
Cons
High inactivity and withdrawal costs
Not licensed by the top regulators
6. Skilling
Despite the fact that Skilling is a new platform, it has swiftly gained popularity due to the massive leverage it offers all traders. It provides forex and CFD products with leverage up to 500x for major currency pairs and 200x for minor currency pairs, which is significantly more than most other high leverage brokers. It allows traders to trade FX pairings as well as commodities (with 100x leverage), gold, and some other precious metals (with 200x leverage). While it also provides stock (with 10x leverage) and crypto trading (with 5x leverage).
The site is licenced by CySEC and does not levy any fees or commissions on trading. Skilling have very tight spreads and provide copy trading for those who want to learn from more successful traders.
Pros
More than 800 financial assets in all
Regulated by FSA and CySEC
Suitable for newbies and professionals
No trading commissions only spreads.
Certain asset classes have extremely high leverage
Copy-trading
Cons
No ETF trading is available
7. Avatrade
For a multitude of reasons, AvaTrade is the platform of choice for professional traders. For starters, it works with a variety of trading platforms, including but not limited to MT4 and MT5, which provide automated trading, signals, and bots. While their exact leverage varies, forex pairs have a maximum leverage of 400x, commodities have a maximum leverage of 200x, equities have a maximum leverage of 10x, and ETFs have a maximum leverage of 20x.
AvaTrade is also one of the few high leverage forex brokers that also offer forex options, making it a one-of-a-kind alternative for experienced traders. The leverage on forex options, on the other hand, is just 100x, far less than the usual forex leverage of 400x.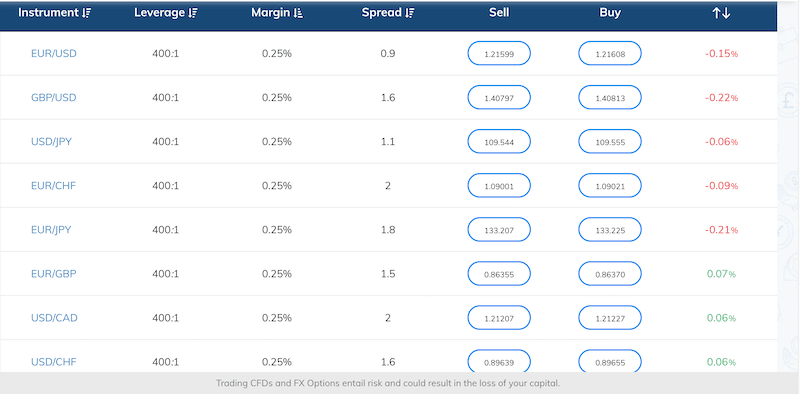 Pros
Up to 400:1 leverage
Low spreads
Heavily regulated
Offers forex options trading with leverage
Multiple trading platforms
Cons
8. Forex.com
Forex.com is a UK broker that offers up to 90 forex pairs, making it a popular choice among traders seeking unusual pairs. Because it is an STP broker with DMA account choices, it also has competitive spreads.
While it offers a wide range of asset classes on its website, it is primarily a forex broker, therefore many of its tools and features are tailored to currency traders. Forex.com, on the other hand, offers over 4500 distinct alternatives, including commodities, indices, cryptos, equities, and even exchange-traded funds (ETFs).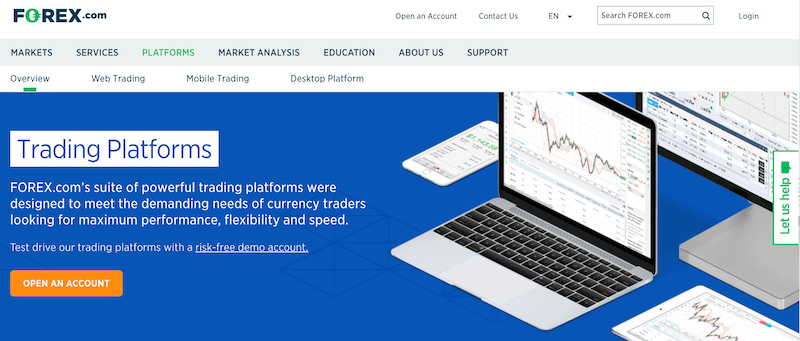 Pros
Over 4,500 markets to choose from
Licensed and regulated by the US authorities
90 FX pairs are available
Among the most trusted online brokers
Multiple trading platforms
Has a mobile app
Cons
The pricing structure is unclear
9. FXTM

FXTM is a high leverage broker that offers more leverage than any other platform we've looked at thus far. This is an option for you if you want to trade CFDs or FX with a 1000x leverage. FXTM make no distinction between retail and professional traders, thus anyone can use the 1000x leverage.
For major forex pairings, they offer up to 1000x leverage, 500x for minor pairs, 50x for exotic pairs, and 500x for spot metals. They also feature tight spreads, which are among the industry's lowest. Spreads on some of their pairs are as low as 0.1 pips. This makes it one of the most cost-effective platforms, making it the platform of choice for individuals seeking high-risk, high-reward opportunities.
Pros
Up to x1000 leverage
Zero spreads for some assets
Low minimum deposit
Low overnight fees
Cons
Lower selection of instruments compared to others
10. Plus500
Plus500 is another high leverage broker in the UK. The FCA and ASIC regulate Plus500, which has been in operation since 2008. This trading platform is well-known for its security and is even listed on the London Stock Exchange. As a result, investors benefit from the highest levels of protection available.
Because Plus500 is essentially a CFD trading platform, the spread includes all of the platform's costs. This margin differs by instrument, but it is normally around 0.7 percent for ETFs and shares. Plus500 allows traders to employ leverage of up to 1:20 on stock indices, 1:5 on individual stocks, and 1:30 on currencies.
The account opening process is simple, and a minimum deposit of $100 (£74) is required. Users can finance their accounts with credit/debit cards, bank transfers, or e-wallets in 16 different base currencies. Plus500, for example, offers entirely free deposits and withdrawals. Finally, Plus500's trading platform is outstanding, with a simple and intuitive design, two-step login, price notifications, and a wide range of transaction types.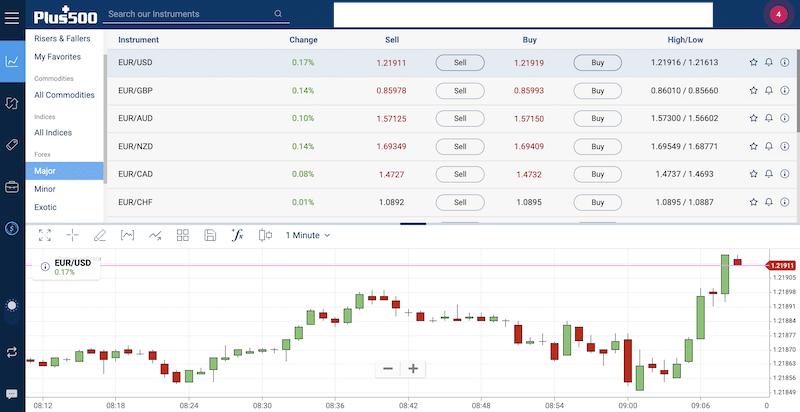 Pros
User-friendly
Offers FX options
Regulated by top-tier regulators
Mobile app
Wide range of assets
Cons
Not the most advanced platform
High overnight fees
High Leverage Brokers Fees Comparison
The table below shows how much leverage most platforms offer to retail and professional traders, as well as their costs and minimum deposits.
| | | | | |
| --- | --- | --- | --- | --- |
| Broker | Professional Leverage | Retail Leverage | Fees | Minimum Deposit |
| eToro | 400x | 30x | Commission-free | $50 |
| Capital.com | 500x | 30x | Commission-free | £20 |
| Libertex | 600x | 30x | Commission-free | £100 |
| VantageFX | 500x | 500x | Commission-free | $200 |
| FinmaxFX | 200x | 200x | Commission-free | $250 |
| Skilling | 500x | 500x | Commission-free | $100 |
| AvaTrade | 400x | 400x | Commission-free | $100 |
| Forex.com | 50x | 50x | Commission-free | $100 |
| FXTM | 1000x | 1000x | Commission-free | $50 |
| Plus500 | 300x | 30x | Commission-free | $100 |
How To Get Started With A High Leverage Broker?
You should begin by opening an account with a broker you prefer after you are confident in your comprehension of trading with leverage. We'll be using eToro for this tutorial, but the process is straightforward and similar on other platforms as well.
Step 1: Open an Account
To begin, sign up for an eToro account. The registration process is quick and easy, and you can either create an account from scratch or log in using your Facebook or Gmail account.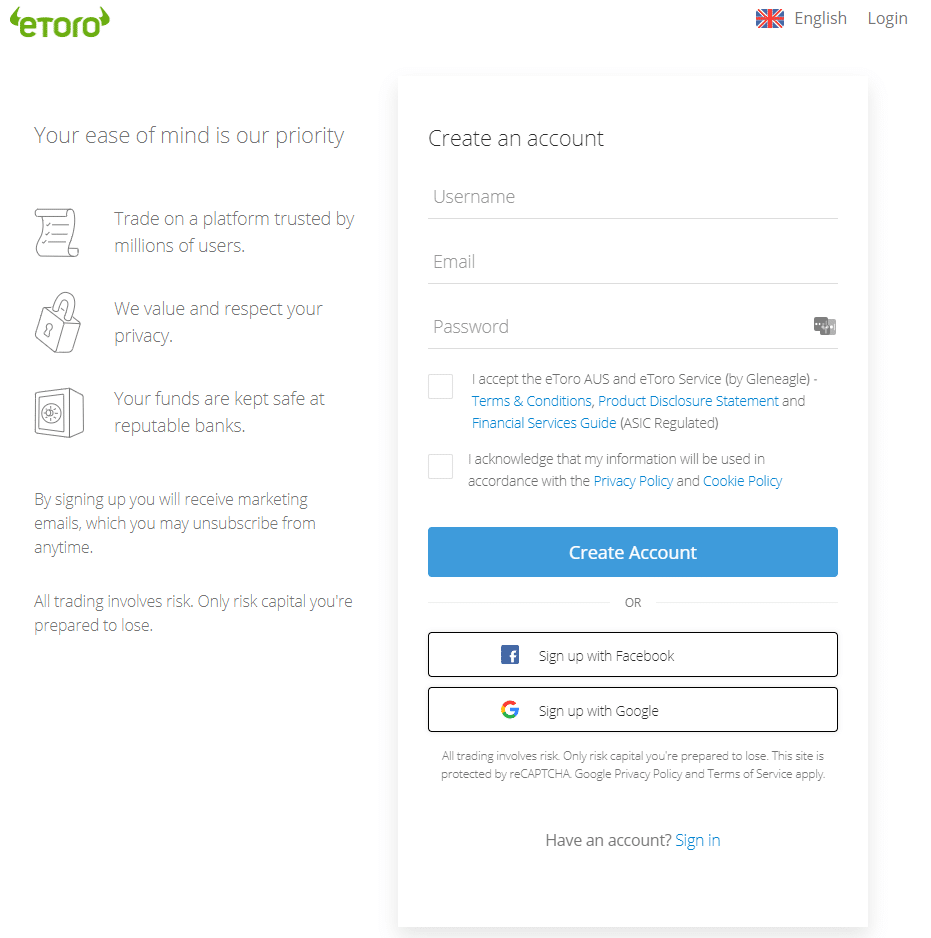 Step 2: Verification
You'll have to verify your identity once you've created an account. Because eToro is a fully licensed broker, you will be required to complete a KYC procedure.
Uploading papers that validate your identity, such as a copy of your passport or driver's license, is required for verification. You will also be required to produce documents that confirm your address, like bills or bank statements, to eToro.
Step 3: Deposit Funds
It'll be time to put money into your account once it's been created and verified. This is also a reasonably straightforward procedure: simply select Deposit from the bottom left-hand menu and enter the necessary amount and payment method.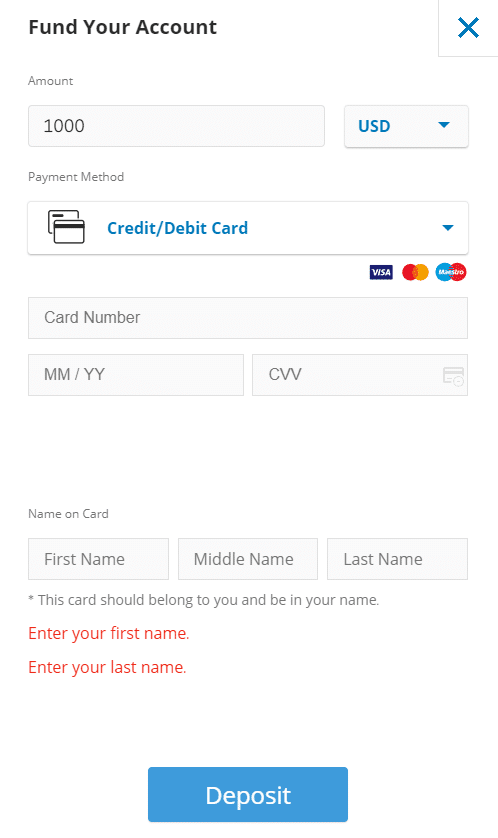 Step 4: Practice Your Leverage Trading
However, before you start investing your money in various trades, you should familiarise yourself with eToro and its platform. The simplest method to achieve this is to trade using its Demo account. This is a demo account that provides you with fictional funds to use in a market simulation.
That way, you can see how your trades might turn out in a demo mode that replicates the market and shows you exactly what would have happened to your money.
Step 5: Start Trading with Leverage
Finally, when you are ready, you can begin trading on the actual market using leverage. It is advised that you start carefully and with low leverage until you get more trading experience and feel a lot more comfortable increasing your bets.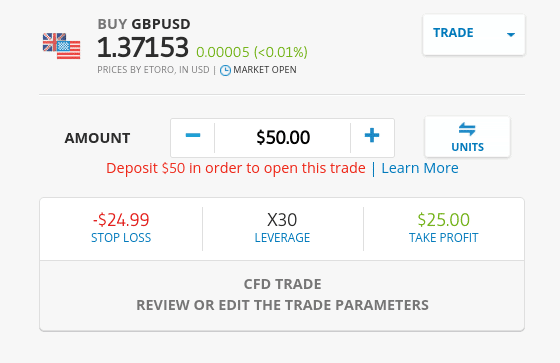 Conclusion
When it comes to forex, trading with leverage can be incredibly advantageous and profitable, but it can also be extremely risky, so proceed with caution. Set your mind, be patient, and test things out with a demo account before going on to live markets.
When it comes to deciding which broker to use, we've compiled a list of the top 10 brokers that traders all over the world trust and have had excellent results with. But, in the end, it's all about your own abilities, while the qualities of your chosen broker can only assist you to increase your profits significantly.
Frequently Asked Questions
What is the maximum leverage available to investors in the United Kingdom?
When using leverage on CFDs, UK retail clients are limited to a maximum of 1:30, according to FCA regulations. Other classes will have lower restrictions. Gold, for example, can be traded with up to 1:20 leverage, whereas equities are limited to 1:5.
How do brokers in the United Kingdom offer leverage?
The majority of brokers just act as middlemen between the trader and the market. Because FX pairs do not change much on a daily basis, brokers can offer high leverage while still minimizing their own risks and exposure.
Is there a fee for leverage with UK brokers?
The majority of brokers do charge a fee for granting leverage. The overnight fee is the interest rate they charge you for providing you with additional funds. Margin fees are also charged by some brokers.
Which broker in the United Kingdom has the most leverage?
FXTM has the biggest leverage among forex brokers, offering up to 1000x leverage.
Is it possible to trade cryptocurrencies using leverage in the United Kingdom?
Yes, some brokers, such as eToro, offer leverage on cryptocurrencies as well, although the leverage is much lower than it is on FX pairs.