NFTs (Non-Fungible Token) has been in the spotlight. This is the tokenization of linked objects on a dedicated platform. New cryptocurrencies are born every year, mainly because of the numerous projects that make up the use of blockchain. NFT came into the spotlight as the cryptocurrency market is facing criticism and downfall in the market. This concept has spread to specialties such as the arts, music, sculptures, and other things. Today, the market capitalization of NFTs exceeds €9 billion.
Investors are approaching NFTs but the question arises from which platform to purchase NFT. Several marketplaces are available in the market but not every platform is legit and secured so it is important to choose wisely. We have prepared a list of the top 10 marketplaces for our readers. In this article, we will answer the question related to trading platforms for NFTs.
Top 10 NFT Marketplaces
Here are the best NFT marketplaces for investment-
OpenSea
OpenSea is recognized as a world leader in NFT sales and offers a wide range of products. Artists can create and sell their own NFTs there and expect a 2.5% commission. Registration is free, but there is a fee of at least $100 to create an NFT.
OpenSea is the best of all NFT markets. According to recent research, this market has become the only NFT market to record significant growth in the sector with a net worth of nearly $13 billion. OpenSea is one of the best platforms for forming NFTs. Your listing will certainly receive information and suggestions.
More than 150 tokens are accepted on the market. One of the great things about this platform is that it doesn't make sense to force you to buy cryptocurrency before trading. You can make purchases directly with your credit card (Visa/Mastercard) in minutes without any prior wallet.
Binance NFT
Binance NFT shares a large market, it can be seen as a potential NFT market that could make a difference in the future. The platform is powered by one of the best blockchain networks in the crypto era. Binance NFT Market offers a variety of coin options and supports EVM for better compatibility. So if you are thinking forward-looking, Binance NFT is for you.
Binance is already well known in the crypto world, Binance is one of the most powerful NFT markets today. Three tokens are supported for purchases on the site that is BUSD, BNB, and Ether. Binance NFT offers a wide variety of markets, with a focus on the gaming market. NFTs are created and traded directly through the interface. Fees vary by the token.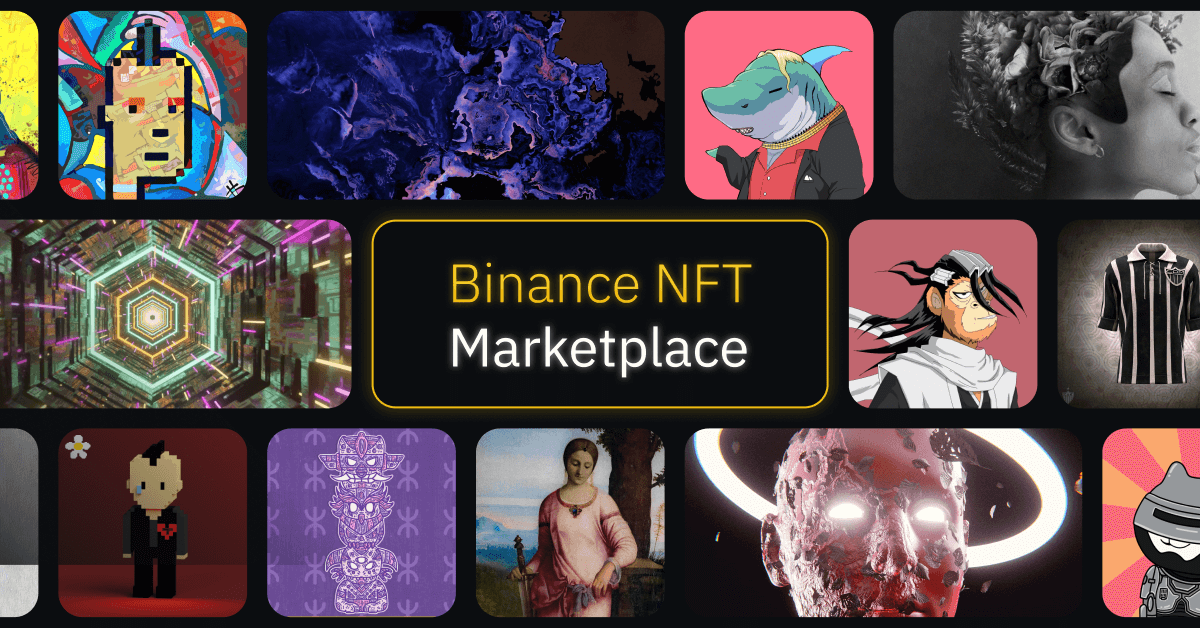 Axie Infinity
This market was created as part of the Axie Infinity game. Therefore, it is the selling point of Axes. These are mythical creatures that can be purchased and then trained to deal with other players.
Axie Infinity has come this far thanks to a creative and forward-looking resource acclaimed by the gaming community and crypto enthusiasts. They also manage to make their user interface more responsive and attract more influential users. As an NFT market, these are things to consider. Axie Infinity has a platform where users can interact and collect objects. And sell it as NFT.
In addition to axes, land and various useful in-game items can be obtained with NFTs. The platform has its token called Axie Shards and is based on the Ethereum blockchain. For sales, the commission is 4.25%. Depending on the action performed, there are four types of purchase fees: Rapid, Fast, Standard, and Slow.
Rarible
Rarible is one of the oldest and pioneering NFT marketplaces in the crypto space that supports buying and selling the NFTs on its platform. It is often compared to OpenSea. Rarible offers a variety of NFTs. You can find collectibles like all kinds of art pieces, as well as videos. Users can create and sell items directly there. The blockchain is based on Ethereum, but the site offers its token, Rari.
Rarible is still considered one of the most influential in the crypto space due to its deeper presence in the market. The RARI token has formed a new legacy in the governance space by declaring variables as a decentralized system that maintains and perpetuates a platform of pools of contributors and validators. The fee applied here is 2.5% at the end of each transaction.
NFTically
The site allows users to create their stores. Among the wallets supported by the platform are Metamask and Formatic. Just as users can upload NFTS, it is also possible to create and sell them on the site. NFTically appears to be a platform that does not require any expertise on the user's side. You sell NFTically on the market, the commission is 2.5%. In the creator's market, the commission is 1.5%
Foundation
Foundation is a collection of multiple shades of different NFT types. Here it is supported based on the Ethereum blockchain network. This makes it stable and compatible with all blockchains supported by the Ethereum Virtual Machine. Ethereum-based NFTs can also be listed on various markets. What makes foundations one of the best places to cast NFTs is their ease of casting process and their feasibility in terms of convenience and service that pays dividends.
The Foundation is based on Ethereum blockchain and it offers artists the opportunity to create and sell artwork in NFT format directly from the interface. Launched in 2021, the site claims to have sold over $100 million in NFTs. Just connect your Metamask or another wallet to access the Foundation Marketplace. An Ethereum wallet is used as a valid NFT exchange currency on the site. It charges a 15% commission on every sale.
SuperRare
Super Rare is another shared NFT marketplace that supports all kinds of NFT assets, from art, music, and video to all other NFT assets. It acts as a bridge between traders and impacts the market by providing a very smooth and responsive NFT coin medium that is far more efficient than typical traditional mining strategies. Super Rare was one of the first markets used for market issuance.
The platform has its own token SuperRare. It is based on the Ethereum blockchain. The advantage here is that if you buy NFTs from SuperRare, it can also be resold on other platforms, especially OpenSea. When trading, the platform charges a 3% fee in addition to the 15% gallery fee for the first sale. However, producers receive a 10% commission on subsequent sales in addition to royalties.
Super Rare manages a market cap of hundreds of millions of dollars, and the platform runs more efficiently here. Super Rare plans to adopt and launch many APIs and open wallets to build a constructive environment in the cryptocurrency age. This maximizes the efficiency of the market.
Theta Drop
Theta Drop is powered by Binance and it offers the benefits of its blockchain. Theta tokens are available through the frontend, allowing them to be stored directly in certain cryptocurrency wallets. 10% is a fee applied to the transaction.
Theta is a blockchain platform developed for the decentralized distribution of video and TV on the Internet. Theta Drop NFT Marketplace has unveiled its 2022 World Poker Tour digital collectibles. The World Poker Tour was an early adopter of ThetaTV and used the platform to stream content.
Theta uses its blockchain technology. To participate in Theta Drop NFT Marketplace, you must purchase Theta tokens. Several cryptocurrency exchanges, such as Binance, support Theta, which allows you to store purchased tokens and NFTs in your cryptocurrency wallet and Theta's cryptocurrency wallet app.
Nifty Gateway
Nifty Gateway is one of the elite NFT marketplaces that continues to focus more on NFT issuance than listing. Nifty holds the record for selling the most expensive NFT package, sold for around $91.8 million by a creator called PAK. Nifty Gateway's NFT Foundry will immediately become a centerpiece as anything or anything related to the big trades in the NFT market is trending very quickly.
Nifty Gateway is one of the platforms that allow artists to certify their work with NFT. Speaking of which, many musicians, painters, and other artists use the platform's reference digital currency, nifties, to protect their work. It is an Ethereum-based blockchain.
You can make purchases using nifties and fiat currency on the platform. This appears to compensate for the fact that users cannot currently store their tokens directly in their wallets. This site charges a 5% sales fee and 30 cents credit card fee depending on the platform conditions. The service fee is 5% and the creator fee is 10%.
Read Also: Best NFT Stocks 2022- Beginners Guide
Mintspace
Mintspace is based on the Ethereum blockchain. The Mintspace NFT platform currently only accepts purchases and sales of NFT. It can't create NFTs yet, some tools are under development. The commission is 10% and the site has over 1820 users.
This trading platform is backed by billionaire Mark Cuban. Mintable targets an open market similar to OpenSea. You need Ethereum to participate in NFT trading on Mintable. The platform also supports NFT casting for all kinds of creators from photographers to musicians who want to sell their work as digital assets. Aspiring NFT collectors or creators should first purchase Ethereum on a cryptocurrency exchange and then connect their wallets to Mintable to facilitate bidding and purchases in the marketplace.
Full Comparison of top 10 NFTs Marketplaces
| | | | | | |
| --- | --- | --- | --- | --- | --- |
| No. | Platform | Registration | Type | Blockchain | No. of NFTs |
| 1 | OpenSea | Free | Multiple | Ethereum | +1,000,000 |
| 2 | Binance NFT | Free | Multiple | Ethereum | Indefinite |
| 3 | Axie Infinity | Free | Video game | Ethereum | +4,813 |
| 4 | Rarible | Free | Multiple | Ethereum | Dozens |
| 5 | NFTically | Free | Multiple | Ethereum, Polygon, Binance Smart Chain | +350 |
| 6 | Foundation | Free | Art | Ethereum | +113,000 |
| 7 | SuperRare | Free | Art | Ethereum | +27,000 |
| 8 | Theta Drop | Free | Media | Theta Token | +100 |
| 9 | Nifty Gateway | Free | Art | Ethereum | +100 |
| 10 | Mintspace | Free | Multiple | Ethereum | Indefinite |
How to choose the NFT Platform
The marketplace is the platform where you can buy and sell the NFTs, it works as a medium. It is advised to always choose the marketplace wisely because it defines the success and failure in the market.
Knowing how to choose an NFT platform is important because the benefits are not necessarily the same across platforms. The convenience of making NFT purchases on the platform is not as beneficial as selling them there. Therefore, it is important to familiarize yourself with the criteria for each NFT platform. Following parameters should be checked before choosing the marketplace-
Types of NFTs- Always choose the platform that offers several NFTs. As some platforms are specialized and others are generalist, it is important to decide what type of NFT you want to invest in.
Blockchain- Blockchain is the second parameter to analyze while choosing the platform. An impressive number of NFTs are supported on the Ethereum blockchain, but not all NFTs are supported.
Tokens- Always check the token's availability before selecting any platform. Always choose the platform that offers several tokens. Some platforms have their tokens, while others require exchanges for Ethereum or other tokens.
Security- Always check the security measures of the platform before choosing it. Security matters a lot in the trading platform. Make sure you are protected by an SSL certificate and have not been hacked recently.
NFT Platform: How to Buy or Sell
Once you select the platform you can easily buy the NFT. Following are the steps to follow to use the marketplace-
Sign up for the platform
Have a cryptocurrency wallet
Buy NFT Compatible Cryptocurrency
Trade on the NFT platform
Step 1: Sign up for the platform
Click "Register" to enter the requested data. Some websites ask you to link your eWallet directly. For example, it takes a few minutes to create a Binance account.
Step 2: Have a crypto wallet
You will need a crypto wallet to store NFTs purchased on the platform. Among the best wallets, you can recommend MetaMask or use a wallet from the NFT platform you use.
Step 3: Buy NFT Compatible Crypto
All transactions on the NFT platform are made in cryptocurrency. Therefore, it is important to know which one is being used on the NFT exchange you plan to use. Then simply buy the matching tokens and store them in your wallet.
Step 4: Trade on the NFT platform
You are using the platform's wallet; you will need to link your wallet to the platform to trade. All you have to do is go to the market, select the NFTs you want to buy, and complete your crypto transaction. For general trading, you only need access to the NFT. For example, you are using Binance, just click on NFT in the menu bar to finish it.
Final Wrap
No NFT platform is better than any other platform and each market has its pros and cons. Generic platforms linked to exchanges like Binance are ideal for beginners, while specialized platforms are more suitable for experienced or experienced investors.
But the best way to find the right platform is depend on you. We have prepared a list of the top 10 best marketplaces for NFTs. We advise the readers to choose wisely after analyzing their requirements. Every platform has its benefits and drawbacks. Choose the one that is best fulfills your requirements. We suggest you start with Binance NFT.
FAQs
What is the best NFT platform?
OpenSea is the most used NFT platform, apart from this there are other platforms as well. Some are specialized, others are not.
Which platform will choose to buy NFT?
On our list of the best NFT platforms, two platforms charge fairly low fees. Rarible and NFTically are the two best choices. The price may also vary depending on the blockchain used.
What cryptocurrencies are accepted on the NFT platform?
Ethereum, Bitcoin, and BNB are the three cryptocurrencies that are accepted on the NFT platform. sometimes ciphers like Polygon are also accepted, so it's important to get some information.
What is Blockchain for NFT Platforms?
Ethereum is the most popular blockchain on the NFT platform. It is important to ensure that the selected NFT site does not have any other sites. Fees charged in ETH are usually substantial.
On which platforms should NFTs be sold?
Binance, OpenSea, and Rarible are three platforms that are recommended for sale. The first is because the market is wide and the second is because of the low price.