eToro is a global social trading broker. It is regulated by higher authorities such as the UK FCA or the Australian ASIC. Plus500 is a global CFD broker listed on the main markets of the London Stock Exchange and regulated by many government agencies including the UK FCA and Cyprus CySEC. If you are based in the UK then you might have heard about both these prominent brokers.
But which one is best for you? Investors are often confused between these two brokers when you have to choose one out of these two as we require only one account to trade. In this article on eToro vs. Plus500 review, we have decided to evaluate and compare these two brokers.
Below is a detailed comparison table of the features of the eToro and Plus500. This data is based on the most recent information gathered from these two brokers.
Account Types
eToro offers its customers two types of accounts: personal and business accounts. There is also a club for eToro members where its members can enjoy additional benefits, but this depends on the rules and language of the platform. Each member is assigned a level according to an asset.
Silver
Gold
Platinum
Platinum +
Diamond
Plus500, on the other hand, does not offer one type of account to its customers, nor does it have a work account. All personal accounts are the same and enjoy the same benefits.
Demo Accounts
eToro and Plus500 clients can test the platform and view the user interface through a hands-on account. The good news is that both brokers offer it for free with no expiration time.
How to use a demo account?
A lifetime demo account may seem like minimal profit, but if you're a beginner or just want to develop your skills without taking real capital risks, this feature is a huge plus. You can practice trading as often as you want to see how the market works or how to improve your trading strategies and decisions.
Registration process
Opening an account with both brokers can be done online directly via a web browser or one of their applications. To register with eToro, you initially only need a username, password, and email address, while creating an account with Plus500 you are needed an only password and email address.
Both brokers initially only ask for a few details to sign up, but you will be asked to fill out a profile and verify your account. Then you have your name, address, etc. essential.
Trading Platforms
eToro offers two types of trading platform, one is a web-based version that can be accessed through any browser and the second one is a mobile application. There are no downloadable applications for Windows or Mac, so for desktop or laptop users, accessing www.etoro.com through Chrome, Firefox, Edge or any web browser is the only way to trade. Smartphone users can install the eToro mobile app, available for Android or iOS devices.
Plus500 offers its customers a slightly more versatile platform, including a web-based version of WebTrader, a downloadable Windows 10 Trader version for Windows 10 desktops and laptops. Plus500 also offers a mobile app in both android and ios versions.
The bottom line is that the two traders offer not one way, but a different way to access their accounts and investment portfolios.
Mobile Apps
Both eToro and Plus500 allow you to trade assets through their native mobile application. It is available for both iOS and Android devices and should cover most users. We found the eToro stock trading app to be much easier to use, especially when navigating the platform on a small mobile screen. We also found navigation a bit cumbersome on the Plus500.
| | | |
| --- | --- | --- |
| Features | | |
| Android App | Yes | Yes |
| ios App | Yes | Yes |
| Alerts | Yes | Yes |
| Watch List | Yes | Yes |
| Charting- indicators | 5 | 110 |
| Charting- trendlines | No | Yes |
| Forex Calendar | No | Yes |
Trading Instruments
eToro and Plus500 both are the top brokers and these brokers offer more than 2,000 tradable instruments. The problem is that most brokers only offer 100-500, so the tradable assets are much cheaper for those looking to explore other markets. eToro offers over 3,000 tradable assets and Plus500 has over 2,400.
Forex
eToro offers almost 50 currency pairs in forex trading category, the most popular of which are EUR / USD and EUR / GBP. So you can understand why there are so many traders on this exchange platform. While Plus500 offers 71 currency pairs.
| | | |
| --- | --- | --- |
| Features | | |
| GBP/USD | Yes | Yes |
| AUD/USD | Yes | Yes |
| EUR/USD | Yes | Yes |
| NZD/USD | Yes | Yes |
| USD/CAD | Yes | Yes |
| USD/CHF | Yes | Yes |
| USD/JPY | Yes | Yes |
Stocks
eToro and Plus500 both offer services for stock trading. Traders can invest in over 2000 stocks available on eToro without paying any fees. On the other hand, Plus500 offers 1,500+ CFDs on global stocks.
Commodities
eToro offers six commodities including oil, silver, gold, copper, and gas. On the other hand, Plus500 offers 22 Commodity CFDs. Commodities are raw materials such as gold, silver, grains, coffee, tea, sugar, metals, and oil.
Cryptocurrencies
eToro offers the 26 most popular cryptocurrencies for trading, it allows you to trade cryptocurrencies in the form of leveraged CFDs or buy them directly and send your tokens to your wallet for free. On the other hand, Plus500 offers 14 cryptocurrencies CFDs. Some popular cryptocurrencies are Bitcoin, Litecoin, Ripple, and Ethereum.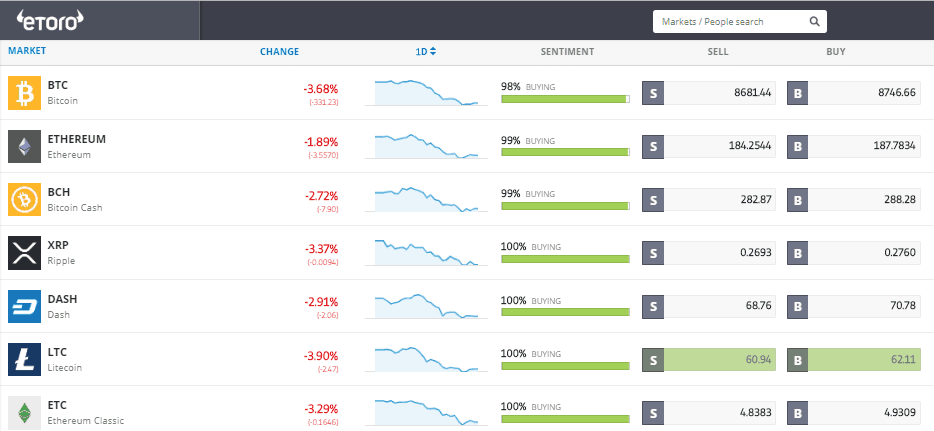 ETFs
An exchange-traded fund (ETF) is a financial product distributed by a specific financial institution to provide stable returns to investors. eToro offers over 250 ETF trackers. Plus500 offers 104 ETF CFDs.
Indices
The eToro exchange offers its users 13 stock indices. These individual stocks reflect the state of a particular sector of the stock market. While Plus500 offers 28 Index CFDs for trading.
Fees
Since eToro spreads are variable, the pip value of each asset may change according to market conditions. A highly volatile investment can have a higher margin than a stable investment. Plus500 offers variable and fixed options. Variable margins are said to be "dynamic" because they are regularly adjusted to market margins. However, fixed spreads usually do not change except when markets become very volatile and illiquid.
Plus500 earns primarily from trading spreads, not commissions. The company does not charge any additional fees for deposits, withdrawals, exchanges, or listings of positions Like Plus500, eToro is also a free trading platform as it doesn't charge any trading fees and instead makes money from spreads. Plus500 charges $25 for withdrawals and it requires a minimum deposit of $100.
Minimum Deposits
The minimum sum required on Plus500 is $100, it is for all irrespective of where do you reside. Compared to eToro, the minimum deposit allowed depends on the country in which the customer resides. eToro has different minimum deposit requirements for different countries such as residents of US, UK, Germany, Spain, Italy, Ireland, Sweden have to pay $50 for an opening account while the residents of UAE have to pay $200.
Deposits
The deposit process is necessary to check when financing your account. When there are many options for depositing, it is more convenient because it is easy to choose between 1 or 2 options. eToro allows merchants to top up their accounts with credit/debit cards, PayPal, Neteller, Skrill, Rapid Transfer, iDEAL, Klarna/Sofort banking, wire transfer, and local online banking. The availability of some of these payment gateways depends on your country of residence and your account regulator.
Plus500's banking methods are much less. Only Visa or MasterCard, Skrill, bank transfer, PayPal credit, and debit cards are accepted. This shouldn't be a problem if you're used to using one of the supported methods, but if your payment service provider has technical issues or has decided to ban you from using it for online transactions, you have a few other options.
| | | |
| --- | --- | --- |
| Features | eToro | Plus500 |
| Minimum deposit | $200 | $100 |
| Wire transfer | Yes | Yes |
| Paypal | Yes | Yes |
| Skrill | Yes | Yes |
| Visa/MasterCard | Yes | Yes |
Withdrawals
Most eToro withdrawals take up to 1 business day to process once the required documentation is submitted, but for Plus500 1 customers it can take around 3 business days. Withdrawals will take a little longer as Plus500 needs to verify your account to make sure you can withdraw the amount you requested.
| | | |
| --- | --- | --- |
| Features | eToro | Plus500 |
| Withdrawal time | 2 days | 2 days |
| Bank transfer | Yes | Yes |
| Credit/debit card | Yes | Yes |
| e-wallets | Yes | Yes |
Regulatory Framework
eToro and Plus500 both are regulated, brokers. eToro is considered low risk with an overall confidence score of 92 out of 99.
eToro is licensed by two Level 1 regulators (high confidence), one Level 2 regulator (medium confidence), and one Level 3 regulator (low confidence). eToro is licensed by the Australian Securities and Exchange Commission (ASIC) and the Financial Conduct Authority (FCA), Tier 1 regulators.
On the other hand, Plus500 is approved and regulated by the Financial Services Authority (FSA) with registration number 509909. As a result of this regulation, Plus500 complies with EU legislation on the market for financial instruments, also known as MiFID. Investors within the European Union can take legal action with an online broker in case of a dispute.
| | | |
| --- | --- | --- |
| Features | eToro | Plus500 |
| Introduced | 2007 | 2008 |
| Bank | No | No |
| Trust Score | 94 | 98 |
| Publicly-traded broker | No | Yes |
| Authorized by EU | Yes | Yes |
| License Tier-I (High) | 2 | 3 |
| License Tier- II (Average) | 1 | 4 |
| License Tier-III (Low) | 0 | 0 |
License Tier-I (High)
| | | |
| --- | --- | --- |
| | eToro | Plus500 |
| Authorized by ASIC | YES | YES |
| Authorized by FCA | YES | YES |
| Authorized by CFTC | NO | NO |
| Authorized by FSA | NO | NO |
| Authorized by SFC | NO | NO |
License Tier- II (Average)
| | | |
| --- | --- | --- |
| | eToro | Plus500 |
| Authorized by CBRC | NO | NO |
| Authorized by CBI | NO | NO |
| Authorized by ISA | NO | NO |
| Authorized by CySEC | YES | YES |
| Authorized by FSCA | NO | YES |
License Tier-III (Low)
| | | |
| --- | --- | --- |
| | eToro | Plus500 |
| Authorized by SCB | NO | NO |
| Authorized by IFSC | NO | NO |
| Authorized by BMA | NO | NO |
| Authorized by FSC | NO | NO |
| Authorized by FSC (Mauritius) | NO | NO |
Customer Service
eToro and Plus500 both have exceptional customer services. eToro has a 24/7 customer representative. Whenever you need a representative will contact you and help you find a solution to your problem. It will take 48 hours to resolve your issues. It's still a pity that there is no live chat and phone support. You can also send emails to the customer representative on both platforms. On the other hand, Plus500 offers FAQs for better understanding.
Conclusion
Both eToro and Plus500 offer several superior features compared to other brokers that offer the same type of online trading service. What makes eToro more competitive over Plus500 is that it has more tradable assets, a better choice of supported payment methods, and a club membership with exclusive offers by tier. On the other hand, Plus500 offers several platforms and the minimum fund requirement on this platform is less.
eToro's service is quite better than Plus500 if we compare in terms of fees. Opening an account with eToro requires almost the same effort as on Plus500, where the deposit and withdrawal process is a bit more complex, but the quality of customer service is significantly lower than Plus500.
Our experts rated the eToro trading platform as on par with the Plus500 platform and found that eToro gives customers access to more markets and products, while Plus500 offers nearly the same level of research and training.
Frequently Asked Questions
Does eToro or Plus500 offer a lower price?
Comparing the cost of Forex and CFD trading is not easy. Not all brokers publish average spread data, and pricing structures vary. Our comprehensive annual assessment shows that Plus500 offers sellers a better overall price.
Which trading platform is better, eToro or Plus500?
To measure the best broker we have analyzed both these brokers, their trading tools, research tools, demo accounts, mobile apps, and other metrics. When it comes to trading tools, eToro offers a better experience. With research, eToro provides excellent market research. Finally found that eToro has a better mobile trading app.
Explain copy trading with MetaTrader?
For Forex and CFD traders, Copy Trading and MetaTrader are popular platform options. eToro offers copy swapping, but Plus500 doesn't. No broker offers Meta Trader.
Can I trust eToro?
First thing eToro is a broker and it is not a bank. eToro is licensed by two Level 1 regulators (high confidence), one Level 2 regulator (medium confidence), and one Level 3 regulator (low confidence). eToro is licensed by the Australian Securities and Exchange Commission (ASIC) and Financial Conduct Authority (FCA), Tier 1 regulators.
Can I trust Plus500?
Plus500 is listed on the stock exchange and does not operate as a bank. The Plus500 is licensed with three level 1 regulators (high reliability), four level 2 regulators (medium reliability), and zero level 3 regulators (low reliability). Plus500 is authorized by Tier 1 regulators such as FCA and ASIC.
How many currency pairs and CFDs can I trade?
Plus500 offers traders 71 currency pairs (eg EUR/USD) compared to the 47 currency pairs available on eToro. Excluding currency pairs, eToro gives traders access to 3,056 CFDs, while Plus500 has 1,896 CFDs available, a difference of 1,160.
Is eToro or Plus500 safe for Forex trading?
Yes, eToro and Plus500 both are safe for forex trading.Plus500 has three global level 1 licenses and eToro has two. Plus500 has 4 global level 2 licenses and eToro has one. In an analysis of 23 international regulators from 50 brokers, Plus500 achieved a higher confidence score than eToro.
Is eToro broker good?
eToro is the winner of an easy-to-use copy trading platform that allows traders to copy trades from investors on over 2300 commodities, including stocks, Forex, CFDs, and popular cryptocurrencies traded on exchanges.
Is the Plus500 good?
Plus500 provides online traders with an easy-to-use trading platform and comprehensive CFD products but lags behind the industry leaders in market research and advanced tools.