Users can trade completely automatically using the best forex trading robots. In other words, the platform will automatically buy and sell financial instruments, enabling users to trade without having to do anything.
This guide to the best forex trading robots will assist you in selecting the finest one for you if you want to increase your forex trading profits or if you are a novice who needs advice.
What are Forex Trading Robots?
A foreign exchange trading robot sometimes referred to as a forex trading bot is a type of algorithmic trading that uses signals from the forex market to decide whether to buy or sell a currency pair at a specific moment. These solutions can be easily connected with a wide range of online brokers or trading platforms and are typically fully automated.
Both novice and seasoned traders like using forex trading bots. Such bots are essentially employed for two purposes: first, to eliminate the psychological and emotional components of trading that might result in risky errors, and second, to utilize signals and other algorithmic trading patterns to arrive at the optimal trading judgments. Forex trading robots could be used to reduce the amount of time day traders spend physically trading by implementing a more passive technique for forex trading that can be executed while traders are sleeping or away from their computer systems.
To go into more detail, trading signals are produced by forex trading bots. The MQL programming language, which allows traders to design their own trading signals and automatically place an order, is used to develop many of these robots in MetaTrader. Forex trading bots are available for purchase online, but one should exercise caution before investing in one. There are hundreds, if not thousands, of online forex trading bots that make grand claims and many of which are offered for free. Websites for forex trading bots can be a haven for fraud, fraud, and infections. Even if a trading bot is available for free download, it is advisable to conduct research before selecting one.
Pros of Forex trading Robots
There are numerous benefits to using forex trading bots, such as:
Forex robots can trade around the clock without assistance from a human. As the foreign exchange market is open 24/7, this is highly helpful for day traders who might wish to take a break or continue trading while they sleep.
There is no need for human involvement, which is fraught with feelings and can cause inexperienced traders to make costly errors.
Work can be done by forex robots far more quickly and effectively.
They have the ability to use more sophisticated trading techniques that novice traders would not comprehend.
With forex bots, backtesting is significantly quicker and simpler.
Trading bots can be used by traders of any experience level, but they are especially beneficial for beginners who are still learning.
There are many free options available, even if many trading bots have a fee to use them.
Cons of Forex Trading Robots
Forex robots can be profitable, but there are some drawbacks as well:
You must have a reliable, high-quality, high-speed internet connection that is always in use if you want to employ forex trading bots. To employ trading bots, a good computer is also a requirement.
The emotional human component of forex trading is eliminated by trading bots. This is advantageous. Trading bots, on the other hand, lack the creativity and mental power of humans. The skills and information that the most successful forex traders often possess are lost when utilizing bots.
Forex trading bots typically struggle to comprehend and analyze fundamental data.
Best Forex Trading Robots 2022
Particularly with so many alternatives accessible, selecting the best forex trading bot could be challenging. We gathered a selection of the best forex trading robots. A few of these forex robots do demand a little investment to operate, but most are free to use or have a free version.
1. RoboForex
With the help of their user-friendly robot builder, RoboForex is a supplier that enables you to actually create your own bot without any programming experience. Users have the option of creating their own strategies or incorporating pre-existing techniques into their bots. Additionally, RoboForex offers a web terminal where users may test and operate these bots. This terminal makes use of interactive financial charts and free real-time market data. Why not create your own forex trading bot if you're having trouble finding one? The technique of automated forex trading is really simple with this platform and much more customized.
RoboForex's R StocksTrader bot builder is ideal if you're a more experienced trader who wants to create your own bots and incorporate your own trading strategy. The cost of using this bot builder will differ.
2. Flex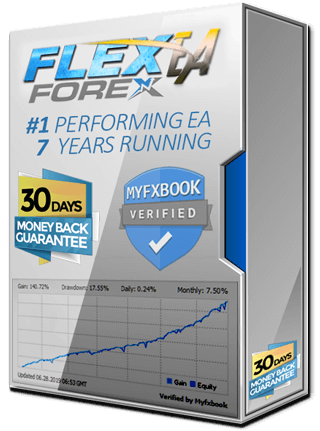 Flex is a forex trading bot created to achieve consistent and reliable outcomes, which are frequently challenging in the currency market. This trading bot has a tonne of features, including session filters, equity trailing stop loss, news filter, and money management.
Depending on the type of membership you choose, there are different costs associated with using Flex, but even then, there is only a single fee and no other charges are included. Flex has several benefits, including quick access to excellent indicators, indication closures, time filters, hedging support, and currency filters that simplify selecting the ideal asset. There are some disadvantages, though, including the price and the fact that there isn't currently a free trial.
3. Fortnite
A forex trading bot called Fortnite is made for volatile markets. This trading bot has a tonne of features, including MT4 connection, extensive backtesting, comprehensive and complete automation, a great trend/hedge approach, and fantastic trading results overall.
A one-time purchase price that starts at $149 is one of the costs associated with using Fortnite. Utilizing Fortnite has numerous benefits, including its simplicity of use and variety of pricing options. FxBlue has also confirmed the effectiveness of this bot. However, there are significant drawbacks, including a lack of vendor transparency, a hefty fee, and subpar customer assistance.
4. Alfa Scalper
Alfa Scalper is a forex trading bot created for forex scalping, or making small, quick trades with short-term holdings in order to generate high trading volumes that are profitable for brokers. This trading bot offers a tonne of outstanding features, including assured returns, lots of profitable winning trades, great scalping techniques, and exceptional trend analysis and prediction formula.
The cost of using Alfa Scalper includes a one-time fee of $147. Alfa Scalper has a lot of benefits, including quick notifications, integration with a wide range of brokers, access to one of the most profitable forex bots on the market, excellent indicators, and a simple user interface. Additionally, this website provides a money-back guarantee. However, there are several drawbacks, including a somewhat steep learning curve and the requirement for high-speed internet.
5. Forex Gump
A forex trading bot called Forex Gump is made for multi-currency trading methods. This trading bot provides a tonne of features, such as live and forex demo account connectivity, a user-friendly UI, and a tonne of programmable choices and parameters.
You may need to make a one-time investment of €199 or more in order to use Forex Gump, based on the account you select. Utilizing Forex Gump has several benefits, including the ability to spot trends, use one-minute timeframes, streamline trading operations, and save time on trade executions. Forex Gump also offers a money-back assurance. However, there are some drawbacks, including a very narrow selection of currency pairs for skilled traders and a lack of leverage options for traders in the EU.
6. EA Pros
A forex trading bot called EA Pros was created specifically for using indicators. There are numerous characteristics of this trading bot, including multiple currency alternatives, no usage fees, respectable overall earnings, and a profitability level of 71%.
Due to the fact that there are no fees involved with utilising it, EA Pros is one of the few completely free forex trading bots offered. Using EA Pros has several benefits, including excellent support, simple installation, no fees, MT4 compatibility, and a fully automatic system. There are certain limitations, though, such the possibility that just a small number of brokers can use it.
7. BinBotPro

BinBotPro is a forex trading bot created for a top-notch user experience while yet being beginner-friendly. This trading bot has a tonne of features, including an excellent binary options investment strategy, market research tools, and extremely sophisticated analyzing technology.
BinBotPro charges a starting fee of $0.1 for each trade. Using BinbotPro has several benefits, including very reasonable plans, excellent returns on investments of up to 200 percent, and a very adaptable forex trading bot. However, there are certain drawbacks, such as the restriction of bots to binary options and the extremely constrained customer support alternatives.
8. Coinrule
Coinrule is an FX trading bot created exclusively for trading cryptocurrencies overseas. This trading bot includes a tonne of features, including over 150 templates, customizable rules and trading strategies, facilities for backtesting techniques, and simplicity of use for beginners.
Depending on the package you select, Coinrule use costs might range from $29.99 to $449.99 per month. Coinrule does, however, provide a beginner plan that is free and comes with two demos, one exchange connection, seven template strategies, and the ability to trade up to $3,000 worth of cryptocurrency per month. Using Coinrule has several benefits, including first-rate customer care, cutting-edge security measures, a variety of price plans with discounts, and highly sophisticated trading indicators. However, there are several drawbacks, including a lack of a mobile trading app and a lack of applications for FX traders who don't use cryptocurrencies.
9. Algo Signals
Popular system supplier Algo Signals provides automated and semi-automated trading options. The platform primarily focuses on forex and cryptocurrency signals.
These indications will let you know which pair to trade, whether to go long or short and what prices to use for your stop-loss and take-profit orders. Instead of relying on an algorithm, this gives you more control over your trading capital.
Having said that, Algo Signals also enables you to fully automate your trading activities. To do this, you must first create an account with a linked forex trading website. After you've established your risk-management guidelines, the platform will then begin trading on your behalf.
You can access the demo trading option at Algo Signals from within your account. As a result, you can backtest your selected approach without having to put any money at risk.
10. GPS Forex
The most popular trading currency pair on the market, EUR/USD, is the focus of the GPS Forex Automated Trading Platform. The supplier provides a completely automated platform that may be downloaded as a piece of software. After that, you must install the file into MT4.
When you do, the file will start trading on your behalf around the clock. The GPS Forex platform promises to have a staggering win record of 98 percent in terms of performance. Simply put, this indicates that 98 out of every 100 positions placed are said to provide gains according to the platform.
Additionally, GPS Forex asserts that it uses a "reverse technique" to reduce risk. When it seems like a trade won't turn a profit, this requires opening a position in the opposite direction, which will then result in a little loss. GPS Forex doesn't impose any kind of monthly subscription fee when it comes to price.
Instead, you'll have to shell over $149 all at once. You can complete the purchase instantly using a credit card, including Visa, MasterCard, American Express, Discover, or Bitcoin. We appreciate the fact that GPS Forex's team offers a 60-day money-back assurance most of all. This provides you enough time to safely test the platform using a brokerage demo account.
Tips to use Forex Trading Robots:
Avoid having high expectations: Bots can be quite useful, but they can't take the position of a skilled trader entirely. We advise employing bots at night or when you are unable to trade. Like signals, mentors, and educational resources, bots are an additional tool.
Keep researching: A bot won't be able to handle all of your trading issues. Although they are intended to be helpful, you should continue learning about the market, your preferred asset, and all the other factors involved in being a successful trader.
Use the demo account: A lot of expensive forex trading bots provide a free trial. In order to determine how user-friendly and useful a tool is, you should definitely take advantage of this free trial.
Establish your trading parameters: Never accept the defaults. Implement characteristics that match your personal trading style. A trading bot should be very adaptable.
Despite the fact that trading bots are automated, you need nevertheless pay close attention to them to determine how market changes are affecting their judgments.
Conclusion
Although it is important to keep in mind that this type of trading is fairly dangerous, forex is a fantastic opportunity to benefit from enormous rewards. Additionally, it's crucial for new traders to conduct extensive study on the market, forex in general, and their preferred asset. Beginners might begin trading passively while they are learning the ins and outs of the market. Using a trading bot is a fantastic approach to achieve this.
Using trading bots has various benefits, including the ability to trade passively and the absence of dangerous human emotional influence. However, it can be difficult to locate a bot that is trustworthy and free of viruses, especially if you're seeking a free bot. We advise selecting the option that is stated in this guide.
Frequently Asked Questions
How much does a forex trading bot cost?
Numerous factors affect how much a premium forex trading bot costs. Different bots can range in price from being completely free to having a free trial to be relatively expensive on a flat or monthly basis.
How can I verify the legitimacy of my forex robot provider?
Quite simply, in fact. Ask your local regulatory body if they can present you with a list of licensed firms that offer forex trading bots. You can also conduct some research to find out if any lawsuits have been filed against a regulated business that you are considering doing business with.
Do Forex robots always work as advertised?
Trading robots are helpful. Conduct unbiased analysis without taking human influences into account. However, they are not flawless. So, keep in mind that there is still a danger of losing even if you select to trade automatically.