NFTs have been at the center of attention of the cryptocurrency world for the past year. Creators have benefited greatly of the possibility provided by NFTs by imitating the scarcity of digital goods in the real world. Learning how to invest in NFT (non-fungible tokens) has sparked a lot of interest in the last year, and for good reason.
The NFT market is now a $41 billion sector, with thousands of trades taking place every day. If you're interested in learning more about NFTs and how to profit from them, this 'How to Invest in NFTs – A Complete Beginners Guide' is for you.
What is an NFT?
An NFT is a virtual asset that represents real-world components such as art, music, in-game items, and films. They're frequently encoded with the same technology as many other cryptos, and they're bought and exchanged online, mostly with cryptocurrencies.
You've probably heard of the term "non-fungible" asset. A non-fungible asset is one-of-a-kind or unique asset. It can't be traded for another asset of equivalent worth and has no established market value because it's one-of-a-kind.
For example, a piece of land is a non-fungible asset. Because the plot of land only exists in one location and cannot be duplicated, it lacks a widely accepted market price and cannot be transferred for equivalent value.
On the other hand, a dollar bill may be mass-produced in vast quantities. A $1 bill can be exchanged for another dollar bill of the same denomination.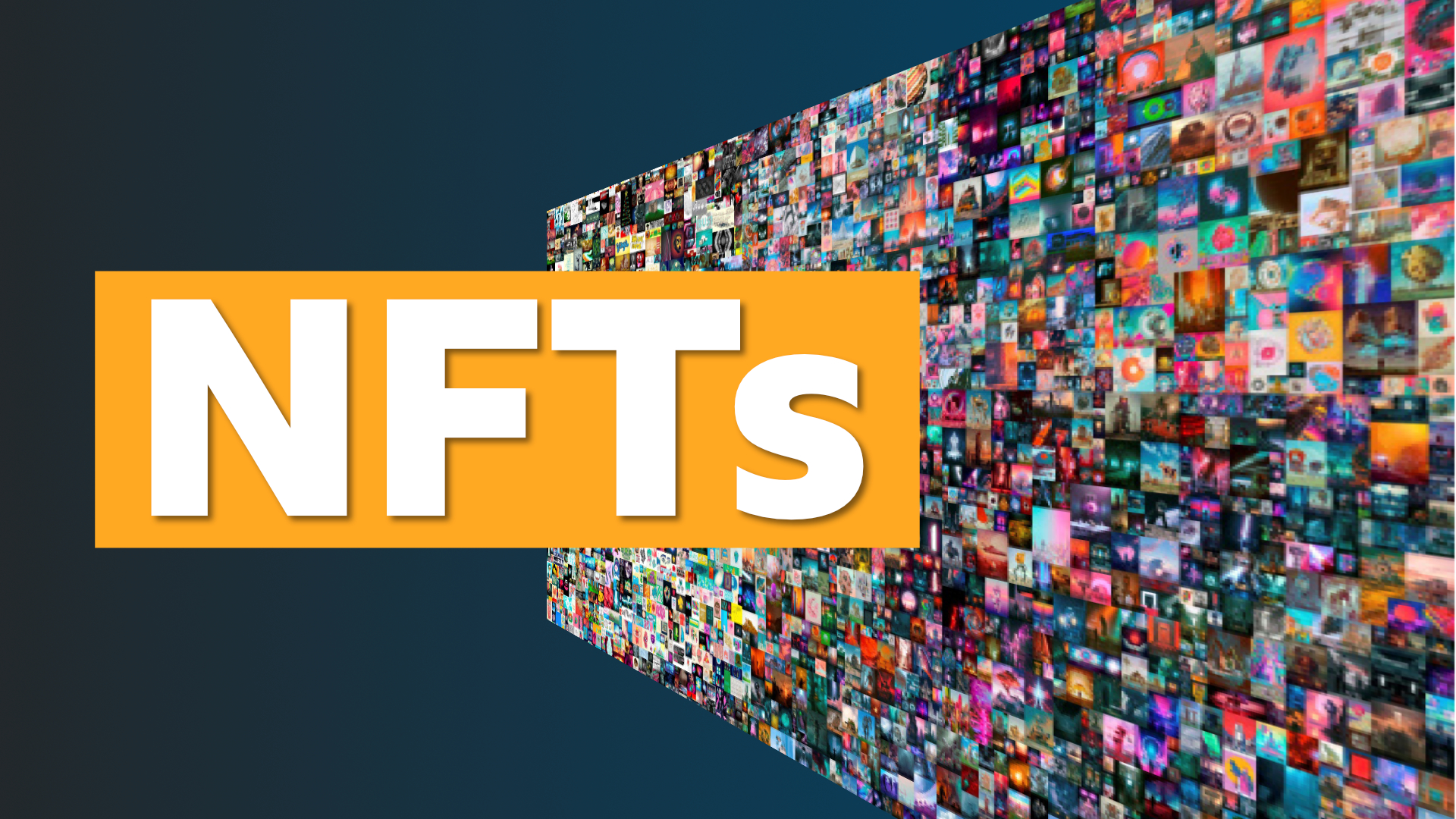 A digital asset is frequently represented by an NFT, such as Memes, Videos, Artwork on the internet, Music, Data from video games (in-game items, virtual avatars, skins, etc.), GIFs, Tweets, Collectibles in the virtual world, etc.
In general, the supply of digital inventions is limitless (which would make them a fungible asset). Anything you see on the internet can be copied and shared.
NFTs attempt to address this by instilling scarcity and claiming ownership of digital creation as the "original." You acquire the unique asset if you own an NFT of a digital asset. If you buy the NFT of a meme, for example, you basically own the meme.
How Do NFTs Work?
NFTs, like cryptocurrencies, rely on blockchain technology. The majority of NFTs are related to Ether, Ethereum's money.
When an NFT is purchased, the transaction is recorded on a computer network, and the owner is issued an access code. Because each NFT has its own digital signature, it cannot be exchanged for another (unlike cryptocurrencies like Bitcoin).
Understand that even if you own an NFT, others can still see or duplicate the digital item. Anything you find on the internet can easily be copied. If you own a digital photo, for example, it can still be downloaded or screenshotted by someone else online if it's placed elsewhere.
The majority of consumers purchase NFTs for personal satisfaction. They're enthusiastic about the NFT and want to take pride in being its official owners. Many NFTs are made by celebrities and sold at auction to superfans. It's not too dissimilar to selling an autograph.
As a result, NFTs are a risky investment. The great majority of NFTs, unlike equities, do not generate any cash flow, and there is little evidence that they will appreciate in value over time, as an investment property would.
The majority of investors buy NFTs on the basis of speculation. They believe the NFT will increase in value in the future, therefore they will buy and hold until they can sell for a greater price.
This is not a particularly safe or lucrative investing approach, but if you believe an NFT will appreciate in value, it could be a good high-risk addition to your portfolio.
What Makes a Non-fungible token Valuable?
NFTs are worthless since they have no intrinsic value. They're only valuable as much as people are willing to pay for them, much like cryptocurrency. The value of an NFT, unlike a stock, is not determined by shareholder dividends, predicted corporate growth, or annual profit margins.
Although some NFTs have sold for millions of dollars, the value of those NFTs is not assured. NFTs do not expand as much in worth as real estate.
The usage of NFTs to commercialise digital art is becoming more common. If the NFT is sold to a new owner, digital artists can sell their work online and possibly collect royalties. It's unknown whether digital art will be valued more highly than a meme or a GIF.
What are the top NFTs to invest in 2022?
More and more of these projects appear to be created every day, and millions of NFTs are available for investment. Below are the top NFTs to invest in 2022:
CryptoPunks, a profile photo (PFP) series that began in 2017, is one of the earliest NFT projects. This NFT is a collection of 10,000 24×24 pixel art images showing "punks" with randomized qualities such as gender, headgear, and eyewear created by development studio Larva Labs.
CryptoPunks was originally distributed for free but now sells for millions of dollars. At the time of writing, the cheapest punks are available for six figures, while the rarest punks, such as aliens, apes, and zombies, sell for millions of dollars. Visa, the world's largest payments company, has added CryptoPunk #7610 to its collection of "historic commerce artifacts."
They're mostly used for "flexing," or proving membership in an exclusive fraternity, and their owners utilize them as social media avatars. Indeed, the mania has caused Twitter to announce efforts to verify NFT avatars in order to prevent individuals from misrepresenting saved CryptoPunk photos as genuine. Larva Labs has partnered with United Talent Agency to explore the possibility of bringing its properties to film, television, video games, and other mediums.
Bored Ape Yacht Club, like CryptoPunks, is a collection of NFT avatars, this time in the form of bored-looking apes. And, like CryptoPunks, there are 10,000 of them, each with its own set of attributes that are generated at random, and a flourishing community has risen up around them.
Most significantly, possessing a Bored Ape NFT qualifies you for more NFT drops, such as the Bored Ape Kennel Club (a series of dog NFTs) and the Mutant Ape Yacht Club (a series of, er, mutant apes). Consider it a membership to an exclusive club with special privileges for members.
That exclusive group has grown even more exclusive in the last year, with Eminem, Snoop Dogg, and Stephen Curry among those who have purchased Bored Apes. Yuga Labs has engaged Hollywood representation, similar to CryptoPunks' Larva Labs, with the purpose of spreading the brand into cinema, television, and other kinds of media.
Non-fungible tokens, such as CryptoPunks and Bored Apes, are one thing, but non-fungible tokens can be used for a variety of things, including representing digital objects in video games. And for now, the most popular NFT video game is Axie Infinity, which became the most traded NFT collection ever in Q3 2021, with over $2.5 billion in trading volumes.
The game itself is a Pokémon-style affair in which you collect cute monsters known as Axies, fight them in fights, and breed them to make new Axies. Players in nations like the Philippines have made a fortune raising and trading Axies because of the game's "play to earn" premise. However, the game has a high learning curve, and individual Axies may cost hundreds of dollars, so putting together a squad to get started isn't cheap.
How to Invest in NFT?
To invest in NFTs safely and securely, it's critical to go over each step thoroughly. Below, we've covered every step you'll need to take to invest in NFTs:
Step 1: Choose a cryptocurrency broker
Because most of the top NFTs to invest in are built on the Ethereum blockchain technology, they are priced in cryptocurrency rather than fiat cash. This is why, in order to purchase the most popular NFTs, you must first purchase Ethereum (ETH) and have it ready in money.
What is the best way to purchase Ethereum? To acquire Ethereum, eToro is the finest cryptocurrency broker. When you sign up for an eToro account, you will automatically be given access to the eToro Money Crypto Wallet. More than 120 cryptocurrencies will be available to purchase, sell, store, receive and transfer with this app.
Other asset classes available through eToro include commodities, indices, fiat currencies, and a wide choice of cryptocurrencies and stocks from around the world. You may also buy Bitcoin and invest in all of these other assets without paying any commissions!
With only a $200 minimum deposit that can be paid via bank wire transfer, credit/debit card, or PayPal, an account can be started in minutes.
To get back to regulation, eToro is a member of FINRA, the SEC, the FCA, ASIC, and CySEC, among others. eToro also has social trading features, allowing you to follow in the footsteps of great investors who utilize the platform. There are also pre-built portfolios available, one of which is completely dedicated to digital currencies.
The eToro 'CopyTrader' function is a game-changing innovation that allows users to copy and invest in the trades and investments of other users. This feature is ideal for inexperienced cryptocurrency investors since it allows them to profit from the trades of more experienced traders.
Pros
There are numerous popular coins to choose from.
CFD marketplaces for over 2,400 global shares and 250 ETFs.
No commissions or fees to pay.
Copy-trading is a technique for automating bitcoin transactions.
A $25 minimum investment is required.
On a social network, copy-trading
Cons
Withdrawal and inactivity fees
Step 2: Sign Up to eToro to Buy Ethereum
This section will show you how to buy Ethereum with our recommended broker, eToro. eToro is an FCA-regulated broker, so you can buy ETH with confidence:
Create Your Account: To get started, you'll need to sign up for an eToro account. To get started, you'll need to submit your first and last name, phone number, and email address.
Verification: eToro demands to verify your account by submitting two documents a bank statement or a utility bill and a passport or driver's license.
Deposit Funds: To purchase your cryptocurrencies, you will need to deposit funds first. For first-time deposits, a minimum deposit of $200 is required. Following that, the price is reduced to $50. Payment options accepted by this software include Visa, MasterCard, Maestro, Skrill, Neteller, Paypal, and Bank Transfer.
Step 3: Purchase Ethereum
After you've created your account, you'll need to buy cryptocurrencies before you can start investing in NFTs. Search for Ethereum (ETH) in the top-right search box on the eToro platform, then click trade to purchase your coin.
Step 4: Connect to an NFT marketplace
You need to find the appropriate NFT marketplace to invest in now that you have the right coin to invest in digital tokens! Connecting to an NFT marketplace, such as OpenSea or Rarible, will display you all the NFTs that are available to invest in. To register for an account with these platforms, you must fill out a registration form and provide personal information such as your name and email address.
We advise you to go with Opensea. All you need to start trading on OpenSea is a wallet that can hold NFTs. The following cryptocurrency wallets are currently integrated with the site: MetaMask, Coinbase Wallet, WalletConnect, and Fortmatic.
However, we recommend using the Metamask Wallet. Metamask is a well-known and easy-to-use tool.
OpenSea will then ask you to login into your MetaMask Wallet. Signing just confirms that you are giving the Dapp permission to communicate with your wallet. It indicates you give Opensea permission to connect to your Metamask wallet.
You'll be able to purchase NFTs, make offers, list NFTs you possess for sale, and sign other operations to implement changes to your account now that your wallet is linked.
Step 5: Choose an NFT to Invest in
You must now choose the best NFT to invest in now that you have access to an NFT marketplace. NFTs can represent a wide range of digital works, including music, video games, art, and video snippets from particular sporting events, among others.
The number of digital assets available is increasing at an exponential rate, which is reflected in the costs.
By scrolling down, you can simply find your NFTs. There are various categories to choose from, including Notable Drops, Top Collections, and Trending.
Choosing which NFT to buy can be difficult. Before making any investments with money you can't afford to lose, please do your research.
You should take your time before making a decision because there are so many different types of NFTs and projects sprouting in the space these days.
You can choose the aforementioned NFTs or you can simply use the OpenSea Search and Filtering Tools to find the NFT of your choosing.
Step 6: Invest in NFT
All you have to do to invest in NFTs from the marketplace is click the Buy Now button. The price will almost certainly be set in Ethereum, with certain NFT marketplaces displaying the corresponding value in US dollars.
If you wish to acquire it for a cheaper price, you can make an offer. If no one else offers a higher price or buys it right away, the inventor may accept it. You can also view a price trend of the non-fungible token if there have been a lot of offers.
What is the difference between buying and investing in NFTs?
While there has been a surge in interest and demand for NFT tokens, it is still a relatively new concept. Some investors have considered investing in NFT companies instead. These have a considerably looser connection to NFT tokens, but depending on your risk profile, they might be worth investigating.
NFT stocks to invest in are divided into several categories and originate from a wide range of industries. For example, eBay plans to sell certain NFTs on its current web platform, but it is unlikely to cause a market disruption because it does not want to accept cryptocurrencies as payment.
Then there are NFT stocks that are selling NFT tokens as well as developing an NFT marketplace. DraftKings, a sports betting startup, has developed an NFT marketplace for sports athlete-related NFTs. You can collect NFTs of your favorite players instead of collecting player cards.
As more businesses try to join in on the activity, this is undoubtedly a trend to keep an eye on. It's important recalling that buying the proper NFT token is more likely to increase much faster than picking the appropriate NFT stock, but it's another option for investors.
What are the NFT Companies to Invest In?
Since most organizations intend to participate in the NFT, some are already well-positioned to do so. This includes DraftKings, eBay, Cloudflare, Twitter, Mattel.
So, what's the best way to invest in these NFT stocks? So, if you've done the first step and opened an eToro account, you're now ready to buy NFT stocks!
This is due to the fact that eToro allows you to invest in a wide range of things, including stocks, cryptos, commodities, and more. On the eToro platform, you can buy any of the five equities listed above.
Simply access your eToro platform, type the stock into the search box at the top, and then click Trade. This will open a ticket where you can enter your investment size and, if desired, select a stop loss and take profit level.
You can invest in thousands of stocks without paying any commissions with eToro. For real account holders, there are a variety of research tools accessible, including free access to TipRanks, which allows you to see what insiders are buying and selling.
Is it Wise It to Invest in NFTs?
If you choose the correct non-fungible token, it can be a good investment! There are sure to be a few failing stories for every winning one, so doing your research to locate the finest NFT to invest in is critical.
Many well-known musicians, such as Jay Z and Katy Perry, as well as well-known digital artwork creators, are aiming to sell their work on various NFT platforms. Purchasing NFT tokens for these components is anticipated to increase in value, making them excellent investment opportunities.
At Christie's auction house, the artist Beeple, the actual name Mike Winkelmann, had his artwork sell for $69 million. As a result, he became the world's third most valuable artist of all time. The present attention and demand in current NFTs will only grow as more examples like these emerge.
So, while the trend is still in place, make sure you do your homework before investing in NFTs. When looking for the best NFT to invest in, most marketplaces will give you use filters.
What are the drawbacks of NFT?
The NFT's major problem is its lack of regulation. Anyone can currently assign an NFT to anything. This is referred to as coinage or tokenization. While the lack of regulations allows the market to grow, it is difficult for investors to determine which tokens will allow them to profit in the long run.
Aside from that, there's the problem of hacking. Because virtually anyone can generate digital works with little or no effort, it's simple for others to steal and resell other people's creations. It allows customers to get legitimate or stolen digital goods, which might decrease the value of the stuff they have collected, as well as cause the original creators to lose prospective earnings.
It also doesn't help that the system is shrouded in secrecy. You can't take legal action or enforce anything if the user is anonymous, even if you notice a stolen work on the market. And, because the blockchain functions similarly to an unchangeable record, anybody who first touches an asset becomes its de facto digital owner, further complicating matters.
Conclusion
Because of the rise of some NFTs, this industry can no longer be ignored. NFTs are being adopted by a growing number of well-known artists and publicly traded companies.
Right now, investors have a lot of upside potential. This means that getting set up now will benefit you in the long run when NFT investing gets more popular.
However, it's critical to keep your NFTs and crypto in a safe and secure location. By far the best location to accomplish this is the eToro Money Crypto Wallet.
You can buy cryptocurrencies to buy NFTs commission-free on eToro, then store it safely in the eToro wallet until you're ready to transfer it and invest in NFTs.
Frequently Asked Questions
Is it possible for me to invest in NFT?
Yes, anyone can put money into NFT. Using eToro, buy some Ethereum and then connect to an NFT marketplace to buy an NFT with your cryptocurrency.
What is the best way for me to invest in NFT art?
eToro is a great place to buy Ethereum. After that, go to an NFT marketplace and look for paintings you like. You can either buy at the listed price or make your own bid, similar to an auction.
Is it wise to invest in NFT?
Despite the fact that NFTs are still relatively new, they are gaining in popularity. If you choose the correct NFT, they could be a worthwhile investment because they are now being utilized by more established artists and companies.
Where should I put my NFT money?
You can buy digital work with your bitcoin and invest in NFT through an NFT marketplace.
Is it Possible to Convert NFTs to Cash?
An NFT can be exchanged for cash or cryptocurrency on the market. The blockchain keeps track of all transactions, ensuring that the NFT's rights to ownership is protected. Smart investors are buying NFTs that they feel will rise in value in the future, then selling them for a profit on a marketplace.