Robo-advisors make investing and money management more accessible at a fraction of the cost of traditional models, allowing more people to save, invest, and build their money toward financial independence. 
Finding the right robo advisor in the UK for your financial goals is not simple. This is due to the fact that you must consider two crucial metrics. To begin, you must examine the robo-advisor trading platform itself. Second, and maybe most crucially, you should spend some time learning about robo advisor technology.
To make things easier, we've put together a full evaluation of the best robo-advisors for UK investors in this article. We'll also go through how the process works and what you need to do to get started right now.
What is a Robo Advisor?
A robo-advisor is a low-cost online investing platform that creates and manages investment portfolios using software algorithms. While financial professionals often design the investment strategies used by robo-advisors, computers manage the portfolios on a day-to-day basis.
Traditional investment management firms and many financial advisors demand large account balances from their clients, and they impose significant annual management fees. Most robo-advisors have low or no minimum balance requirements, and their yearly costs are substantially lower.
Automatic asset selection, portfolio re-balancing, and tax optimization are all services provided by robo-advisors. Many offer human financial advisors to assist consumers with financial planning.
Robo-advisors can help you get started very quickly, typically in minutes, because they run automatically and are accessible online. They can help you remove emotion from investment decisions by employing proven tactics that are suited to each user's risk tolerance and financial objectives.
How Do Robo-Advisors Work?
A simple questionnaire usually kicks off the robo-advisor encounter. A new user fills out information about their age, income, investment objectives, and risk tolerance. Goals can range from saving for college or a down payment on a home to investing for retirement.
With this information, the robo advisor creates a diversified portfolio of exchange-traded funds (ETFs) or index funds for the new customer from a limited list of possibilities chosen by investment professionals. The funds selected are in line with the questionnaire's objectives and risk appetite.
After a user's portfolio is set up, the platform's software keeps track of asset allocation and rebalances holdings as needed, so you don't have to. Users can track their progress, add contributions, and perhaps set new goals using the tools and visualizations offered.
Best Robo Advisors for UK Investors in 2022
Here is a list of popular UK robo advisor platforms that we believe are the market leaders in this area.
Best Robo Advisors Reviewed
1. eToro
While eToro is primarily an online trading platform, it also offers a robo-advisor service to its customers. eToro created OpenBook, the world's first social trading platform, in 2010, transforming trading by allowing traders to copy successful traders' trades using CopyTrader.
Following the success of CopyTrader, eToro launched CopyPortfolios in 2016, a series of professionally managed portfolios overseen by eToro's investing professionals. CopyPortfolios' major goal is to constantly rebalance portfolios using strong machine-learning engines in order to maximize profits while limiting risk to the greatest extent possible.
When it comes to risk, eToro has a Risk Score function that helps investors to manage their risk while also understanding the risk incurred by other traders they are considering emulating.
One of the most appealing aspects of eToro is that there are no platform fees or management fees, and you can expect to pay a 0% commission on stock investments. The only fee to be aware of is a $10 per month inactivity fee that is charged after one year of inactivity. Low withdrawal costs of $5 are also available.
2. Nutmeg
Nutmeg is one of the best-known UK robo advisors, as well as a market leader. It was the first online discretionary investment management company in the UK when it launched in 2012, and it won Finovate Europe's Best of Show Award in 2012, as well as government recognition.
The organization has around £3 billion in assets under management as of 2022.
Nutmeg focuses on exchange-traded funds, and investors have the option of choosing between Nutmeg's Fully Managed or Fixed Allocation plans. While the Fixed Allocation plan depends entirely on robo advisor technology, Nutmeg's Fully Managed plan includes the security of an in-house investing staff that will monitor and alter the portfolio in response to market fluctuations.
On a risk rating of 5/10, this fully managed robo advisor account has returned 43.7 percent over the last seven years.
Nutmeg demands a minimum deposit of £500, making it more suitable for serious investors. It does, however, offer a unique interface for tracking your money, and opening up an account requires only a few minutes.
3. MoneyFarm
Moneyfarm is one of the largest and best-funded UK robo advisors, having debuted in Italy in 2012.
The platform now offers seven managed portfolios for users to choose from based on their risk tolerance and exposure to ETFs, albeit even the riskiest portfolio is mostly concentrated on UK and US stocks in its investment portfolio, making it a less risky approach.
Moneyfarm also has a tiered cost structure in place, with 0.75 percent annual management fees for accounts under £10,000. These fees can be reduced to 0.35 percent for accounts priced at more than £100,000.
Moneyfarm has positioned itself in the market as being excellent for novices, with a straightforward price structure and substantially diversified portfolios for investors who might otherwise have difficulty accessing wealth managers or investing advisor. They also provide high-performing stocks and shares of ISA, and their website shows a four-year track record of portfolio success.
Moneyfarm's minimum investment is presently £500, with a monthly direct debit of £100 or more required.
4. Wealthify
Wealthify uses a fully automated investment method to connect clients with portfolios that are appropriate for their risk tolerance. They invest in a variety of ETFs to keep expenses down and pass those savings on to their clients. Wealthify will be a part of the Aviva Group by 2020, giving the robo advisor the financial stability and security of a huge financial organization.
Wealthify is perfect for beginner investors, partially due to their user-friendly software, and partly due to the fact that they take investments as low as £1. In 2020, Wealthify were also awarded first position in the Investor Choice Awards and first position in the British Bank Awards.
Wealthify has kept its prices simple with an annual fee of 0.6 percent, plus 0.22 percent for their original plans and 0.66 percent for their ethical programs. For portfolios of less than £10,000, this is fantastic value, while it can add up quickly for larger portfolios.
5. Moneybox

Moneybox is another UK Robo Advisor that has tapped into the power of 'rounding up' to assist its customers to save and invest their surplus cash. This platform differs from many other applications on the market in that it is considerably more focused on encouraging account holders to save, and their 95 Day Notice Savings Account even offers 0.6 percent AER.
Moneybox's mission is to keep robo investing as easy and accessible as possible, and anyone can get started with as little as £1. They offer three starter funds as well as a socially responsible investment fund, and investing can be done through their Stocks and Shares ISA, Lifetime ISA, General Investment Account, Pension accounts, or Junior ISA.
The costs charged by Moneybox are highly dependent on the type of account you open as well as the amount of money in your account. There is a £1 monthly subscription fee for all non-pension accounts, which can quickly eat into lower account sizes, so keep that in mind. In addition, there is a 0.45 percent yearly platform charge, and fund costs range from 0.12 percent to 0.30 percent.
6. Scalable Capital
Scalable Capital is not for you if you only want to invest a little amount of money in your selected UK robo advisor. This is due to the provider's requirement of a $10,000 minimum investment. However, if you want to invest a larger sum of money, then Scalable Capital may be for you.
You can acquire exposure to a vastly varied and broad range of markets by choosing Scalable Capital. In fact, your basket may include investment possibilities from more than 90 nations. Everything from stocks to government and corporate bonds, real estate, commodities, and cash is represented by ETFs.
Vanguard and iShares are behind a huge number of ETFs used by the Scalable Capital team. As a result, you will profit from providers who, in the majority of situations, offer very low maintenance rates. While we're on the subject of fees, you'll be charged 0.75 percent every year as long as your Scalable Capital account is open.
You'll also have to pay 0.16 percent in ETF fees, bringing your total yearly cost to 0.91 percent. Depending on the portfolio that is created for you, this number may be significantly greater or lower. In any case, it's more expensive than any of the other UK robo advisors we've looked at thus far. As a result, you're essentially paying a premium to have access to a broader range of global markets.
7. eVestor
If you're looking for a basic UK robo advisor with cheap costs and account minimums, eVestor may be worth considering. You can start an account with this robo advisor platform for as little as £1.
Furthermore, eVestor permits you to invest in a low-cost environment. For every £1,000 you invest, for example, you will only pay £4.90 in annual fees. When you consider the eVestor robo advisor's passive nature, this is definitely worth the money. There are three risk portfolios available on this platform: low, medium, and high risk.
eVestor focuses on four key asset classes when it comes to where your money will go: bonds, stocks, real estate, and cash. All of these assets are accessed through funds, as is common in the UK robo advisor sector. We also appreciate eVestor since there is no exit cost, which means you can withdraw your funds whenever you want without being penalized.
Given this, it's puzzling that a specified withdrawal term of 10 working days is specified — with the caveat that says unfortunately, we can't guarantee a timeline. Setting up a direct debit is your only option for funding your account. There is also a smartphone app if you like the sound of eVestor.
8. Wealthsimple
Wealthsimple, based in Canada, is one of the world's largest robo advisor investment platforms. The platform presently manages over £3 billion in assets and has 175,000 investors. Since then, Wealthsimple has opened its doors to UK investors, with an FCA license and FSCS partnership assuring that your money is safe. For a variety of reasons, UK investors prefer Wealthsimple.
First and foremost, its robo advisor service provides a large number of portfolio options. As always, this is determined by the risk-to-reward ratio you want to use. Global corporate bonds, emerging market government bonds, UK stocks, North American stocks, European stocks, Asian stocks, and emerging market stocks are some of the markets you may have included in your portfolio. Of course, the particular weighting will be determined by the risk level you select.
Furthermore, getting started takes only a few minutes, and you can finish the account application online or on your phone. The cost of the service is determined by the plan you choose. However, unless you want to invest more than £100,000, you will be assigned to the basic account. This comes with a fixed yearly cost of 0.7 percent, plus a 0.2 percent average fund charge.
Wealthsimple has no minimum balance requirement and accepts deposits through a UK debit card or bank transfer. There are no fees for deposits or withdrawals. The dividend reinvestment strategy at Wealthsimple is one of our favorite features. All stock and ETF dividends will be automatically reinvested into your portfolio once you turn this on.
9. Vanguard Digital Advisor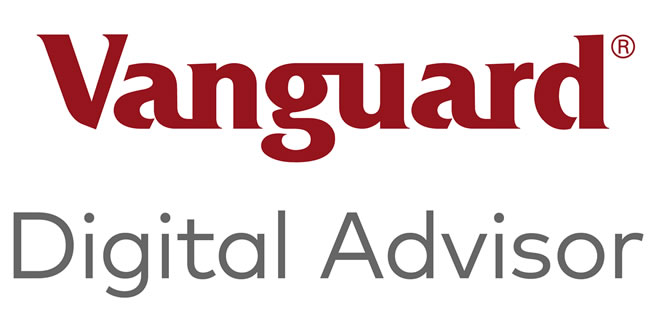 Vanguard, the first low-cost fund provider, has lately entered the robo-advising market. You'll adore the Vanguard Digital Advisor service if you're already a fan of Vanguard funds.
Because the Vanguard Digital Advisor invests your cash in Vanguard funds, this is the case. Vanguard will ask you a few questions to determine your risk tolerance, and then the algorithms will recommend a mix of four funds: the Total Stock Market ETF (VTI), the Total International Stock ETF (VXUS), the Total Bond Market ETF (BND), and the Total International Bond Market ETF (BNDX). The average investment expense ratio for these funds is roughly 0.05 percent.
To get started with Vanguard Digital Advisor, you'll need at least $3,000, and the platform is currently only available in the United States. The firm does, however, charge a 0.15 percent annual management fee, making it one of the most affordable robo advisors on our list. There are no costs for making deposits or withdrawals.
10. SoFi Automated Investing

SoFi Automated Investing is an excellent alternative if you want to keep your fees low while still getting a basic robo-advisor service.
In our review of robo-advisor services, SoFi Automated Investing has the lowest fees. There is no yearly advisory fee, and your portfolio is made up of ETFs with low expense ratios. You also have access to real-life professionals if you need to discuss your financial situation. There's nothing stopping you from a $1 minimum account balance.
The rest of SoFi Automated Investing functions as you'd expect from a robo-advisor. You enter your personal information and financial goals, and the software creates a diverse portfolio of roughly 10 ETFs that correspond to your financial goals and risk tolerance (as we mentioned above, that's probably twice as many as needed).
One major drawback of SoFi Automated Investing to be aware of is the sort of ETFs it includes in your portfolio. Many of SoFi's own in-house ETFs are included in the platform, similar to how Vanguard only employs its own funds. Unlike Vanguard, however, SoFi's funds are small in terms of total assets, new and untested, and in some cases overpriced in terms of cost ratios. Long-term investors may find them riskier as a result of this.
Benefits of Choosing a Robo Advisor
Robo advisors come with a large range of perks, which is understandable considering their meteoric popularity.
Cost-effective and profitable
The most significant benefit is their concept: they provide high-quality investment tools at a low cost, which is a challenging concept to accomplish. As previously stated, robo advisors achieve this by employing the MPT principle and relying primarily on low-cost index-based ETFs. Although this benefit is frequently promoted to new investors, it can also be beneficial to people with more established wealth who desire to diversify their portfolios.
A robo advisor is a low-maintenance investment vehicle where you may park a portion of your money and watch it grow while saving money on asset management expenses.
Easy to Use
The ease of use is what attracts regular savers who don't have a lot of investing experience. Users simply need to create an account, which is typically pretty simple. You should anticipate supplying a list of important facts to ensure HMRC and international law compliance. You may then link your bank account and set up a direct debit to invest as much money as you want, as often as you want. Furthermore, robo-investors allow you to build a portfolio depending on your financial objectives and risk tolerance, eliminating the need for any research.
Rebalancing Automated
You can largely forget about it once you've set it up. Nonetheless, it's a good idea to keep an eye on your investment and, if necessary, change your appetite for risk and goal preferences. Even better, the finest robo advisors automate the rebalancing process, ensuring that your investment mix and allocation remain consistent even as markets fluctuate.
Minimum Balance
Another advantage is the opportunity to maintain a modest minimum balance both when starting out and when withdrawing funds. Even if your account is empty, you will not lose access to it. This function is not available on all accounts. In comparison to legacy banks, start-ups are more likely to tolerate this.
Drawbacks of Robo Advisors
While there are numerous advantages to investing in robo advisors, there are also various disadvantages to consider.
Flexibility is limited
One of the biggest drawbacks of employing UK investment robo advisors is that you have very little flexibility. Because the robo advisor will choose which assets to invest in on your behalf, this is the case.
You will not be able to add individual stocks or bonds to your portfolio as a result. This can be a problem if you have your heart set on a particular investment.
More Expensive Than Funds
On the one hand, if you invest in a robo advisor, you can almost guarantee that your portfolio will be full of ETFs and index funds. While not an issuer, it's worth mentioning that utilising a robo advisor raises the expenses associated with accessing these funds. In reality, you'll almost always pay 0.75 percent more than the ETF provider's fee.
If you invest in ETFs with eToro, for example, you will not be charged any transaction fees. On the other side, keep in mind that UK robo advisors will automatically rebalance your portfolio. You will not receive this benefit if you purchase an ETF or index fund on your own.
No guarantee of profit
There is no guarantee that investing in a UK robo advisor will make you money, as there is with any investment instrument. On the contrary, there's a good probability you'll get back less money than you put in.
You will be entrusting your money to an algorithm that will make financial decisions on your behalf. Even though the algorithm has an established track record, prior results are never a 100% predictor of future outcomes.
Considerations while selecting the best Robo-advisor
We've compiled a summary of the key factors to consider before signing up for a robo-advisor.
Protections under the FCA and FSCS
Check that your chosen platform has the necessary regulatory approvals to provide robo advisor services in the United Kingdom. This should at the very minimum comprise a full Financial Conduct Authority licence.
Furthermore, you should only engage a service provider who is affiliated with the Financial Services Compensation Scheme (FSCS).
For those who are unaware, this safeguarded some or all of your funds if the platform went bankrupt. This is limited to a total of £85,000 in cash and £50,000 in investments.
Investment Requirement
It goes without saying that you must make sure that the minimum investment amount is within your financial means. As we learned with our list of robo advisors, this might vary greatly.
Fees
Fees are another key factor to consider before selecting a robo advisor in the United Kingdom. As previously noted, platform and fund fees are frequently separated. Some businesses combine the two fees into one % charge.
Overall, robo advisors are anticipated to charge 0.75 percent per year. While most providers do not impose fees to deposit or withdraw funds, it's always a good idea to double-check.
User Experience
If you're looking into robo advisors because you want to invest in the financial markets but don't have much experience, check sure the platform is suitable for beginners.
To put it another way, you'll want the process of signing up, depositing funds, and selecting a portfolio to be painless. All of the UK robo advisors included on this page, with the exception of Scalable Capital, provide a comprehensive service.
Accessible Markets
Of course, you must consider where your money will be invested by the robo advisor. The normal procedure, as we've described throughout this tutorial, is to invest solely in funds.
Some platforms, however, allow access to thousands of marketplaces, and others are significantly more limited.
Past Performance
Prior performance is still a crucial factor to consider before investing. This is especially true when selecting a robo advisor platform and a portfolio that is appropriate for your risk tolerance.
Conclusion
Some people believe that robo advisors in the United Kingdom are reliable. Almost all robo advisors hold your money in a separate account with a registered brokerage or bank. The Financial Conduct Authority regulates robo-advisors that are also brokers, such as eToro. In many circumstances, the robo advisor doesn't even have the authority to withdraw your assets – it can only adjust your investments, not move money between accounts.
The Financial Services Compensation Scheme backs many robo advisors in the United Kingdom (FSCS). This covers your account up to £85,000 if the platform falls into financial difficulties or goes out of business.
Frequently Asked Questions
Is nutmeg offered in the United States?
Nutmeg claims that its platform is aimed at British investors. It does, however, say that applications from non-UK residents will be considered. Nutmeg requests that you contact their customer care team directly to check if you can open an account from outside the United States.
Is it possible to combine a UK robo advisor and an ISA?
No, you cannot invest in a robo advisor using an ISA.
Do robo advisor algorithms provide financial planning and asset management?
Robo advisors are essentially "digital wealth managers" who automate the asset allocation process. Everything is 100% automated by taking care of the investment management procedure. However, you are not receiving financial or investment advice in the traditional sense, as the algorithm handles all investment decisions.
What is the fees of a robo advisor service?
You will pay annual fees of roughly 0.75 percent on average. This is calculated as a percentage of the total amount in your investment portfolio.
What is a popular robo advisor in the United Kingdom?
While there are dozens of robo advisors in the UK, Nutmeg appears to provide a reasonable service. You'll get access to a large number of portfolios as well as low fees.
Are robo advisors in the UK regulated?
Yes, the FCA must regulate all UK robo advisors. The FSCS will protect your funds in the vast majority of circumstances.
Is a robo advisor safe for my money?
Of course, there are no guarantees when it comes to investing, but the most popular UK robo advisors allow you to invest little sums at a time and select plans based on your risk appetite, so you should carefully consider them. When you utilize licensed robo advisors like eToro and the ones we recommend on our list, you can be assured that your money is safe.
Are robo advisors a good investment?
While no one can guarantee profits, the correct robo advisor can be a valuable asset for passive investment. Choose your advisor and plan wisely based on your budget and risk level to get the most out of your robo advisor.
Is Wealthfront accessible in the United Kingdom?
Wealthfront is not available in the United Kingdom, but you can use our expert guide to find robo advisor alternatives in the United Kingdom.
Are robo advisors and financial advisors the same thing?
While robo advisors are similar to financial planners and advisors, they vary in that they invest your money automatically, making them more of a direct investment management tool than a financial planning tool.
Is Betterment accessible in the United Kingdom?
Betterment is not available in the United Kingdom. A popular alternative is eToro.