Capital.com has established itself as the largest online broker in the UK and elsewhere. But who is this broker and is it reliable? What is our opinion on Capital.com? We tell you everything to get to know this online broker better in this comprehensive Capital.com review.
Who is Capital.com?
Capital.com has been operating on the stock market since April 2016. Simply put, it is an online broker that allows you to trade stocks, assets and cryptocurrencies. Its headquarters are located in the city of Limassol, Cyprus, but it is also represented in the UK, Gibraltar, Belarus, Australia, and many other countries.
Once you receive the CySEC CIF license, the activity begins. In this dynamic, the startup has built networks, partnered with trusted financial partners, and acquired thousands of users in the race to expand its activities.
Key Figures:
Over 2 million unique customers and users
4000+ traditional financial assets (forex, stocks, bonds…) and modern (cryptocurrencies…)
Traded over $88 billion in 138 currencies in 53 countries
24/7 support in 13 languages ​​to solve user problems.
Awards
Capital.com also won the Most Innovative Broker Award 2018 and Best Online Trading Platform 2019 Award. The most recent titles are "Best Online Trading Platforms of 2020" and "Europe's Most Innovative Brokers in 2020", and "The most transparent brokerage service provider in Europe 2020″.
Capital.com, for whom?
Forex / CFD broker Capital.com provides the public with comprehensive trading offers absolutely suitable for all types of traders. To meet different needs, the site offers a catalog of different accounts. We distinguish between a demo account, which allows the average person to take the first steps of trading without risk, a standard account for beginners, a plus account for intermediate levels, and a premier account for experienced traders. So it's understandable that Capital.com is targeting as many people as possible with its product policy.
The trading tools and technologies are diverse and constantly updated, and the Capital.com platform is particularly famous for its great insight and extensive financial assets. It is the meeting of artificial intelligence and financial negotiation that gives everyone the opportunity to expand their resources. Well-designed artificial intelligence technology analyzes your behavior and the behavior of the market to help you make profitable decisions.
In terms of goals, our opinion of Capital.com is that this broker is suitable for all types of investments, whether you are beginner and want to invest 500 Pounds or you want to invest for your retirement.
Capital.com Account Types
Capital.com thought of more than one goal in its proposal. With this in mind, the platform has planned four account categories: demo accounts, standard accounts, plus accounts, and basic accounts.
Capital.com demo account
Demo accounts act as unrealistic investment channels and are accessible to everyone. No special steps are required to access it other than to complete registration. A virtual amount is added to your account so that you can start trading on the exchange. Everything happens as in a real account with the difference that capital, profit, and loss are fictitious. It is designed for those who want to learn how to get a place in the financial markets and understand how to use various tools and techniques and make money by trading. without losing money.
Demo accounts are primarily aimed at those new to trading. This step will help you hone your knowledge in the field. It's nice to have one before switching to real mode, but it can also be useful for more experienced users. It's the ideal way to get started, strategize your trading, and get feedback on Capital.com.
Capital.com standard account
This is an offer for those who do not have significant capital and is the first real account this broker offers. Beginners, individuals, and individual investors can adopt this type of account and find the comfort they want. Minimum funding amounts are €20, $20 or £20, and €250 if done by bank transfer.
For standard accounts, merchants can use:
Up to 30:1 utilization
extended graphics
access to various markets
Your subscription is guaranteed against negative balances.
Capital.com Plus Account
A Plus account is a standard account format with additional services. It is suitable for medium-sized sellers and should have a minimum of $3000 if you choose this type of account. With all the benefits of a standard account, you get:
A platform guide with practical investment tools for quality trading.
Custom analysis
Dedicated account manager.
Prime institutional account
Institutional Prime Accounts are an offer, especially for institutions or companies. Capital.com supports businesses with custom trading solutions, custom analytics and brokerage, and superior risk management.
How can I open an account on Capital.com?
Now let's go to the bottom of this. Below are the details of the steps required to register and own a Capital.com account.
Open a Capital.com account
Account Verification
Make your first deposit to start trading
To become a customer or user of the online broker Capital.com online or from your smartphone, you must first open an account, and here are the main steps:
Step 1- Open your Capital.com account.
First, you will be asked to open an account by clicking here. On the home page of the site, you can click "Register Now" or "Trade Now" in the upper right corner. Enter your email address and define your password. Click "Complete Registration".
Step 2- Identity Verification
To meet this platform requirement, please enter your personal information and provide an identification document to verify who you are. This is the only way to prove your identity and allow withdrawals and payments on the platform. Once data processing is complete, you can make your first deposit.
Step 3- Deposit the funds
You have opened an account for trading. To do this, you must activate your account with your first payment. The minimum sale amount is EUR 20, USD 20, or GBP 20 for all payment methods. Bank transfer is not included and requires a minimum of €250 (or equivalent in the currency selected for your account). Once the deposit is confirmed, you can start trading.
Capital.com- Fees
When it comes to fees and commissions, Capital.com is doing well as it has one of the lowest offers on the market. There is actually free trading platform with no cost to open or close an account. Brokers charge a "0% commission" for transactions on Capital.com. The cost is 0 euros. The same applies-
Deposit money on the platform
Invest in all assets
Withdraw to your bank account.
Capital.com only charges overnight fees based on leverage, not the full value of the position. On the other hand, the means the platform has to reward itself is by sending outspreads. This is the margin between the bid and asks prices, and each trade initiated creates a margin.
Capital.com spreads
The size of the spread varies from financial asset to financial asset. In most cases, the spread is less than 1 pip.
The stock is traded at 0.25% of the security's value.
In Forex, the average trade spread is about 0.6 pips.
Commodity spreads range from 0.4% to 0.8% of the contract value.
For indices, the spread fee is 0.35%.
Financial products available on Capital.com
Here we can consider brokers in the ranks of brokerage firms with a variety of financial products and financial markets. One of the business benefits is: Provides updates on assets available on Courtier.com.
Stocks on Capital.com
If you want to buy shares of Tesla, Amazon, Nike, Apple, etc., the Capital.com platform provides an opportunity. The list of stocks available on the website is almost complete. Stocks are available for trade-in in over 4,000 different countries. You may find that websites are categorized according to various criteria, which can be disconcerting. The most famous stocks you can guess are TSLA, KOA, AMZN, SAS, RR, NKLA, XPEV, BA, KOA, VVO, HX.
Cryptocurrency on Capital.com
The cryptocurrency sector is the most sought-after of all brokers today and we know it. You can also trade cryptocurrencies on Capital.com. The flagship cryptocurrency pair is offered as a 200-share basket on the platform. You can easily trade Crypto/FIAT, BTC/USD, BTC/XRP pairs. This shows the possibility to trade Crypto/Stock, Crypto/Forex pairs besides Crypto/Crypto.
Commodities on Capital.com
The product nomenclature available on the Capital.com trading platform fits everyone's needs. There are about 22 commodities, the most popular of which are gold, silver, oil, coffee, palladium, sugar, and cocoa and many more available for commodity trading. The profitable nature of these things no longer needs to be proven.
Indices on Capital.com
There is no shortage of clues in this meeting. Enough: 3 3 clues from around the world
For example, among Asians, there are Hang Seng (HK50) or Nikkei (JP225).
US: S&P 500 Example (US500)
Europe has FTSE MiB (IT40), DAX (DE30), or CAC (FR40).
Forex on Capital.com
Capital.com's currency offerings are considered one of the most comprehensive averages of 138 currency pairs. They are divided into categories: major, minor and exotic. Common pairs include EUR/USD, EUR/GBP, GBP/JPY, AUD/JPY, EUR/NZD, AUD/CAD, and more.
Capital.com Platforms
To make your trading comfortable, Capital.com offers two types of platforms: a trading application and an online web platform.
Capital.com Web Platform
It is a well-designed, ergonomic, and easy-to-use trading platform. The calming function functions like Stop Loss and Take Profit. Distinguish between 75 technical indicators, a variety of trading tools and charts to hone your trading knowledge and strategy.
As a trader, being able to accurately analyze prices by tracking various financial markets is very simple. The ability to generate alerts is also a bonus.
Capital.com Mobile Application
The mobile app is a tailored solution to assist the nomads in their commercial activities. The Capital.com app addresses these needs. Wherever you are you can use a mobile app whether in your car or anywhere else, you are not needed to sit in front of the computer.
More than a dematerialization of your website, the application allows you to use 70 indicators for technical analysis and other trading tools.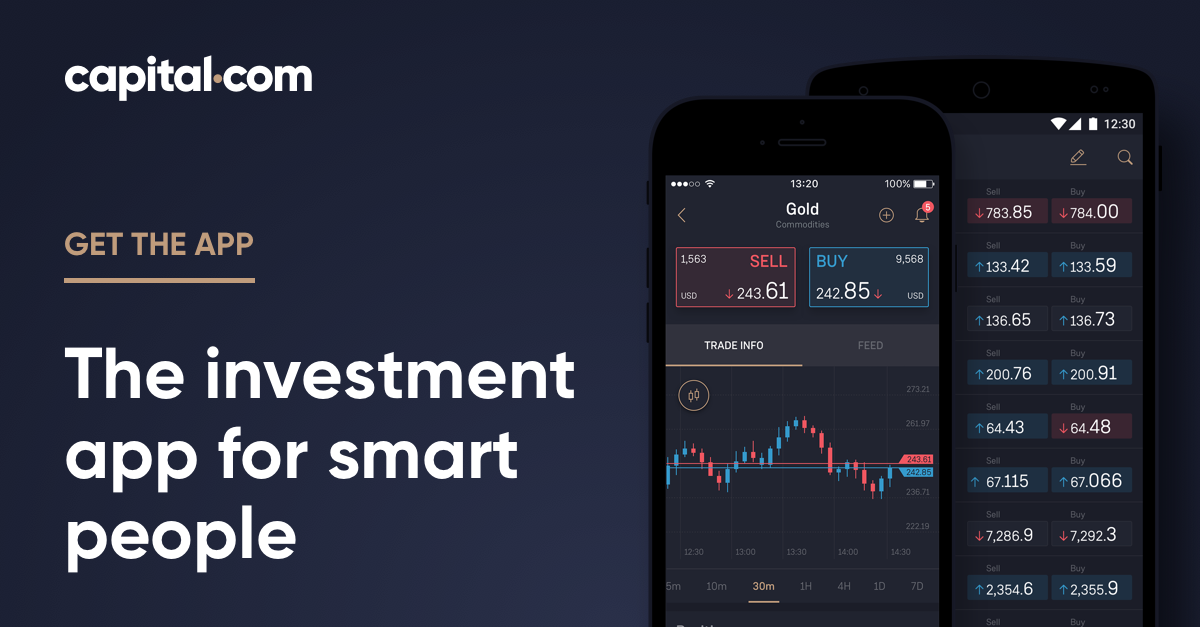 Capital.com Trading Tools
Capital.com is a truly modern broker. The platform includes artificial intelligence tools and easy-to-use mobile applications to provide a seamless experience for operators. It is also a detailed business education platform aimed at beginners.
AI-powered dashboard
The Capital.com dashboard stands out on its own. When you log in to your trading account, you can see much more than your account balance. You can see what types of asset traders are trading on the brokerage, down to the most popular individual stocks on a given day. You can also see the top winners and losers at a glance.
Charts
Capital.com does not rely on third-party solutions like MetaTrader and uses its own charting software. The integrated graphics are slim and easy to use. It also includes a variety of drawing tools to help you get the most out of over 70 popular engineering studies and analyses. You can also view multiple charts in the same window and save layouts to quickly apply them to future charts.
Capital.com- Customer Support
Capital.com attests to the existence of customer service, serving its clients with the utmost care. It provides first-class support for institutional clients. Our advisory team, available 24 hours a day, 7 days a week, does everything possible to provide you with the right investment solution for each profile.
The technical performance of artificial intelligence (AI) is also good. A personalized approach was chosen based on the client's profile and expectations. We can communicate in more than 24 languages.
Capital.com Review- Pros & Cons
Pros:
You can easily buy and sell cryptocurrencies with CFDs.
No account opening and closing fees or transaction fees
Free access to an educational demo account
Dynamic customer service
Ability to use MT4 and artificial intelligence for quality trading.
Fast, easy, and completely free registration
A wide range of financial assets comprised of Forex and other CFDs: stocks, cryptocurrencies, indices, and commodities.
Cons
We trade cryptocurrencies only through CFDs
No integration with MT4 platform
Limited financial products
Some Fundamental Analysis
Is Capital.com secured?
To secure your profit for as long as possible when the market collides with yours, Capital.com has implemented protection against negative balance and margin closing. As a result, you cannot lose more money than you invested.
To trade with confidence, you need to know which funds are protected by the UK Investor Compensation Fund or the Financial Services Compensation Program (FSCS), depending on regulatory requirements.
The platform connects to well-known European fund management banks. This promotes the protection of financial transactions. Capital.com is fully compliant with PCI data security standards. Your data is most secure and your information is encrypted using Transport Layer Security protocols.
Is Capital.com regulated?
Capital.com brokers can certify that your personal data is fully protected. CySEC regulators have used it to overcome this problem. Therefore, the data you send to Capital.com will not be transferred or sold to any third party.
Capital.com is also regulated by many jurisdictions. The platform operates through three subsidiaries, each of which is regulated by a different financial regulator. Regulators have a mission to ensure that licensees respect their customers and privacy while operating without violating financial laws. Regulatory bodies depend on the Capital.com subsidiary that processes your data and investments. Depending on your geographic location, supervisory authorities include:
Conclusion
We have provided you with the most important information about this broker. Whether you are a beginner, an average person, or an expert, trading on Capital.com seems like an enjoyable experience. Thus, the know-how of the site designer can be praised, as the interface and ergonomics enjoy successful modernity.
In our opinion, Capital.com is a reliable, regulated, and comprehensive online broker. We recommend this broker to our readers. The trading terms are the best, but the support provided especially for beginners can be improved. The ability to conduct social transactions is also the ability to provide platform points.
Frequently Asked Questions
What payment methods can I use with my Capital.com account?
Capital.com you can top up your account by wire transfer or by debit or credit card via Sofort, iDeal, Giropay, Multibanko, Neteller, and Skrill are also available after the first payment.
How long does it take to process a withdrawal request on the Capital.com platform?
Credit card transfer requests will be processed within 24 hours. These times may vary slightly depending on banking operations. We do not rely on Capital.com.
Does Broker Capital.com provide investment advice?
As a regulated broker, Capital.com is not authorized to recommend any assets in which to invest your money. All you deserve is a daily economic calendar, the latest financial news, and cutting-edge technical analysis to help you make trading decisions.
What fees does Capital.com charge?
There are no fees for using the platform, except for a margin fee charged each time a position is entered and a trading fee for positions held for more than 24 hours.
What documents do I need to open an account on Capital.com?
ID is not required to open an account immediately, but you must complete the process within 14 days of opening an account. Simply scan and submit your ID card and it will be treated as confidential.