Artificial intelligence (AI) is expanding at an astounding rate, and as it keeps making fresh future promises, AI stocks are also starting to look like a good investment.
Interactive apps, voice-activated personal virtual assistants like Siri and Alexa, automated vehicles, and search suggestion features on search engines like Google are just a few examples of the earliest applications of AI that can be seen in modern technology.
Future technologies will be able to learn and change on their own, improve and create new experiences, and provide solutions that, in time, will be able to compete with human intelligence. In addition to rendering current technology obsolete, the development of AI supercomputers to address complicated human problems and find remedies for diseases like incurable cancers would pave the way for even greater expansion of the AI industry as a whole.
According to research company IDC, the worldwide artificial intelligence market will expand over the next two years, reaching $554 billion in total revenue by 2024.
Additionally, the potential for investors is become harder to ignore as new technology disrupts almost every significant industry. Here are the best AI stocks to watch in 2022 with that in mind.
Best AI Stocks 2022
Here is a list of the best AI stocks that are now accessible in the UK:
Best AI Stocks Analysis
Among the best stocks related to artificial intelligence for 2022 is NVIDIA Corporation, a major player in the graphics chip market. What gives the company its outstanding image in the industry are the high-end processors produced by Nvidia, that also operate one of the most sophisticated powerful computers in the world, Leonardo, as well as its next AI computing Eos.
The metaverse, data centres, cloud services, artificial intelligence and machine learning, gaming, and Nvidia are just a few of the major technologies that depend on semiconductors, which are a leading company. The corporation is also a leader in supplying chips with enormous processing capacity. The chip manufacturer primarily targets the following five industries: gaming, data centers, professional visualization, automobiles, and original equipment manufacturers (OEM)
Nvidia introduced a wide range of enterprise solutions with an AI focus at its annual GTC conference, including new-generation processors with up to nine times the processing capability of their forerunners. The Covid-19 pandemic spurred development in Nvidia's gaming and data center GPU businesses, which helped the company's stock reach an all-time high last year.
Over the previous three years, the end-end chipmaker has likewise had a staggering 380% gain, although analysts caution that this cycle may be winding down. The total return on Nvidia's shares over the past year was 73.1%, which is significantly higher than the 13.8% total return on the S&P 500.
International Business Machines Corp. (NYSE: IBM)
IBM has been researching and developing AI applications for many years, most notably with its Watson AI supercomputer, which is today a major rival to other AI businesses like Google, Microsoft, and Amazon. In order to create software apps and data analytics, the cloud and technology company—one of the finest tech stocks to watch this year—works in partnership with top companies from a variety of industries, including banking, healthcare, law, and academics. IBM also provides companies with consulting services and hybrid cloud infrastructure.
The company has focused heavily in recent years on developing into a market leader in AI and hybrid cloud solutions that can help organizations trying to go digital. At the end of 2021, IBM recorded a net income of $5.7 billion, an increase of 2.7% from the year before. You should definitely include IBM on your list of prospective investments for 2022.
A British company called Ocado Group, with headquarters in Hatfield, Hertfordshire, England, licenses grocery technology. It holds a 50% stake in Ocado.com and licenses its food fulfillment technology to international retailers like Coles Group in Australia and Kroger in the United States. The business was listed on the LSE on July 21, 2010, and it is a part of the FTSE 100 Composite Index. The British online supermarket Ocado.com, also known as Ocado Retail Limited, calls itself the world's biggest specialized online supermarket retailer.
The worth of Ocado's shares is hotly debated among analysts covering the UK stock market. Even though the company is valued at £20 billion, it only has a limited amount of market share in the UK supermarket sector. While traditional supermarkets struggle in an online, automated environment, we think Ocado's full potential has yet to be realized, and the upside for this company is significant.
Ocado's stock is now falling, making this a great moment to buy. At the moment of typing, Ocado stock trades totaled £2.42 million. At the present price of 958.50 GBX, a 57 percent upside objective is implied by the stock's 52-week high of 2105 GBX.

The parent firm of Google and YouTube, Alphabet, is currently the largest AI business in the world and focuses on a variety of international internet services. The tech behemoth with headquarters in California is the owner of numerous businesses, including Youtube, Google Cloud, Google Play, Android, Google Pay, and Waze.
More importantly, Alphabet is a household name in the field of artificial intelligence, creating a wide range of AI services and products, such as the self-driving company Waymo, the voice-activated AI system Google Duplex, and serving as the parent company of DeepMind Technologies, which is committed to creating general-purpose AI technology (AGI).
The marketing of content, ad pricing, and many other aspects of Alphabet's business processes all heavily include artificial intelligence.
With a market valuation of $1.75 trillion as of March 2022, Alphabet has managed to rank among the top technology firms in the world. Additionally, for 2021 the business reported a net income of $76 billion on revenue of $257.6 billion.
Amazon is another significant AI participant. The world's largest online retailer uses AI heavily throughout all aspects of business operations. This comprises the target advertising algorithms, e-commerce search algorithms, and Amazon Web Services algorithms (AWS). Another choice is the well-known virtual assistant Alexa, that is used by 40 million individuals in the US only. Amazon may be more recognized for its e-commerce services, but it is rapidly emerging as a force to be reckoned with in the field of artificial intelligence.
In addition to the benefits already described, Amazon also provides a wide range of AI apps to its customers, primarily via AWS. These technologies use AI such as voice commands, chatbots, as well as speech-to-text technologies to let programmers create their own applications.
Other projects that Amazon is working on include its Prime Air delivery drones and its Amazon Fresh completely automated grocery stores.
Amazon Web Services (AWS) revenue did surpass consensus projections, with a 37% year-over-year (YOY) growth, despite the fact that the tech giant's Q1 2022 revenue report fell short of expectations and was the first time in at least four years that it produced a net loss.
C3.ai is an enterprise artificial intelligence (AI) software vendor that creates AI algorithms to assist big businesses in streamlining and optimizing processes. Recent contracts for C3.ai, a pioneer in the AI sector, including a $500 million, five-year agreement with the US Department of Defense.
The company has announced an extension of AI-based services for 2022 that include a variety of industries, including manufacturing, finance, healthcare, agriculture, and life sciences. Many of the company's solutions, such as those for logistics operations, energy efficiency, and customer interaction, have been acknowledged as some of the best for assisting companies in increasing efficiency throughout the whole operational cycle.
C3.ai is a firm to consider this year while being smaller than some of the other businesses on this list due to its best class offerings that have been embraced across numerous industries and the AI technologies it has produced.
With its headquarters in Belfast, Northern Ireland, Kainos Group plc (often known as Kainos or Kainos Software) is a software firm that creates information technology for companies and organizations. Kainos is traded on the LSE and is a component of the FTSE 250 Index.
It is not a cheap stock; it has gained by more than 1160 percent over the past five years. Despite this, the company frequently beats analysts' estimates, as evidenced by the previous half-year reporting period's 16 percent increase in digital sales. Its Workday product, a popular HR software used by businesses of all sizes, has also experienced outstanding growth.
At the time this post was being published, the trading volume for Kainos stocks was £240.09K. At the current price of 1418.1 GBX, a 311 percent upside objective is implied by the stock's 52-week high of 2100GBX. Kainos is one of the finest AI stocks to buy for future gains because these fundamentals show that it is in decline.
With a price-to-earnings (PE) ratio of 50.68 and a dividend yield of 1.54%, Kainos is a profitable business.
As part of its strategy to create the metaverse, Meta (previously Facebook) has begun to focus more on and invest more in its augmented- and virtual reality products and services. In support of this initiative, Meta has increased its investment in AI technology by constructing the AI Research SuperCluster (RSC), which the tech giant has touted as the fastest AI supercomputer in the world. Meta employs artificial intelligence to power things like news feeds and ad algorithms.
The first quarter of 2022 saw Meta report a year-over-year rise of just 7%, which is the weakest rate of growth in Facebook's ten years as a publicly traded business.
Meta predicted a probable year-over-year revenue decline in the second quarter in its most recent earnings report, which was released last week. Analysts still rank Meta at the top of the list of AI stocks to watch in 2022, despite the recent decline.
Palantir, software development and data mining company founded by serial entrepreneur Peter Thiel, focuses on utilizing big data and AI to give insights and analytics for a variety of clients. The company's primary business is providing secure data analytics tools and management to both public and private companies. While Foundry provides identical services to large commercial clients, Palantir's Gotham platform collects and processes data for government entities. Palantir also manages the Apollo, that has been crucial in employing artificial intelligence in space research.
By the end of 2021, Palantir Technologies reported a 41% increase in fourth-quarter sales to $1.54 billion. By fully utilising the AI explosion, Palantir might be a prospective investment when it relates to Artificial intelligence systems and AI data applications.
Microsoft Corporation, one of the top AI stocks in 2022, must be mentioned in any discussion about the tech stock market. Microsoft has kept up a recent trend by continuing to invest heavily in AI and cloud computing capabilities under the Azure platform. The purpose of Microsoft's cloud computing network was to train AI models and provide sophisticated AI infrastructures for businesses and developers. Context IQ, an AI tool that assists with search, prediction, and recommendation creation, is also maintained by the business and is geared toward Microsoft employees. Microsoft exceeded all expectations with its third quarter 2022 financial results, reporting revenue of $49.4 billion and net income of $16.7 billion.
How can I buy AI stocks?
The following is a complete guide to buying AI stocks:
Step 1: Choose a stock broker
You must pick a brokerage that offers a wide selection of shares if you want to purchase AI stocks in the UK. Numerous UK brokers now provide trading on top AI stocks as a result of the industry's recent rapid growth. As a result, you can take into account more factors when choosing the best broker to purchase AI stocks.
We advise using a commission-free broker because doing so can end up saving you a lot of money in the long run. CFD trading with no commission is available from several online brokers in the UK, and some even let customers trade shares without paying any fees.
In light of this, let's look more closely at two of our top-rated brokers for purchasing AI stocks in the UK:
1. eToro
Over 800 stocks and 450 ETFs can be traded on eToro, a zero-commission online broker, from all over the world. The company is a great option for both traders and long-term investors for long-term investments because it provides both CFD trading and share trading. Additionally, the broker keeps launching new stocks, which is good news for getting access to developing AI stocks.
Additionally, eToro offers copy portfolios, which let you locate an existing portfolio of AI stocks and quickly duplicate the positions. You can also use clone portfolios to automate your trading.
eToro has received authorization from the UK's FCA, and all trading accounts are insured by the FSCS.
2. Fineco Bank
A well-known Italian bank with a sizable presence in the UK is Fineco Bank. You get access to wide range of equities from the UK, the US, and Europe with this CFD broker and share trading platform. Additionally, you get access to options for popular AI equities and can trade a variety of ETFs. Share trade commissions for US stocks are $3.95 and for UK shares they are £2.95. CFD trading is fully commission-free.
The FCA of the UK and the Bank of Italy oversee Fineco Bank. Additionally, the broker is registered on the Milan Stock Exchange, suggesting that it is open about its financial condition.
Step 2: Open an account
We'll walk you through the process of creating an eToro account so you can start trading or invest in AI stocks right now.
To begin, open a fresh eToro account. On the broker's website, click "Join Now," then provide your email address, a new username, and a password. You must also provide eToro with personal information like your name, residence, and contact details.
To abide by UK anti-money laundering regulations, you must authenticate your identity before you can begin trading with eToro.
Step 3: Deposit Funds
eToro demands a minimum deposit of £140. Debit or credit cards, UK bank transfers, PayPal, Neteller, or Skrill are all acceptable forms of payment.
Step 4: Buy AI Stocks
The time has come for you to start buying AI stocks on eToro. Enter the name of the AI stock you want to purchase in the search window on your account dashboard. Click "Trade" when the firm name appears in the drop-down menu to begin a new order form.
A few options will need to be selected on the order form. Start by entering the sum of money you wish to invest in the stock. Next, decide if you want to leverage your offer up to a 5:1 ratio. Remember that utilizing leverage entails additional charges and raises your trading risk. Selecting a stop loss or take profit price for your transaction is the last step.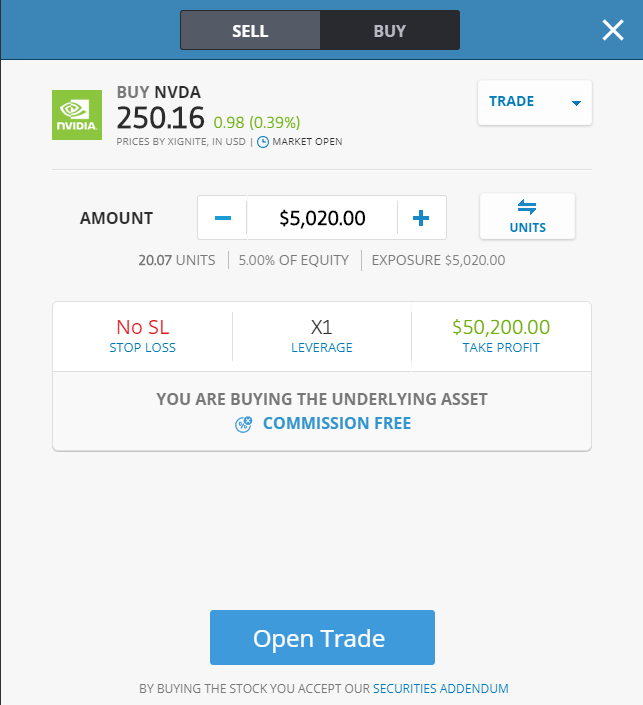 To complete the purchase of your first AI stock, click "Open Trade."
Conclusion
The world is expected to experience a major change in the upcoming years as a result of AI and related technologies. Investors find this industry to be quite intriguing, especially given the seemingly endless potential for growth for many businesses offering AI services. Despite the fact that there are many AI businesses operating at the moment, we believe our ten stock recommendations provide UK investors with the best possibility.
If you choose to invest, all of the top AI stocks are now available on eToro. You can buy AI stocks without paying any commissions by making a fast deposit with your UK debit or credit card.
Frequently Asked Questions
Is it feasible to use an ETF to invest in AI stocks?
Yes, you may invest in AI using ETFs. Most technological exchange-traded funds (ETFs) in the US and UK own some or all of the companies we highlighted. There are additional smaller ETFs that only invest in artificial intelligence.
Are any pharmaceutical businesses utilizing AI?
Yes, a number of pharmaceutical firms use AI to generate customized medicines and new medications. Artificial intelligence was used by Pfizer and Moderna to support the development of their COVID-19 vaccines.
Do AI businesses distribute dividends?
While the majority of AI stocks do not pay dividends, few do, like IBM. Many IT businesses choose to reinvest profits rather than distribute dividends to shareholders because AI demands a large amount of continual investment.