As more companies use artificial intelligence (AI) in their operations, investors may be looking to invest in AI stocks. According to market research firm IDC, the worldwide artificial intelligence business will generate $554 billion in total revenue by 2024. According to market researcher Gartner, this is significant growth for an industry that earned $51.5 billion in revenue in 2021.
Many investors are thinking about how they can invest in AI now, given how crucial it is predicted to become. In this guide, we'll go over 10 of the best AI stocks to purchase in the UK in 2022, as well as how to invest now with no commission.
10 Best AI Stocks to invest in 2022
Here are ten companies that are utilizing artificial intelligence to drive considerable development:
Top AI Stocks UK Reviewed
Amazon may be the corporation that uses AI the most. Founder and executive chairman Jeff Bezos has long been a proponent of artificial intelligence and machine learning, and while Amazon began as an online store, technology has always been at the heart of the company.
Alexa, Amazon Go cashier-less grocery stores, and Amazon Web Services Sagemaker are all examples of artificial intelligence in action at Amazon today.
Amazon's e-commerce operation is likewise based on AI. It uses artificial intelligence to calculate product rankings.
Even Amazon's logistics services benefit from the company's AI capabilities, which aid in scheduling, redirection, and other methods to increase delivery accuracy and efficiency. Another AI application for the internet giant would be drone delivery, which the business has long aspired to develop.
Beginning in the second quarter of 2022, Blackledge anticipates the company's sales to increase. Blackledge kept an Outperform rating on Amazon.com, Inc. on December 13 and raised his price objective to $4,500 from $4,300.
Amazon is currently one of the most popular stocks on the market, and its owners are reaping large profits on a daily basis. Amazon's 52-week stock price high is $3773.08 (£3412.56), implying a 24 percent upside objective at the current price of $3259.95 (£2948.46).
IBM, a cloud, and software company is another promising AI stock for 2022. This heritage tech firm serves major enterprise customers as a comprehensive provider of hardware, software, and services. Its core computer systems are still used in some industries, and it regularly signs multi-year technology agreements worth hundreds of millions of dollars.
Considering the fragmentation of the AI products sector, IBM is the worldwide leader. IDC, a market research agency, ranked IBM as the industry leader in AI software platforms in 2019, with an 8.8 percent market share and $303.8 million in revenue, up 26% from the previous year.
IBM is a complex organization in the midst of a revolution, and AI is far from its only source of growth. However, IBM is an excellent pick if you want to invest in a firm that is well-positioned to benefit from the AI boom.
IBM's current volume is £4.09 million, while its current dividend yield stands at 5.05% as of April 2022. At the current price of $130.02 (£117.59), IBM's 52-week stock price high is $146.37(£132.38), implying a 22 percent upside target.
Headquartered in Northern Ireland Kainos Group provides organizations with consulting, software, and IT solutions. It has a diverse portfolio that includes everything from cybersecurity to data analytics, and it uses AI to improve all of its products. We admire Kainos Group's range since it protects the corporation against a downturn in a single niche.
The stock has increased by more than 500 percent in the last five years, so it isn't cheap stock. Nonetheless, the company consistently outperforms analysts' expectations, with a 16 percent gain in digital sales in the most recent half-year reporting period. Its Workday product, which is a widely used HR platform for organizations of all sizes, has also witnessed excellent growth.
Kainos stocks had a trading volume of £249.81K at the time of composing this article. Its 52-week stock price high is 2100GBX, implying a 351 percent upside objective at the current price of 1316.57 GBX. These fundamentals indicate that Kainos is on the decline, making it one of the best AI stocks to invest in for future gains.
Kainos has a price-to-earnings (PE) ratio of 40.54, and the company also pays a 1.68 percent dividend.

NVIDIA Corporation, a leader in graphics chips, is one of the best AI stocks for 2022. Its stock has climbed 35% in the previous six months as the chipmaker maintains its lead in the graphics processing unit market. The firm is a major supplier of semiconductors to data centers throughout the world. The company's revenue increased year over year in the third quarter of 2021, totaling $7.10 billion.
NVIDIA Corporation was given a Buy recommendation by Citi analyst Atif Malik on December 3, with a $350 price target. In addition, at the conclusion of the September quarter, 83 elite funds owned a stake in NVIDIA Corporation valued at more than $10 billion.
For the past six months, NVIDIA stock has been growing, resulting in a big return for owners. NVIDIA stocks had a trading volume of £49.34 million at the time of composing this article. Its 52-week stock price high is $346.47(£313.35), implying only a 30 percent upside objective at the current price of $272.86 (£246.78).
NVIDIA has a price-to-earnings (PE) ratio of 70.93, and the company also pays a 0.06 percent dividend.
5. C3.ai, Inc. (NYSE:AI)
C3.ai is a major vendor of enterprise AI tools for digital transformation acceleration. The organization provides a full suite of integrated services. This comprises the C3Ai Suite, Applications, CRM, and Ex Machina, among other things.
C3.ai just signed a $500 million contract with the US Department of Defense. As a result, the agreement stipulates an expedited schedule for acquiring the company's Enterprise AI technologies. Aside from that, any DoD department will be able to purchase commercial products and services for modeling and simulation.
The company's revenue in the second quarter of fiscal 2022 was $58.3 million, up 41% year over year, and $1.3 million higher than revenue projections. In addition, C3.ai, Inc. has broadened its industry focus, now supporting 14 industries in Q2 2022, an increase from 7 a year ago, covering healthcare, agriculture, life sciences, banking sectors, and industrial.
C3.ai began trading on the market in December 2020, but the price has not increased, in fact, it has decreased. However, because it is an AI firm, it is expected to increase in the near future. C3.ai stocks had a trading volume of £3.6 million at the time of composing this article. Its 52-week stock price high is $76.85(£69.50), implying a 46 percent upside objective at the current price of $22.70 (£20.53).
Ocado Group is among the hottest UK tech stocks. Consumers switched from buying groceries in stores to depending on curbside pickup and delivery in reaction to the coronavirus outbreak, and the company's stock more than doubled.
While Ocado is most recognized in the UK for its Marks & Spencer delivery collaboration, the company also has a presence in the United States. It has teamed up with grocery retailer Kroger to construct 20 automated warehouses, with the 10th set to open this year.
The value of Ocado's stock is hotly contested among UK stock market analysts. Although the corporation is worth £20 billion, it only controls a small portion of the UK grocery market. However, we believe that Ocado's full potential has yet to be realized, and the upside for this firm is huge as traditional grocers struggle in an online, automated environment.
Ocado's stock is in the fall, providing now an excellent time to buy. Ocado stocks had a trading volume of £1.96 million at the time of composing this article. Its 52-week stock price high is 2255GBX, implying a 57 percent upside objective at the current price of 1191.15 GBX.
Qualcomm is another great AI stock to consider. The wireless technology company's main focus is on the development, launch, and extension of technologies like 5G. Indeed, its technologies and products are used in industries and applications other than mobile, such as automotive, computing, the Internet of Things (IoT), and virtual reality.
The firm released its fiscal first-quarter earnings earlier this month. In a nutshell, revenue for the quarter increased by 30% year over year to $10.7 billion. Furthermore, net income was $3.4 billion, up 38% from the previous year. Qualcomm's President and CEO, Cristiano Amon, feels the business is still "at the start of one of the biggest possibilities" in its history. In the next decade, he expects the company's addressable market to grow by more than sevenfold.
Qualcomm stock has been rising continuously since November 2021, providing stockholders with a large profit. Qualcomm stocks had a trading volume of £9.24 million at the time of composing this article. Its 52-week stock price high is $193.58 (£175.07), implying only a 3 percent upside objective at the current price of $152.82 (£138.21).
Qualcomm has a price-to-earnings (PE) ratio of 17.51, and the company also pays a 1.78 percent dividend.
8. Palantir Technologies Inc. (NYSE:PLTR)
Palantir, a data analytics company, has implemented artificial intelligence (AI) into its business platform. The firm's core business is offering secure data analytics solutions and management to the government and other enterprises.
Palantir Technologies Inc. increased its sales by 36% year over year to $392 million in the third quarter of 2021. During the same time period, the Colorado-based software company added 34 net new customers.
In Q3 2021, more hedge funds indicated an optimistic stance on Palantir Technologies Inc. According to the most recent data from Insider Monkey, 35 hedge funds were long Palantir at the end of the September quarter, with positions totaling $1.63 billion.
Palantir's stock is in the fall, providing now an excellent time to buy. Palantir stocks had a trading volume of £54.52 million at the time of composing this article. At the present price of $13.73 (£12.42), it has a 52-week high of $29.29 (£26.49), meaning a 57 percent upside target. Also, Palantir is one of the cheapest AI stocks to buy right now.
9. Sensyne Health PLC (LON: SENS)
AIM-listed Sensyne Health PLC collaborates with the National Institutes of Health to enhance patient outcomes. The firm has access to a large amount of anonymized patient information, which is utilized to train its algorithm, which can now recommend methods to improve patient care.
The firm's strategy is gaining traction. Sensyne Health PLC's stock has been rising since the Conservatives won the election last year, which removed a lot of uncertainty for the company. Sensyne Health isn't currently profitable, and it's a small player in the AI area, thus the stock is expected to plummet in value by 2022. As a result, it's a riskier proposition for investors seeking rapid development over long-term stability.
Currently, Sensyne Health stocks had a trading volume of £222.30K at the time of composing this article. Its 52-week stock price high is 178 GBX, implying a 31 percent upside objective at the current price of 11.50 GBX.
DocuSign, a San Francisco-based software firm, is the world's largest e-signature company, has over 1 billion consumers and over 1.1 million commercial clients.
The firm leverages artificial intelligence to automate activities across legal provisions and agreements. AI-powered contract lifecycle management is also available from the AI firm.
In the third quarter of fiscal 2022, the company's revenue increased by 42 percent year on year to $545.5 million. At the conclusion of the third quarter, 51 hedge funds out of 867 analyzed by Insider Monkey had a $4.24 billion stake in DocuSign, Inc.
DocuSign stock is now in the fall, providing now an excellent time to buy. DocuSign stocks had a trading volume of £6.66 million at the time of composing this article. Its 52-week stock price high is $314.76 (£284.72), implying a 90 percent upside objective at the current price of $107.12 (£96.91).
Where to buy the Best AI Stocks in the UK?
To buy AI stocks in the UK, you'll need to choose a stockbroker who offers a diverse range of shares. Because the AI sector has grown so rapidly in recent years, many UK brokers now provide trading on leading AI stocks. As a result, you can consider additional variables while selecting the best broker to buy AI stocks.
One important factor to consider is the cost of trading. We advocate utilizing a commission-free broker because it can save you a lot of money over time. Many online brokers in the United Kingdom offer 0% commission CFD trading, and some even offer commission-free share trading.
With that in mind, let's take a deeper look at two of our top-rated brokers in the UK:
1. eToro
eToro is a zero-commission online broker that allows trading on over 800 stocks and 450 ETFs from across the world. The organization offers both CFD trading and share trading, making it an excellent choice for both traders and long-term investors. The broker is also continually introducing new stocks, which bodes well for gaining access to emerging AI stocks.
One of the primary aspects that distinguish eToro from other brokers is its vast social trading network. You can follow fellow AI stock investors, exchange trading strategies, and ask more seasoned traders queries. eToro also provides copy portfolios, which allow you to find an existing portfolio of AI stocks and replicate the positions with a few clicks. Utilizing copy portfolios also allows you to automate your trading.
eToro provides a comprehensive research and analysis platform, allowing you to delve deeper into the firms you're interested in trading. More than 100 technical studies and drawing tools are included in the charting software. Each stock also has an analysis window, which allows you to quickly view what experienced stock market analysts think about the company.
eToro is licensed by the Financial Conduct Authority in the United Kingdom, and all accounts are covered by the Financial Services Compensation Scheme.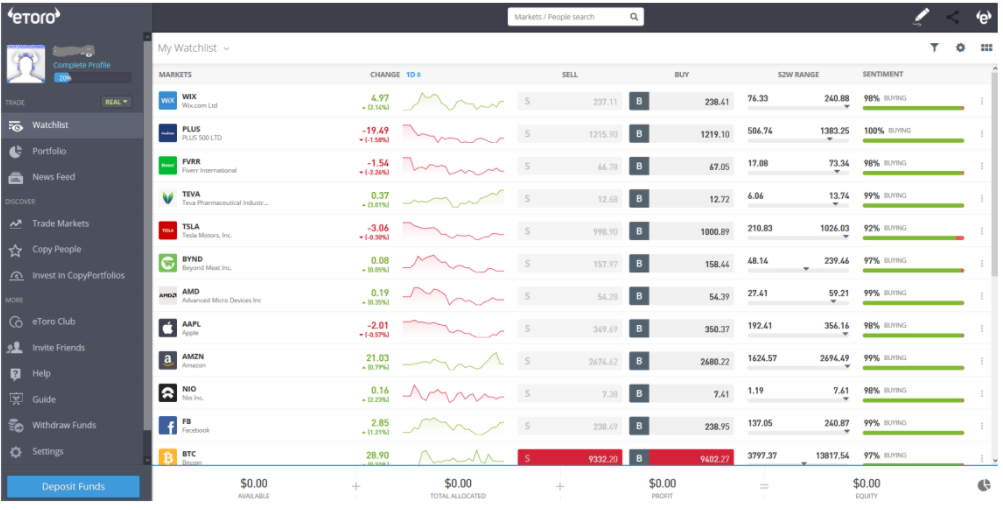 Pros
Trading with no commission
There are almost 800 equities and 450 ETFs
Copy portfolios are supported
Over 100 technical indicators are included
Customer service is available 24 hours a day, seven days a week
Cons
Inactivity and withdrawal fees
2. Fineco Bank
Fineco Bank is a prominent Italian bank with a significant presence in the United Kingdom. This CFD broker and share trading platform gives you access to thousands of stocks from the United Kingdom, the United States, and Europe. You can also trade a variety of ETFs and access options for well-known AI stocks. CFD trading is completely commission-free, and share trade commissions are £2.95 for UK equities and $3.95 for US stocks.
Fineco Bank provides a suite of tools to help you locate trading opportunities in addition to a large selection of stocks. This brokerage firm has a lot of features, such as a news feed, an economic calendar, and a lot of fundamental indicators. The platform's only flaw is that there isn't much in the way of analyst research.
The broker's global stock screener is one feature we particularly enjoyed about Fineco Bank. You may use characteristics like market cap, market sector, and recent performance to filter shares from all of Fineco Bank's marketplaces.
Fineco Bank is governed by the Financial Conduct Authority of the United Kingdom and the Bank of Italy. It's also listed on the Milan Stock Exchange, implying that the broker is fairly open about its financial situation.
Pros
Thousands of shares from the United Kingdom, the United States, and Europe
CFD trading with no commission
There are dozens of technical indicators to choose from
A global stock screener is included
Customer service is available five days a week
Cons
For stock trading, there is a small commission
There has been very little analyst research
How to Buy AI Stocks UK?
We'll explain to you how to get started trading or investing in AI stocks with eToro right now. eToro provides a social trading network, in-depth analyst research, and professional-quality charts in addition to hundreds of equities from across the world.
Step 1: Create an Account
Create a new eToro account to get started. Click 'Join Now' on the broker's website, then provide your email address, as well as a new username and password. eToro will also require personal information such as your name, address, and phone number.
Before you can start trading with eToro, you must verify your identity in order to comply with UK anti-money laundering rules. To complete this step online, upload a copy of your driver's license or passport, as well as a copy of a recent utility bill that shows your address.
Step 2: Deposit Funds
A minimum deposit of £140 is required by eToro. Payments can be made with a debit or credit card, a UK bank transfer, or an e-transfer via PayPal, Neteller, or Skrill.
Step 3: Buy AI Stocks
You're now ready to begin trading on eToro. In the search field on your account dashboard, type the name of the AI stock you wish to buy. To open a new order form, click 'Trade' when the company appears in the drop-down menu.
You'll have to choose a few options on the order form. To begin, enter the amount of money you want to put into the stock. Next, determine whether you wish to use up to 5:1 leverage in your deal. Keep in mind that using leverage increases your trading risk and incurs additional costs. Finally, decide whether your trade should have a stop loss or a take profit price.
Click 'Open Trade' to finish the purchase of your first AI stock.
Conclusion
In the coming years, AI and associated technologies are projected to have a significant impact on the world. For investors, this is a fascinating sector, especially because the upside for many companies creating AI services appears to be limitless. However there are a lot of AI companies right now, we feel our ten stock picks offer the best opportunity for UK investors.
If you decide to invest, eToro now sells all of the best AI stocks. You can use your UK debit/credit card to make a quick deposit and then purchase AI stocks without paying any commissions.
Frequently Asked Questions
Is it possible to invest in AI stocks through an ETF?
Yes, ETFs can be used to invest in AI. The majority of technology ETFs in the United States and the United Kingdom hold some or all of the firms we mentioned. There are other smaller ETFs that are solely focused on AI.
Is AI being used by any pharmaceutical companies?
Yes, AI is being used by several pharmaceutical companies for medication development and tailored medicine. Pfizer and Moderna employed artificial intelligence to aid in the development of their COVID-19 vaccines.
Is Apple a corporation that uses artificial intelligence?
Many of Apple's devices, like the Siri voice assistant, the Apple Watch, and the iPhone, make use of AI. So, while Apple's stock price isn't solely based on AI advancement, it might be termed an AI stock.
What is the relation between cloud computing and Artificial Intelligence?
Cloud computing, as supplied by Amazon, Microsoft, and IBM, provides enterprises all around the world with the computer power required to run AI algorithms. Instead of being limited to corporations with large server networks, cloud computing has allowed AI to be employed in a wide range of goods.
Do AI companies pay a dividend?
Some AI equities, such as IBM, pay dividends, but the majority of them do not. Because AI necessitates a significant level of ongoing investment, many tech companies prefer to reinvest revenues rather than pay dividends to shareholders.