For those who know how to do it, investing in stocks continues to be a successful pastime. To maximize their potential for profit, this includes learning about the stock market and locating a trustworthy stockbroker. The market dominance of many makes it difficult for many investors to pick the best UK stocks, nevertheless.
For the aforementioned reason, we made the decision to create this in-depth guide, which includes a list of the top UK firms to invest in. This manual provides an in-depth analysis of these stocks based on market capitalization, macroeconomic developments, dividends, potential future growth, etc.
In this guide, we will not only discuss the best UK stocks for 2022 but also provide information on how to invest in them.
Best UK Stocks 2022
Here is a list of the best UK stocks for 2022:
Best UK Stocks Analysis
Shell PLC, a producer of oil and gas, appears poised to continue reaping the rewards of the bullish trend in energy commodities. Because of their cooperation, OPEC members have been able to set global production at levels that maximize their profits. At the same time, it now seems as though the crisis in Ukraine will take months rather than weeks to resolve, which continues to restrict the possible supply of gas and oil from Russia, which could have a moderating effect on price increases.
Shell reported first-quarter earnings of $9.1 billion in 2022, the company's highest level since 2008. A significant portion of that money is being returned to investors, creating a solid foundation level of support for the stock. The stock currently has a dividend yield of 3.35%, and you should also take into account the $4.5 billion share buyback program.
If Shell is unable to switch its main business operations from using carbon to renewable energy, its share price may eventually tank. However, this has already been factored into the price, and the staggering income streams the company is currently producing put it in the greatest possible position to carry out the necessary reorganization.
Rio Tinto, a global mining company, is in a good position to reap from the inflation-hedging properties of commodities. The firm's mineral resources typically increase in value along with price increases; for example, a tonne of copper is still a tonne of copper regardless of the state of the financial system. The company is basically unaffected by whether the unit price for its items is $10, $100, or $1,000 as long as they are still being purchased.
The good news for Rio Tinto shareholders is that regardless of how long the present inflationary bubble lasts, demand for the copper and iron ore that the company produces looks certain to hold up. Government-backed initiatives to redesign the world's transportation network and transition to cleaner energy sources are anticipated to take decades to complete.
The resources that Rio Tinto manufactures and distributes to its international clientele are necessary for the construction of those new wind farms, EV charging stations, and other green energy projects. Rio Tinto is one of the top lithium companies to buy right now because of its strong position in the "new economy" and its substantial lithium reserves.
The strong dividend yield of 9.41% that RIO stock currently delivers is one indication of the strength of the industry and Rio Tinto's balance sheet. That makes the company and its 6.14% P/E ratio enticing at the moment and is greater than current inflation rates.
Ferguson PLC, established in the UK, is a major player in the North American plumbing and heating business. The company's foreign sales put it in a good position to profit from any further decline in the GBPUSD and GBPCAD exchange rates.
The company isn't just a great pick because of currency fluctuations. The business's quarterly results report for the period ending January 31, 2022, featured outstanding sales figures. Net sales increased by 31% year over year, and operating profit increased by 74%.
Ferguson was able to enhance the dividend paid to investors by 15% because of strong business fundamentals, and the multimillion-pound share buyback program will continue through 2022.
With a market cap of £24.5 billion, Ferguson PLC is a distinct size from Rio Tinto and Shell. Those enormous international corporations do possess the necessary critical mass to provide investors with security, but as evidenced by recent sales data, Ferguson has a greater ability to keep growing its business.
Instead of a full-fledged trend reversal, the most recent decline in the price of Ferguson stock appears to be a time of price consolidation. Therefore, any times when the price fluctuates around the area of the 50% Fibonacci retracement, which is located at 8,543, can be viewed as a chance to invest in one of the top UK stocks to buy right now.
Value stocks are regarded as the best type of investment to make in order to hedge against inflation. J Sainsbury PLC, a well-known grocer, meets the criteria because it is not just one of the major retailers in the UK but also because its P/E ratio is currently 13.8, whereas the average for the UK grocery industry is 19.6.
Investors have sold their shares of Sainsbury's because they are worried that the company will lose market share to discounters, which is why the stock is so inexpensive. In addition to the fact that that risk appears to have already been factored in, Sainsbury's has been reporting some remarkable sales growth numbers. Since 2015, the supermarket has been able to raise sales by 4% annually while raising the dividend return to 3.9%. The company's decision to acquire Argos and Habitat shows that it is open to expanding into different business sectors, which should help it maintain its position as one of the top UK companies to invest in.
Barclays Bank PLC (LON: BARC)
Barclays Bank shareholders may feel badly treated because the 2022 sell-off increased the price of BARC, which is stock. Due to the expanding gaps between borrowing and saving rates, banks are frequently predicted to perform better in high-interest rate situations. Additionally, the economy's troubles are not solely caused by the volatility of the world financial system.
Barclays seems to be undervalued at the moment. Investing in BARC at the current price will earn investors a dividend yield of 3.34% while they wait for the share price to increase, which would represent capital gains.
Technically speaking, a sideways wedge formation in the share price is coming to a conclusion. Price can be expected to break in one of two directions as time runs out, and our analysis points toward an upside jump. There would therefore be plenty of opportunity for the share price to rise and a possibility for the stock to gain significant momentum.
Also read: Best Dividend Stocks You Should Buy in UK 2022
Boohoo is a Manchester-based retailer of clothing. It produces, distributes, and retails clothing for individuals between the ages of 16 and 45 in the UK and abroad. As a result of the firm's acquisition of 13 brands from the Boohoo group in 2022, it appears that 2021 and 2022 will both be years of growth for the company.
Shares of Boohoo are traded on the Alternative Investment Market (AIM), a division of the London Stock Exchange. Boohoo maintains expanding thanks to the regular adoption of fresh tactics, portending a promising future in the years to come.
Lean more: How to Buy Boohoo Shares in the UK
British insurance provider Aviva was founded in 2000, and its stock is traded on the London Stock Exchange. The biggest insurer in the United Kingdom, Aviva provides services all over the world.
Despite a decline in share price in 2020, Aviva's performance began to improve in 2021 as a result of significant changes in leadership and strategies. If they keep putting new performance-enhancing tactics into practice, the corporation hopes to make some good improvements in 2022 and the upcoming years.
Located in London, England, BAE Systems is multinational aerospace, defense, and security firm owned by the British. In addition to the UK, the US, and Sweden, it provides a wide range of goods and services for naval, air, and ground forces. This business also specializes in cutting-edge gadgets, IT solutions, and support services. The most latest Software Integration and Integrated Support Services agreement with the United States military, which is good through 2026, indicates growth potential. Additionally, you will receive the yearly dividend payments, which are now £24 per share.
AstraZeneca was founded in 1999 and is a British-Swedish pharmaceutical and biotechnology corporation. This company has been working hard to make sure people stay healthy even after the pandemic in light of the current COVID-19 and Omicron epidemic. As a result, AstraZeneca has partnered with numerous health organizations and expanded its services to numerous nations worldwide.
Similar to the aforementioned stocks, AstraZeneca shares are traded on the London Stock Exchange, and given its recent revenue growth, it can be one of the finest options for 2022.
Also read: How to Buy AstraZeneca Shares UK- Complete Guide 2022
One of the top tourism and travel businesses operating on a global scale is TUI Group. The business, which has its headquarters in Germany, provides travelers with the best travel experiences in more than 180 nations. Although the years 2020 and 2021 were among the company's darkest, its plans for 2022 are encouraging, and investing in them might be profitable.
How to buy UK Stocks?
We'll explain to you how to buy UK stocks in the parts below.
Step 1: Choose a broker
It makes sense to use well-known stock brokerages if you want to invest in UK stocks. Below, we examine two brokers that let customers buy UK stocks from the UK.
1. eToro
You may keep enjoying your trading activities using eToro's user-friendly trading interface and cutting-edge design. We heartily endorse this broker if you are a newbie because it offers a wealth of educational materials.
Both novice traders and seasoned investors can use the research and market analysis tools that eToro offers. The broker offers commission-free stock purchases with a minimum deposit requirement of just £50.
eToro charges a hefty spread even if you can commission-free purchase UK shares. You must also pay a withdrawal charge and deposit a minimum of £300 to use the copy trading platform.
2. IG Markets
One of the first brokers in the UK, IG Markets continues to thrive because of its excellent trading resources and services. For instance, the broker's platform is user-friendly and customizable. Additionally, you will investigate some of the best trading tools to enhance your knowledge and maximize your potential for profit.
The L-2 Dealer, MT4, and ProRealTime are just a few of the top platforms you can use when buying the greatest UK stocks with IG Markets. On the IG Community platform, you can also connect with like-minded investors and share investing ideas with them. Every time you feel like attempting anything new, there are other securities to investigate.
Unfortunately, large trading costs will be required in order to purchase and trade the top UK equities. Additionally, IG Markets has a high minimum deposit requirement of £300 and charges inactive traders a membership fee.
Step 2: Open your account
The following instructions will walk you through the eToro stock purchase process for UK equities.
Visit the official eToro webpage and register for this account as the first step. Here, you must fill out a form with your name, email address, and phone number. You can get a demo account by creating an account to get a better idea of how this platform functions. On this platform, creating an account is really simple.
Step 3: Account Verification
An investor must respond to a few simple questions in order to validate an account. The technology confirms the investor's identification by checking details including name, education, finances, and risk tolerance.
All internet brokers are required to abide by the law because the stock market is subject to government regulation. All licensed online brokers must make sure that the stocks they offer match the characteristics of their customers. Investors are required to present a photo ID and proof of address. A passport and an ID both have photos.
Step 4: Deposit funds
After the verification process is over, you must deposit money into your account. Once the trading screen has opened, select "Deposit" by clicking the button in the left side. When you select it, a fresh screen will appear where you must enter the payment option you want to use and the sum you want to have deducted from your account. You can pay with PayPal, bank transfers, credit or debit cards, Skrill, Neteller, or UnionPay, among other options.
Step 5: Select UK stocks
In order to select your favorite UK stock, you must enter its name into the search bar at the top of the home page. Next, select "Trade."
Step 6: Place your order
You must decide on a number of factors after selecting the companies to invest in. The amount you wish to invest in stocks or currency must be entered here. You can set any of the desired parameters here. Lastly click Open Trade.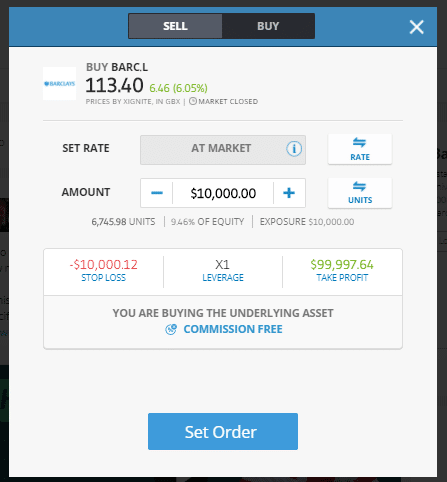 Conclusion
Finding the finest shares to purchase right now in the UK might be difficult, particularly if you are a novice. You stand a better chance of making money on share investments with our list of the top 10 UK stocks. Keep in mind, though, that buying these UK stocks is not a surefire strategy to make money. There will still be a need for an in-depth understanding of the market. Choose a trustworthy broker, then decide which UK stocks to buy. Good luck!
We have covered this year's best performers in this guide. Beginning investors should use a broker like eToro and make a small initial investment.
Frequently asked questions
When is the ideal moment to purchase shares?
When researching companies, you'll frequently hear the phrase "buy the dip," but it can be challenging to predict when the stock will start to rise once again or whether it will continue to decline. You can get aid with this by using effective charting tools and conducting a tonne of research.
The coronavirus stock market meltdown was viewed as an opportunity by many inventors. Being well diversified and remaining calm is crucial.
Which dividend stocks are the best?
You could identify great dividend stocks to buy right now with the help of our incredibly useful guide to dividend stocks.
Which stock is the greatest to purchase in the long run?
We wish we had a definite response for you on this. Blue chip stocks are some solid investments for long-term growth.